Lighting up the night on Whit Friday
All pictures by Ian Clowes

It's been a long time coming, but Whit Friday is finally upon us.

The day is set eight weeks after Good Friday, so thanks to the oddities of the calendar it takes place this year on its latest date since 1943.

And falling so close to the longest day of the year, there should be no need for floodlit band performances until around 10pm.

With fingers crossed for good weather, (although if the forecast is correct rain attire should be close at hand) the crowds should pack the various venues in Tameside and Saddleworth to enjoy what is always described as 'The Greatest Free Show on Earth'.

After the torrential rain of 2009, the weather held fair last year, but the day was overshadowed by the death of a spectator at Greenfield.

Nobody will want to see a repeat of that kind of tragedy ever again.

Challenge

Organising a Whit Friday contest remains a huge challenge and each venue deserves congratulations for being able to keep things ticking over when major sponsors are scarce.

The work of the army of unpaid volunteers who continue to give their time willingly is nothing short of heroic, but each venue can do with some help. So if you wish to contribute, why not give it a go?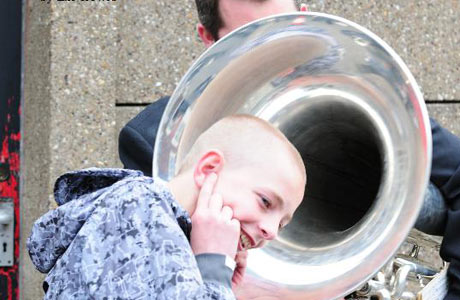 There is always plenty to listen to...

Council support

Once again the contests in Saddleworth and Oldham as well as Tameside, will be generously supported by Oldham and Tameside Councils.

Tameside is stumping up cash for the 22nd year, but despite the acknowledged historical importance of brass bands to the area, times are getting hard in local authorities.

Redundancies have been made, cost cutting is being implemented and it will be interesting to see how far up the priority ladder brass bands remain when it comes to funding in the coming years.

Prize money

There is around £60,000 in Whit Friday prize money this year so there is sure to be a keen edge to the competitions as bands themselves seek to fill the coffers.

As always the individual contests try to attract the very best bands with the carrots of bags of cash, and this year there are £1000 champions prizes for the first time at Delph, Greenfield and Uppermill.

Whilst most contests get under way from 4.00pm, bands can register at Diggle to play from 3.30pm, but they won't be able to start until 4.15pm.

Traditional start

Almost forgotten once the scrum of madness descends is the traditional 'Procession of Witness' across Saddleworth and Mossley from 9.00am.

The religious aspect remains an important part of the entire day, even if by closing time, some revellers try to make it a procession to the nearest chip shop.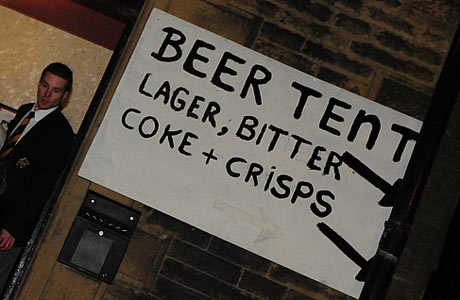 Procession to the chip shop?

Return of the King

As always, the main question is who is out and who isn't?

With the English National Championships just over a week away, the majority of those nine contenders will be in action.

Leading the way will be the National Champion, Brighouse & Rastrick, who'll be directed by Professor David King (conducting at Whit Friday for the first time since the YBS days) whilst Foden's, Leyland, Pemberton Old DW and Rothwell have declared their intention to take a night off their Preston preparation.

Reigning Saddleworth and Tameside champions Hepworth and Fairey (Geneva) are back to defend their titles, but there will be no Black Dyke this year. All Queensbury eyes are focussed well and truly on European qualification.

Cash generators

Many other bands will aim to enjoy a bountiful night of cash generation, with Marsden and Ashton under Lyne looking to retain their local titles and a host of National finalists out hoping to earn some Albert Hall pocket money.

The Midlands trio of Desford, Jaguar Land Rover and Newstead Brass and the Londoners of East London Brass and Fulham Brass will be on parade, although the Bugle Festival, which takes place 24 hours after the Whit Friday event will certainly impact on any long distance competitors from the South West.

Scratch bands

As always there will be the usual flood of 'scratch' bands from colleges and universities, pubs and clubs, including Birmingham Conservatoire led by Ian Porthouse.

Unfortunately, there is no real news of any welcome overseas contenders this year - but keep your eyes peeled.

Bands will of course have their own travel arrangement strategies and there should be a great battle in store in Tameside with Foden's intent on wrestling the title back from Fairey with Leyland amongst others hot on their heels.

In Saddleworth, Brighouse, Hepworth, Marsden and Rothwell will be fancied to lead the charge for glory.

Meanwhile, Ian Clowes of Goldy Solutions will be out and about on the circuit playing baritone with City of Chester, but don't be too surprised if his camera doesn't make an appearance too.

The judges

A host of familiar names will be camped in caravans, bedrooms and tents making the all important decisions.

Duncan Beckley, C. Brian Buckley, David Horsfield, Ray Farr and Roy Roe are just a number of those charged with spending around seven hours deliberating on their decisions, as will débutante judge Mike Kilroy who takes over the reigns at Delph after Keith Hollinshead retired after well over 20 years service.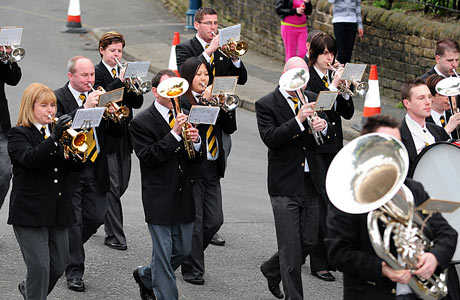 On the march - Can Fodens lead the way this year?

Be prepared

There is always a need to keep an eye on the roads on Whit Friday, and 4BR has been informed that there are on-going roadworks with the redevelopment of the tram system into Manchester, as well as congestion anticipated around The Broadoak at Ladbrooke Road and Waterloo Road.

Over in Saddleworth, the 'contest only' traffic system continues in Uppermill, but this year bands can only approach from the Greenfield end of the village and park up in order along High St/Oldham Road.

In Greenfield, following the tragic accident last year, a new traffic system will come into operation where coaches will have to turn at Boarshurst Band Club leaving Chew Valley Road free of coaches.

Roadworks exist on Chapel Road in Greenfield and coaches will only be able to travel from Greenfield to Uppermill on that road and will have to contend with Shaw Hall Bank Road on their return.

There are also some light-controlled roadworks in Lydgate.

Results

4BR will aim to publish the results as soon as we can on Saturday and the Saddleworth Champion should be known by Sunday.

Tameside are also hoping to be announce their winners at some point over the weekend, otherwise it will be Monday.

Malcolm Wood
---
Tameside:
Area Open Champions: £2,500, 2nd: £1,000, 3rd: £750
Local Area Champion: £750, 2nd: £600, 3rd: £400

Audenshaw:
www.clubbz.com/club/4633/manchester/aldwinians_rufc_brass_band_contest_2010
Contest: 4.00pm - 10.30pm
Aldwinians Rugby Club
Main Prize: £700 from a total prize fund of £2,525
Adjudicator: Paul Holland
Contact: Sylvia Donley (0161 336 6814, 07947 018175)

Broadoak:
Contest: 5.00pm - 11.00pm
Broadoak Hotel
Main Prize: £500 from a total prize fund of £1,600
Adjudicator: Dr Roger Webster
Contact: Mr J Smith (0161 3392174)

Carrbrook:
carrbrookvillage.users.btopenworld.com/band.htm

Contest: 4.30pm - 10.00pm
Carr Rise
Main Prize: £600 from a total prize fund of £1,515
Adjudicator: John Davies
Contact: Pete Sims (07549956941)

Denton:
Contest: 4.00pm - 11.15pm
Main Prize: £250 from a total prize fund of £1,115
Adjudicator: Mike Lyons
Contact: Mrs Joan Emery (0161 2925319)

Droylsden:
Contest: 4.30pm -11.00pm
The Bush Inn
Main Prize: £500 from a total prize fund of £2,250
Adjudicator: R. Breen
Contact: George Fairclough (0161 3702811)

Dukinfield:
Contest: 4.30pm - 11.00pm
Tame Valley Hotel
Main Prize: £400 from a total prize fund of £1,500
Adjudicator: Dave Chapman
Contact: Brian Hill (0161 3390072)

Heyrod:
www.heyrodbandcontest.com
Contest: 4.30pm -10.30pm
John Street
Main Prize: £600 from a total prize fund of £1,685
Adjudicator: A. McLaughlin
Contact: Bob Lear (0161 338 2003)

Hurst Village:
Contest: 4.30pm - 11.00pm
Ashton United FC
Main Prize: £250 from a total prize fund of £1,250
Adjudicator: Gareth Pritchard
Contact: Eric Stafford (0161 3300683)

Stalybridge:
Contest: 4.30pm - 10.30pm
Stalybridge Labour Club
Main Prize: £550 from a total prize fund of £2,070
Adjudicator: Steve Pritchard-Jones
Contact: Phil Watton (0161 3555818)

Stalybridge Celtic:
Contest: 4.30pm - 10.30pm
Stalybridge Celtic FC
Main Prize: £350 from a total prize fund of 1,100
Adjudicator: C. Evans
Contact: Gordon Greenwood (07770 433336)

Upper Mossley:
Contest: 4.30pm - 10.00pm
Mountain Street
Main Prize: £500 from a total prize fund of £1,485
Adjudicator: M. Tweedle
Contact: Margaret Gaskell (01457 832752)

Find the venue:

To enable bands to plan their routes and find the contest venues, visit the following link: www.tamesidebrassbands.org/

Further details:

Further details for the Tameside Contests are available from 0161 342 4144
---
Saddleworth & Oldham District:

Area Open Champions: £2,500, 2nd: £1,000, 3rd: £750, Youth: £250
Local Area Champion: £750, 2nd: £600, 3rd: £400

Saddleworth & Oldham Contests are supported in 2011 by Oldham Council and Saddleworth and Lees District Partnership

Delph:
www.delph-whit-friday.co.uk
Contest: 4.15pm - 10.30pm
Main Prize: £1,000 from a total prize fund of £3,825
Adjudicator: Mike Kilroy
Contact: Mr R. Rodgers (01457 874354)

Denshaw:
Contest: 4.15pm - 10.45pm
Main Prize: £750 from a total prize fund of £2,690
Adjudicator: A. Holdsworth
Contact: A. Baxter (07920763979)

Diggle:
Contest: 4.15pm - 10.15pm
Main Prize: £650 from a total prize fund of £2,185
Adjudicator: Duncan Beckley
Contact: B. Cliffe (01457 873901)

Dobcross:
Contest: 4.30pm - 10.00pm
Main Prize: £750 from a total prize fund of £2,885
Adjudicator: David Horsfield
Contact: A Cockburn (01457 820960)

Friezland:
3rd, 4th & Youth Sections only
Contest: 4.30pm - 10.30pm
Main Prize: £150 from a total prize fund of £475
Adjudicator: T. Newbigging
Contact: L. Jones (01457 870081)

Greenacres:
Contest: 4.30pm - 10.30pm
Main Prize: £750 from a total prize fund of £2,405
Adjudicator: Brian Rostron
Contact: A. Clayton (0161 678 7255)

Greenfield:
Contest:4.30pm - 10.00pm
Main Prize: £1,000 from a total prize fund of £3,880
Adjudicator: Ray Farr
Contact: J. Buckley (01457 874794)

Grotton:
Contest: 4.00pm - 10.00pm
Main Prize: £600 from a total prize fund of £2,015
Adjudicator: Roy Roe
Contact: G. Beverley (07932 747590)

Lydgate:
Contest: 4.30pm -10.30pm
Main Prize: £800 from a total prize fund of £2,715
Adjudicator: Derek Southcott
Contact: L. Bearpak (01457 872566)

Lees and Springhead:
Contest: 4.30pm - 10.30pm
Main Prize: £600 from a total prize fund of £2,285
Adjudicator: Alan Fernie
Contact: W. Cullen (0161 6267625)

Scouthead and Austerlands:
Contest: 4.30pm -11.00pm
Main Prize: £750 from a total prize fund of £3,600
Adjudicator: C Brian Buckley
Contact: D. Needham (0161 6520341)

Uppermill:
Contest: 4.00pm - 10.30pm
Main Prize: £1,000 from a total prize fund of £2,930
Adjudicator: David Marshall
Contact: T. Hopkinson (01457 876010)

Further details:

Further details on Whit Friday can be found at: www.whitfriday.brassbands.saddleworth.org