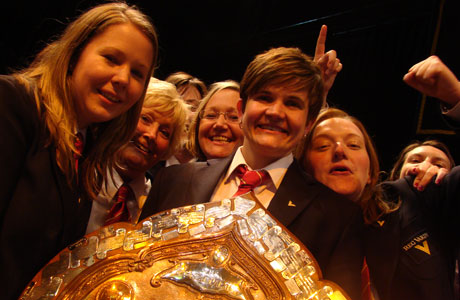 Here come the girls.... Reg Vardy's distaff side celebrate...

Even four short years can feel like a life sentence in the Grand Shield.

However, a jubilant Reg Vardy will not be reflecting for too long on past failures as they finally regained their place back at the British Open.

The sheer relief on many of the player's faces spoke for itself.

The Grand Shield is full of bands with hard luck stories: Not anymore for Reg Vardy.

Titanic challenge

As anticipated by adjudicators David Read and Frank Renton, 'Titan's Progress' proved to be a 'Titanic' challenge; quite literally for David Read, whose Freudian slip reference to the stricken ship during his summing up sent a knowing but uncomfortable titter through the Opera House audience.

It was too close for comfort. Sharp though.

With Frank Renton opting out of his post match responsibilities to head to the railway station, it fell to David to comment that a degree of misplaced aggression, wayward intonation, frantic ensemble work in the Fugue and numerous eccentric interpretations of the Ländler had all figured in their assessment of who to send to Birmingham and who to condemn to another year of contesting purgatory.

Acerbic

Frank Renton's rather acerbic observation; 'All (bands) played it, but nobody played it very, very well' was perhaps accurate, but that didn't excuse the curiously unprofessional manner in which it had to be relayed.

Mr Renton should have been on stage to tell us his thoughts – the last train out of Blackpool wasn't until much later that night.

Conquered

It perhaps came as no surprise then that even amongst the bands that emerged to claim the top six places, none totally conquered Pallhuber's Mahlerian epic - although a modest handful came mighty close.

'Titan's' technical and interpretative challenges at the Open two years ago were still fresh in the memory for several bands in Blackpool - none more so than Kirkintilloch, Whitburn, Hammonds Saltaire and BTM, who all played in Symphony Hall that day.

Imposing

For the rest it posed an imposingly fresh challenge to their ambitions of reaching Birmingham.

For the composer, Mahler's music comes as second nature, but getting beyond the notes to capture the essential character, stylistic nuance and structure of the work stretched these bands and their MD's to the very brink; a fact that after eight long hours saw audience opinion on the winner vary considerably.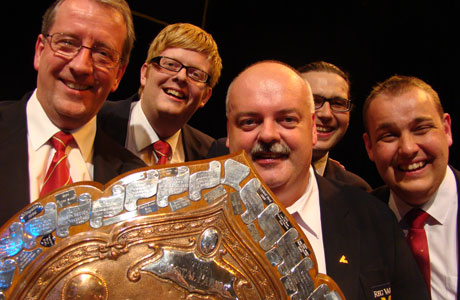 Boys will be boys - Reg Vardy's all male Shield carriers...

Convincing

For the men that mattered though, Reg Vardy's winning performance was one moulded into a totally convincing and cohesive whole by Nick Childs.

The principal players, notably Tina Mortimer, Lisa Pope on euphonium and Stephen Wilkinson on flugel, all delivered in spades.

For a band whose sound has occasionally tended to the edgy in recent times, this was a performance of control, sonority, delicacy, balance and precision.

Although be no means flawless, it also crackled with impulsive musical electricity – a current of growing confidence that led back to the British Open as Grand Shield victors.

No wait

There was no multi-year wait for Kirkintilloch.

They deservedly returned at the first attempt; courtesy of a finely honed, cultured and down right exciting performance under the direction of Garry Cutt.

Given the marathon length of the contest it said a great deal of the band (and of the judges) that from the number 3 draw it held its own to the very end.

Supreme

Theirs was a rendition that perhaps came closest to Pallhuber 'Titan' intentions - thanks in no small part to the 'Best Instrumentalist' contribution of Steve Stewart's supremely stylish, almost technically flawless delivery on soprano.

Forget the visual antics and concentrate on the playing and on this form there are few, if any, better sop players around.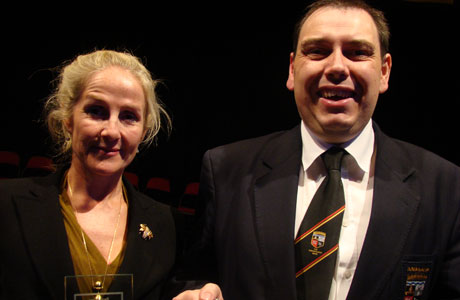 Straight back to Birmingham for Kirkintilloch

Near miss chapter

With only the two qualification places on offer, it will be Redbridge and Pemberton Old Wigan DW who will have the task of writing another Grand Shield 'near miss' chapter in their history books.

And despite the obvious disappointment of missing out for a second successive year, both will be highly encouraged by their performances – further confirmation of growing maturity and confidence as potential major contenders.

Confidence

Redbridge's performance (even with a weakened cornet section) was a reflection of the contesting confidence Jeremy Wise has injected into his players over the last couple of years, with the minor blemishes quickly forgotten in a boldly drawn account.

Meanwhile, Mark Bentham was confident in his and his band's abilities to provide a 'Titan' of very individual attributes with Pemberton.

It was a darkly hued slant on the score, by turns muscular and majestic, but always compelling in its conception and delivery.

On this form both bands could well make an impression on the prizes at major events later in the year.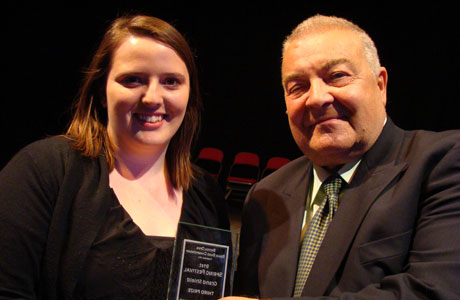 Confidence restored for Redbridge
Impressive

The remaining top six places also went to bands that had featured highly in 2010, with Flowers impressive late draw rendition just losing its focus in the final quarter when looking a possible outside bet for a Symphony Hall berth.

Fifth place sees them frustratingly stuck on the fringes of the promotion places for a third consecutive year.

They were within tantalising touching distance once again.

BTM meanwhile finds itself in a similar position, down a place to sixth from 2010 with an adrenalin fuelled performance under Tom Davoren that although a touch wayward at times, scored high in the excitement stakes.

Contrasts

Just outside the top six, Wingates, under the direction of Philip Harper, should feel pleased with a stylish showing that captured the contrasts of the score albeit let down by some scrappy ensemble work.

The same applies with Mareika Gray and Co-operative Milnrow (assisted by Philip McCann on the front row), who were also rewarded by the adjudicators for the stylish touches from the main soloists and careful attention to dynamics.

Further down

Further down the results table and the structural problems in delivering such a demanding work became clearly identifiable (although Whitburn will wonder what they did so wrong in coming 12th)

Thoresby Colliery couldn't match the form they displayed in coming second at the Midland Area, with a performance under Ian McElligot that stubbornly refused to ignite, whilst Midland neighbours Jaguar Land Rover produced a mixed bag despite passages of notable quality, to finish tenth.

Staffordshire delivered a stylish but error strewn account to come 11th under Nigel Seaman, but it was the performance that ended in 12th that had the gossip mongers chattering away well into the night in Blackpool bars.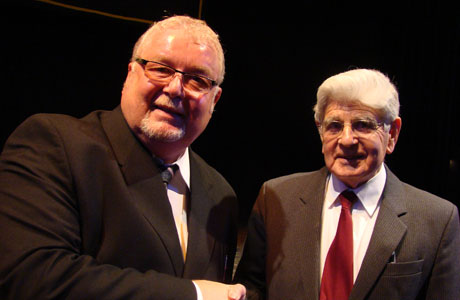 Pemberton's fourth place

Cohesive

Pre-contest favourites Exchange Communications Whitburn under Ian Porthouse, delivered a refined performance (not without its noticeable mishaps however) that was musically one of the most cohesive and contrasting of the day.

The errors did detract, but they were perhaps not as fatal as the judges eventually diagnosed.

They will have to endure a further year in purgatory, not helped by their possible European Championship commitments in Rotterdam in twelve months time.

Failed

Below these and the final third of the results table was full of performances that failed to overcome the technical as well as musical hurdles imposed by the 'Titan' score.

Freckleton attempted to compensate for a lack of precision with an overblown account which did well to finish outside the bottom five, whilst for Mount Charles and Newstead, a combination of problematic tuning in the slower passages and scrappy ensemble saw them narrowly escape the threat of relegation to the Senior Cup.

Lack of confidence

Both Skelmanthorpe and Woodfalls gave performances that curiously lacked a sense of collective confidence (especially given their recent form), as two somewhat nervous bands never sounded at ease from the word go.

Woodfalls will be especially disappointed that after such a fine start to the season they return to the Senior Cup after just one year.

Scots duo

The Scots duo of Dalmellington and Kingdom join them there after delivering fairly non descript efforts – although Kingdom sounded understandably jaded from their fine efforts in Montreux.

Hammonds Saltaire meanwhile will ponder on a performance that although no better or worse than many above them, failed to capture the vibrancy required and faded away to come 20th.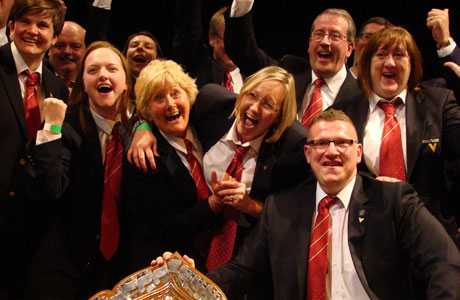 Time for celebration for Reg Vardy - 2011 Grand Shield winners

Policy

'Titan's Progress' was always going to be a stern test in the Grand Shield, but with the policy of utilising two year old Open set works, it provided an early reminder of just what is now in store for the bands in 2012.

'Standing on the Shoulders of Giants' is next in line.

Thankfully for Reg Vardy and Kirkintilloch, they will be joining the banding giants in Symphony Hall in September.

Christopher Thomas