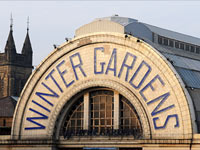 Grand Shield
Opera House

Draw: 9.00am
Start: 10.00am

Test Piece: Titan's Progress (Hermann Pallhuber)
---

The Dragon flies for Tredegar in 2010

We say it every year: Symphony Hall beckons.

20 well matched bands will tackle Herman Pallhuber's magnificent set work in the hope that they will end the day as one of the duo that will catch the ears of the judges at the Winter Garden's Opera House and emerge from the unholy scrum of battle to book their place in Birmingham

And whoever those two bands are come Saturday evening, they will have deserved it.

Socks off

'Titan's Progress' is one heck of a challenge, which only those with true Open potential can have any chance of conquering.

Lips as well as socks will have been well and truly worked off.

Hope

And hope springs eternal – especially as Tredegar showed last year, that if you are good enough then just getting to Symphony Hall shouldn't be the end of your ambitions.

It may be difficult looking at this line up to suggest any of the contenders could possibly go on and repeat the Welsh band's feat, but you could put a pretty persuasive case for just about any one of them having the ability to get there to try.

Strongest line up

This is perhaps the strongest Grand Shield line up for years, with no less than seven London contenders (including four Area champions) all hoping to make it a major qualification 'double'.

Each of the UK's regions sends at least one band with the Celts in particular setting up camp on the Golden Mile.

Welsh confidence

With Tredegar and Tongwynlais making it through last year, BTM will hope to rejoin them after losing their place at the top table in 2009.

12 months ago they impressed but couldn't quite do enough in coming 5th, whilst the promise of their early season form dissipated somewhat at the Welsh Area when they came missed out on the trip to London by a margin.

Bold, confident and certainly not short of the armoury required on 'Titan', they should fancy their chances of being in the mix again if they have been able to put in the hard prep work.

Scots quartet

The Scots meanwhile send down a strong quartet of challengers in Whitburn, Kirkintilloch, Dalmellington and Kingdom Brass, with the Blackpool bookies already accepting short odds on at least one of them booking a place at Symphony Hall.

A revitalised Exchange Communications Whitburn, won the Scottish title in some style and will once again by conducted by Ian Porthouse – a man with a bit of a Midas contesting touch at present.

After losing their place at the British Open after close on two decades they will be desperate to return as soon as possible.

So too Kirkintilloch, who also dropped through the relegation trap door last year.

They certainly gave it their all in their attempt to get back to London only to come 4th, so they will not want a repeat here as they take to the stage once more under the baton of Garry Cutt.

Back from Europe

Kingdom Brass meanwhile will have had little time to reflect on their fine efforts at the recent European Championship, where they impressed with their vibrant approach against an exceptionally tough field of rivals.

They took the sensible option of giving 'Titan' an airing in Montreux – a decision that may well pay dividends if they can build on that encouraging performance.

The final quartet member is Dalmellington, who has been quietly going about its contesting business under Raymond Tennant – picking up 6th place at the Scottish after claiming promotion from the Senior Cup last year.

West of England

The West of England also sends a strong contingent up the M5, headed by two of the form bands of the 2011 season – Woodfalls and Flowers.

Woodfalls in particular will be looking to build on the impressive victories at Yeovil and the Area, whilst Butlins champion Flowers will look to show that they are more than good enough to return to the Open for a third time this century.

Both are real contenders for the title if they hit top form.

Mount Charles knows better than most how hard a mistress this contest can be and will be looking to move back up the results table after last season's lowly 16th place.

They showed plenty of quality at the Area, despite the end result, so could be something of a dark horse.

North West

The North West will pin its hopes on the strong quartet of Freckleton, Pemberton Old Wigan DW, Co-operative Milnrow and Wingates.

First Section Freckleton didn't do themselves justice at the Area and will be looking to show that was something of a temporary blip in form as they seek to improve on last year's 14th place, whilst Pemberton will certainly not be short of confidence as they head here already booked into their Albert Hall hotel.

Winners of Brass at the Guild and 3rd last year, they are well backed at the bookies before a note has been blown.

Co-operative Milnrow promoted from the Senior Cup will be looking to build on that growing confidence under the baton of David Evans, despite a lowly 10th place finish at the Area, whilst former Open winners Wingates have also attracted a bit of a pre contest flutter to.

They have booked former Grand Shield winning conductor Phil Harper to lead them into battle, and whilst they couldn't quite join Pemberton in Kensington they were good value for their 4th place Area finish and their top 10 result here last year.

Yorkshire

Making the trip over the Pennines are Yorkshire First Section champion Hammonds Saltaire and Skelmanthorpe – two solid, hard working outfits who will be confident of taking the Grand Shield back to the White Rose county for the first time since 2005.

Hammonds showed that despite their lack of National Championship status (although that will change in 2012) they were certainly not out of their depth in coming 11th last year, whilst Skelmanthorpe has gained a well deserved reputation as a highly competitive top section outfit under John Roberts, despite last year's lowly finish.

Midlands

You have to go back to 1993 to find the last Midlands name engraved on the famous Shield (William Davis) so fans of Newstead Welfare, Jaguar Land Rover, Staffordshire and Thoresby will be hoping this is the year that one of them is able to do just that.

Newstead and Jaguar claimed solid midfield finishes last year whilst Staffs gained promotion from the Senior Cup.

All three put in decent shows at the Area at Bedworth without quite suggesting they had enough about them to book a place at the Albert Hall.

Not so Thoresby, who claimed their Kensington berth thanks to a fine performance under the baton of Ian Porthouse.

They will not be short of confidence then as they look to make a long overdue Open re-appearance under the direction of Ian McElligott.

Area winners

That leaves the two well backed Area winners of Redbridge and Reg Vardy – both of who certainly look to have the qualities required to claim their places at Symphony Hall under Jeremy Wise and Dr Nicholas Childs.

The Londoners came close last year when finishing 4th, and showed their quality in dominating the Area contest at Stevenage, whilst Reg Vardy are back in the form that saw them regain their Area title in Darlington.
---
As for a winner?

As ever, qualifying bands need all the necessary title winning qualities, plus that little bit of good fortune too.

If serendipity decides to play its part then the win could go to any of six or seven contenders, but if it pans out according to recent form, then it could be a day for celebration north of the border.

If Whitburn show the form displayed at the Scottish then they could be the band to beat, but they should be pushed all the way to Birmingham by the likes of Reg Vardy, Flowers, Kirkintilloch, Pemberton Old Wigan DW and Redbridge

Our dark horse is Woodfalls.

4BR Prediction:

1. Exchange Communications Whitburn
2. Reg Vardy
3. Flowers
4. Kirkintilloch
5. Pemberton Old Wigan DW
6. Redbridge

Dark Horse: Woodfalls