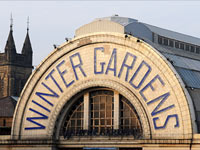 Senior Cup
Pavilion Theatre

Draw: 9.45am
Start: 10.45am

Test Piece: Prisms (Peter Graham)
---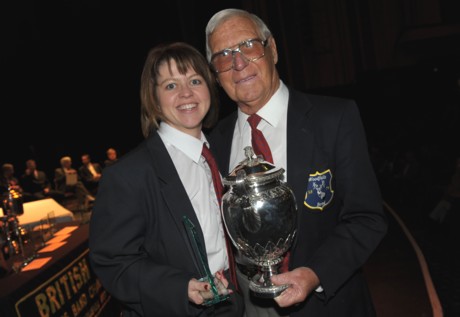 Woodfalls winning smiles in 2010

Just as the Grand Shield is chocker with bands, all of who can put forward a pretty persuasive argument why they should be able to qualify for the British Open before a note has been blown in anger, so can a host of competitors in the Senior Cup, all with heart felt belief in their Grand Shield aspirations.

Bump into a blazer

Bump into someone with a band blazer on, and with the promise of a free pint you are sure to hear just why their band has all the required attributes to win through on Peter Graham's tricky, but not overtly demanding set work, 'Prisms'.

Commissioned back in 1986 by the Yorkshire Imperial Metals Band it has surfaced now and again at contests – most notably in revised form as the top section test piece at the 1989 Areas.

It provided a stern test then, but should be within the capabilities of the bands here as they seek to take a step closer to the British Open.

Heading the list

Ashton under Lyne, has shown decent form of late under the baton of Martyn Evans, coming runner up at Tameside and 7th here last year, heads the list of runners all looking for one of the four promotion places on offer.

Joining them from the North West is Blackburn & Darwen who have also been in a rich vein of contesting form in the past 12 months or so under Nick Sheppard's direction- including promotion from the Senior Trophy.

Meanwhile, Co-operative Funeralcare Band North West (formerly Co-op Crewe), will be looking to build on the solid form shown of late under Jef Sparkes, to put a smile on the usual sombre faces of their new sponsors.

Yorkshire

Yorkshire as always sends a strong contingent of challengers, headed by the band that was responsible for the set work in the first place – Yorkshire Imperial Urquhart Travel.

Whether or not they still remember much about the original music is a debatable, but on their recent form they should fancy their chances of taking a step closer to the British Open.

Powerfuel Hatfield has been working hard to regain their Championship status under Graham O'Connor and will be keen to show further improvement as they seek to move up the results table from last year's 9th place.

Meanwhile, Marsden Silver will want to make a quick fire return to the Grand Shield after last year's surprising relegation.

The Pontins Champion has attracted a fair amount of pre contest action at the bookies.

Wales

Wales continues to send impressive outfits over Offa's Dyke, led by the in form Beaumaris.

The 2010 Senior Trophy winners have already booked their place at the Albert Hall, beating British Open winner Tredegar and pushing Cory close at the Welsh Area, so are justifiably one of the short odd favourites to claim a promotion place or better.

Burry Port who has been working hard in the First Section to return to competitive ways after failing to make the starting line up in the Grand Shield last year joins them.

North East

The North East also sends some strong looking contenders in the form of EYMS, Fishburn, and NASUWT Riverside.

Alan Morrison led a confident EYMS to London qualification at Darlington, pushing Reg Vardy all the way to the finishing line, whilst Fishburn and NASUWT Riverside showed that they are moving back in the right contesting direction too, despite not being able to claim podium finishes.

Midlands

The Midlands hopes rest on the trio of Derwent Brass, Ratby Co-operative and Sovereign Brass, all of who have shown glimpses in the past 12 months or so of their potential even if the results haven't always backed their claims up.

Derwent and Ratby ended in the low midfield places here last time out whilst Sovereign fell through the Grand Shield relegation trap door.

Scots

The Scots of Bo'ness & Carriden and Unison Kinneil will travel south looking to put their 2011 seasons back on track after lowly returns at the Scottish earlier in the season, whist Laganvale (Metal Technology) make their annual trip across the Irish Sea to see if they can improve on last year's 12th place.

London

Finally, there could well be a strong challenge from south of the Watford Gap, with Zone One heading the challenge from London and the Southern Counties following their excellent Royal Albert Hall qualification at Stevenage a few months ago.,

If they have been able to put in the prep work they could be a band to watch out for, whilst former Grand Shield winners Aveley & Newham will surely come determined to put behind them the horror show of Stevenage where they ended 9th.

Friary Guildford meanwhile has worked hard to make the step up in class after their Harrogate First Section victory last year, posting a solid top six finish at Stevenage and winning at Folkestone.

They could be a something of a dark horse.
---
As for a winner?

A difficult one as ever – but two impressive London qualifiers in Beaumaris and Zone One really did show that extra touch of class at the Areas and they look to be the bands to beat.

Behind them, it could be one heck of a tussle for the remaining promotion places, but Marsden and EYMS should have enough about them to claim their place at the Grand Shield in 2012.

Yorkshire Imps and Ashton make up our top six with Friary Guildford as our dark horse.

4BR Prediction:

1. Beaumaris
2. Zone One
3. Marsden Silver Prize
4. EYMS
5. Yorkshire Imperial Urquart Travel
6. Ashton under Lyne

Dark Horse: Friary Guildford