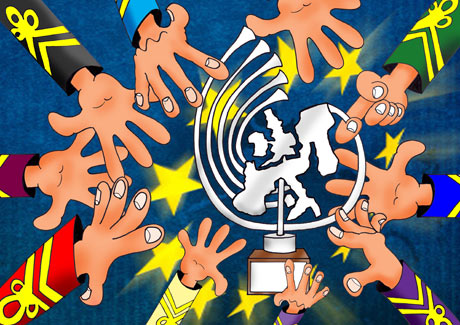 Hands off! Cory defend their title in Montreux this weekend

Forget politics - a year is a very time in banding.
12 months ago, we all made the trip to Linz to hear 10 of the best bands in Europe battle it out for glory at the Brucknerhaus on the banks of the Danube: Cory defended their title against some of the traditional powerhouses of European banding - Black Dyke, Eikanger Bjorsvik, Brass Band Oberosterreich and De Waldsang.
Only the champions remain.
Reasons

For a number of complex reasons, there has been a quiet revolution throughout Europe that has seen the established order placed in a state of contesting flux: Loss of form, lack of sponsorship – even changing priorities has meant that the line up at the Stravinski Auditorium this year includes four debutants.
The ten bands will be faced by one heck of a set work test to overcome on the Friday if they are to lay at least one hand on the iconic Milton Steven trophy.
Very, very hard

Oliver Waespi's 'Audivi Media Nocte' is a stunning 17 minutes or so of writing: inventive, colourful, exciting, mystical, funky, contemplative and even down right wacky. It is also very, very hard.
Whoever can overcome its immense musical as well as technical challenges, may well lead the way into the own choice selections – but will do so tested to the very limit.

It will be interesting to hear which of the bands has something left in the tank to be able to thrill a packed hall on their own choice selections.
And those choices are every bit as interesting as the set work too.
Premieres

Two world premieres from Gavin Higgins and Simon Dobson will be pitched against a new (but already played) work from Torstein Aagaard-Nilsen, and musical leviathans from Edward Gregson, Philip Sparke, Jan Van der Roost, Peter Graham and Hermann Pallhuber.
By all accounts the roof of the Stavinski Auditorium has been checked by the Montreux Health & Safety Board – as some of these beauties played at full tilt will surely endanger the structural integrity of the hall.
Much then for the sell out audience and the experienced list of top class adjudicators to enjoy – with Frode Amundsen, Eric Crees and Thomas Doss taking care of the set work on the Friday and Blaise Heritier, Luc Vertommen and Allan Withington charged with the own choice decisions.
Favourites tag

The favourites tag has been rightly pinned on Cory – as they seek a fourth consecutive title.
Despite the disappointments at the other 'Majors' in 2010, they have become almost untouchable at this event – winning both disciplines of the contest in 2009 and 2010 (as well as seven of the last ten) in claiming victory in considerable style.

After so many years of near misses and disappointment, they now command the competition in much the same way YBS did under David King.
They will surely be the band to beat once more.
UK new order

The new order of UK banding is headed by English National champions Fairey (Geneva) and British Open winners Tredegar – two of the form bands of 2010, but two who have yet to fire on all cylinders this season.
Fairey return to the contest for the first time since 2004, hoping to add to their single European success of 1994, whilst Tredegar makes its ninth appearance searching to better its single podium finish of 1991.
Both bands are remain full of European ambition however and could pose Cory a real handful of a challenge.
Scotland

Scottish hopes rest with Kingdom Brass, who make their debut this year as notional fourth choice qualifiers, after 2010 Scottish Champions, Co-operative Funeralcare, then Kirkintilloch and Whitburn declined on grounds of cost.
Like Bon Accord last year, there will be an immense sense of pride on show when Kingdom takes to the stage, but the odds are stacked against them making any more of an impression than any of their counterparts in the last few years, although they may well surprise a number of rivals if they can build on their recent good form.
Potent Norwegian threat

It is now 22 years since the European trophy rested in a bandroom in Norway – although the first of Eikanger's twin victories in 1988 and 1989 came in Switzerland in Lucerne.
Manger Musikklag leads a strong Scandinavian challenge this year and they could well pose the most potent threat of all Cory's current hegemony.
Although they did not win their own domestic National Championship in Begren earlier this year, their twin performances there were of a quality that only an inspired Eikanger on the very best of form could beat.
The band makes its eleventh appearance at the contest, but its first since 2003, as they seek to go one better than their 1981 effort when they came runner up.
Danes

Like Kingdom Brass, Lyngby Taarbaek comes to the contest not as a first choice National Champion.

They were beaten in a high quality battle in Jutland last November by Concord Brass, but will for a tenth time fly the Danish flag with pride as they look to claim a second top six finish or better.
Swedish dark horse

One of the dark horse bands to watch out for this weekend will surely be Windcorp, who retained their Swedish title in some style under the baton of Garry Cutt last November in Värnamo.
The Swedes have a bit of a relaxed attitude to the European contest – this is the first time since 2008 that they have sent a representative, but over the years they have occasionally shown a real competitiveness.

Many neutral observers think this could be one such year.
Low Countries challenge

The Netherlands and Belgium have a fine record of achievement at this event – although there has been something of a shift in the domestic power bases in both in recent times.
Brass Band Schoonhoven's first top section win at the Dutch Nationals in Groningen late last year was a bit of a domestic surprise, but it shouldn't have been after they had produced a very fine account of themselves in claiming a podium finish at the Masters in Kettering a few months before.
There was perhaps an even greater shock registered in Belgium, where Noord-Limburgse took the title ahead of more fancied rivals, but after coming runner up at the Nationals in the previous two years, and posting a podium finish at Euro Brass 2010, their victory was perhaps more than overdue.
Host nation

That leaves the host nation – and the return of Treize Etoiles to an event they have graced with musical excellence on fourteen previous occasions.

Those have resulted in four podium finishes – including coming runner up on their last appearance in2009.
They claimed the right to represent Switzerland after delivering two wonderfully creative performances at the Swiss Nationals in this very hall in November under the direction of James Gourlay.
No Swiss band has even won the European title, and whilst the pre contest odds may be ever so slightly against them, they are a band more than capable creating a new chapter of European history.
---
As for a winner?
Twelve months is a very long time in banding indeed – but the class of Cory should win out again if they perform to the same levels here as they have done in the past two years.
Manger could well be the major threat though. We have heard them a couple of times in the past year or so and they have been nothing less than stunning.
Treize Etoiles will be a major threat – although much depends on what musical path they take with their own choice selection, whilst the ambitious duo of Fairey (Geneva) and Tredegar will be breathing down their necks for certain.
Schoonhoven may just have enough about them to claim a top six place ahead of our dark horse Nord Limburgse.
4BR Prediction:
1. Cory
2. Manger Musikklag
3. Treize Etoiles
4. Fairey (Geneva)
5. Tredegar
6. Schoonhoven
Dark Horse: Noord Limburgse