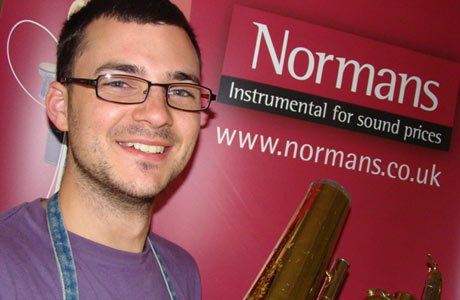 Jim'll Fix It! Ask Normans Jim Prior for tips on your instruments.

If you have a question or a problem you want Jim to try and sort out, drop 4BR a line at: news@4barsrest.com
---
The third valve tuning slide on my tenor horn is stuck fast. I've tried a gentle pull on it but it doesn't move.

How can I release it without damaging the instrument?

Jim's Fix It:

The best option is to take it into your local repairer.

If you start to pull to hard you are in danger of damaging the bow of the slide or pulling apart one of the soldered stays.
---
I have a nasty looking crease in the bell of my tuba, as well as bumps and dents in the usual places after five years of constant use.

Is it worth getting the instrument spruced up?
Jim's Fix It:

Yes - it would be worth having it looked at. You need to be careful with dents in the bell section, especially if it has caused damage to the rim as that will affect the sound of the instrument.
If there are dents and bumps in the usual places and some in unusual places it would be worth getting them looked at as it could be restricting air flow and making the instrument harder to play.
---
The first valve on my cornet turns 360 degrees at times for no apparent reason making the instrument impossible to play.

Any ideas on how to fix it?
Jim's Fix It:

Very simple. It sounds like the valve guide is either past its sale by date or its not fitting properly into the valve casing.

I would suggest getting some new valve guides first.
---
I'm the proud owner of a bass trombone with the usual complex trigger mechanisms. It's been getting sticky to use recently.

Any tips for easy cleaning or should it be sorted by a professional?
Jim's Fix It:

It would be best to take it to a professional.

Getting the valve out in the first place is quite tricky and you really need a specialist tool to work on it without damaging it or the thread that holds it all together.