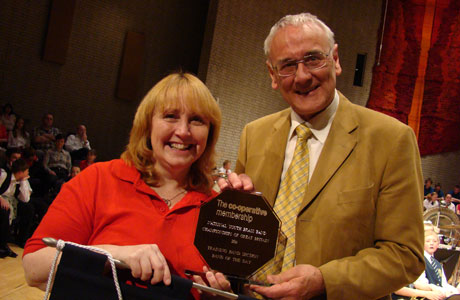 Wonderful smiles for Sue Harrison and Astley

Training Section:
It would have been a huge mistake on behalf of the organisers to have tried to impose a competitive element on what was a display of sheer musical enjoyment in the grass roots Training Section event.
The well meaning 'Band of the Day' award meant adjudicator's Malcolm Brownbill and Lucy Pankhurst were left with an almost impossible task of comparing and contrasting nine wonderfully vibrant ensembles - all of who entered into the right spirit of the event.
Wonderful

In the end they plumbed for the wonderful 18 strong ensemble from Astley Youth Training, led with ever smiling enthusiasm and encouragement by Sue Harrison – although it could have easily gone to any of their eight rivals.
The intention of the event was 'to encourage very young bands/players to take part in the day's music making' – a lovely ambition, but one that inadvertently gave rise to all sorts of problems.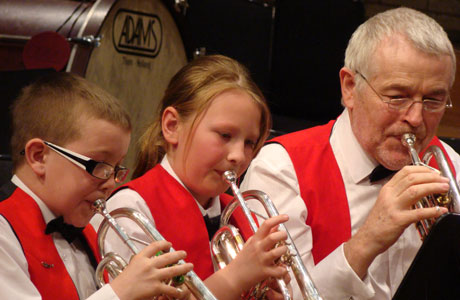 Young and old for the Band of the Day...

Very young?

Was 14 years and under really, 'very young'?

A number of the bands on display seemed pretty well established ensembles, not those taking their first steps on the platform of public performance.
Perhaps, as one conductor told 4BR afterwards, it would be better to make it open to bands comprised of primary school age children only, with some adult help – although not the type that saw a couple of senior players play every note of every piece.
Awards?

And what really is wrong with awarding certificates of merit at this level?

Children love to know how they have done – it tends to be the adults that complain when they haven't beaten anyone else…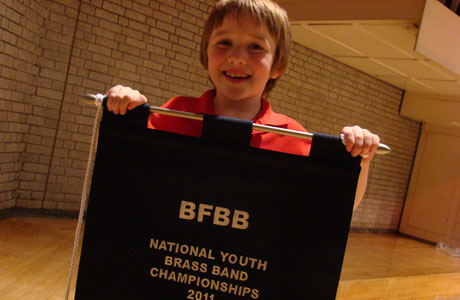 Guess what I've won...

Engaging

Astley's 'Band of the Day' performance set was 15 minutes of intelligently chosen music making – full of those little Jock MacKenzie pieces that engage young minds as well as improve emerging technique and musicality.
Any piece called 'Fried Egg' or 'Totem Pole' has got to be one that young players enjoy.

Sue Harrison led with a perfect sense of encouragement, whilst it was good to see the adult helpers allowing their young counterparts every opportunity to lead the way – encouraging and directing, even giggling at their own efforts – not just bashing out all the notes.
It was a performance that also ticked all the right boxes for the judges – and Sue's smile when being photographed with her young players was born of sheer unadulterated pride in their achievement.
World trip

Throughout the morning there was plenty of wonderful playing on show.
Coleshill's musical trip around the world – from Paris to Moscow via Beijing and Mexico City was a little cracker – helped by the mother and daughter pairing of Lauren and Claire Pilkington, who had a great time of it both before and after the event. Lauren was just 5!
Super

Meanwhile, Bolton Beginner's (with the imposing adult duo of Matt Routley and Simon Minshall giving a helping hand) produced a super programme under the baton of Toby Hobson that included everything from Robbie Williams to Beethoven and more.
Shirland's neat selection under Dave Harvey included a cracking opener called 'The Magician's Assistant and the Deck of Cards', which certainly wasn't all smoke and mirrors and was balanced by some lively ensemble playing especially in the hymn tune 'Lloyd'.
Wardle meanwhile came to entertain – and they did that royally with MD Gwen Smith leading her band onto the stage with a marching mace as they started with the 'Mickey Mouse' march (complete with requisite supplies of stick on ears) – before rounding off an all bells and whistles programme with a great 'Grand Waltz'.
Entertain

With Bolton Junior Band also starting with a trip to Disneyland, Anna Hughes -Williams also ensured her young players took a bit of a musical history lesson too, with an upbeat 'Rock Around the Clock', before closing with a swashbuckling 'Pirates of the Caribbean'.
Sellers International Little Acorns were led by Jamie Smith – who at the age of 16 was only a couple of years older than most of his players!

Their great little set was simple and effective and ended with 'Wallace and Grommit' on fine form.
Clever

Lions Youth (and youth they were with an average age of just 9) opted for plenty of choreography with a cleverly chosen programme that included just the two works – although the 'Black' finale from the enjoyable 'Colour Suite' sounded suspiciously like a minimalist take on the 'Toccata' from 'Suite Gothique'!
That just left Warren Wood Primary School under Peter Christian, who led his small ensemble through a 'cartoon cacophony' as it was described – from 'The Muppets' to 'The Simpsons' via Fred Flintstone and Elton John.
Who says the music kids enjoy sounds all the same?
Iwan Fox
---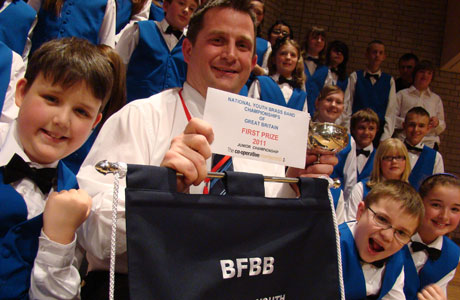 Sign of a champion for Toby Hobson and Bolton...

Junior Section:

The Junior Section opened the day with nine cracking bands; all playing to their potential in what was an enjoyable and interesting contest.
Gold Awards

Four bands eventually came away with Gold Awards, two with Silver and three with Bronze – a pretty accurate reflection of the standard of playing on show from youngsters all under the age of 16.
The 15 minute programmes had to include two verses of a 'Red Book' hymn tune – an inspired idea that ensured that developing players were reminded of one of the basic tenants of good brass band musicianship.
The four Gold Awards were well merited by Lynda Nicholson and Steve Pritchard –Jones.
Hot bed

The winner was Bolton Intermediate directed by Toby Hobson –who seems to be an integral part of the development of a real hotbed of emerging talent (two bands took part in the Training Section).
Their well chosen programme was a neat blend of the showy, the traditional and the original – with the opening 'Rocky' theme and Herb Alpert,'s 'Tijuana Taxi' followed by the hymn tune 'Aurelia', 'Sweet Gingerbread Man' and the finisher – 'Volcano – 'Eyjafjallajokull', inspired by last year's exploding Icelandic mountain top.
50 strong, purposeful, balanced and confident – it was a worthy champion, led by a rather inspirational MD.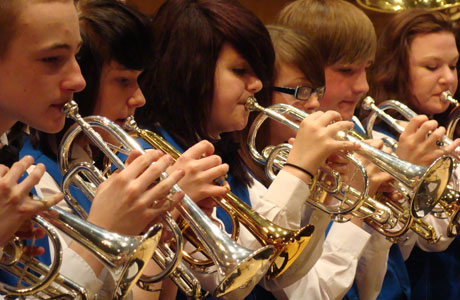 All in a line for the champions...

Entertaining

Behind them came Daventry Music Centre with an entertaining programme that had everything from 'James Bond' and 'Mission Impossible' to the hymn tune 'Nicea' and a cleverly choreographed 'Mr Sandman'.
There was much to enjoy with Chalford too – in a more traditional programme set that opened with the 'Prelude' to John Golland's recent Fourth Section Area set work and went on to include Malcolm Arnold's 'Siciliano' and the finisher 'Born Free'.
It was perhaps the one programme of the day in the RNCM Theatre that came closest to delivering just what these National Youth Championships should be all about.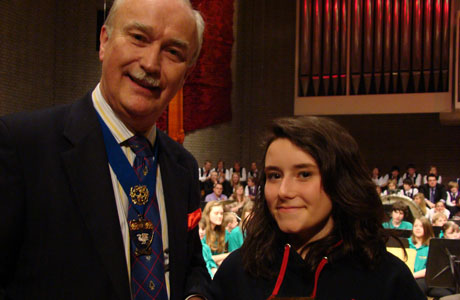 A determined smile for second placed Daventry Music Centre

Assembled ranks

The final Gold Award went to the assembled ranks (over 40 players) of Gwynedd & Mon Brass, with a lively programme set full of good basic playing – from a neat opening from the 'Lith Hill Suite' all the way to the 'Russian Folk Dance' ending.
Fred Longworth High School and Gawthorpe Junior Band both produced sets that showed their emerging promise and potential to take Silver Awards.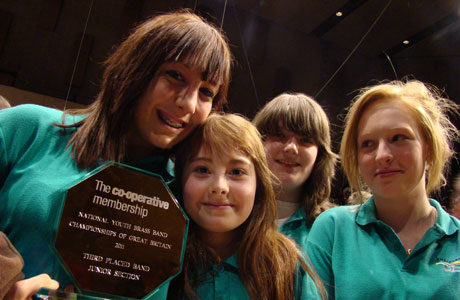 Happy girls - third placed Chalford Youth

Ambitious

Fred Longworth opened the day's contesting with an ambitious set that included a cracking march 'Barnard Castle' and a very fine young tenor horn player in Adam Marsh, who deservedly took the 'Best Instrumentalist' Award for his confident rendition of 'Over the Rainbow'.
Gawthorpe who followed were equally ambitious, with a quintet of numbers that had everything from a funky opener through to Pachelbel's famous 'Canon' and a closing 'Spaceman' finisher that featured two excellent young soloists.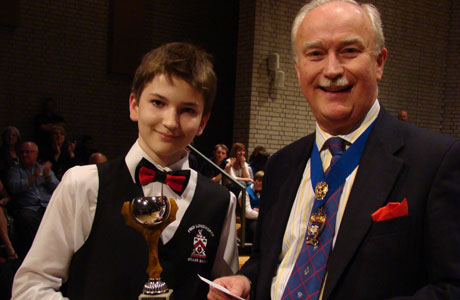 Over the Moon - or even the Rainbow for Best Instrumentalist Adam Marsh

Bronze Awards

The Bronze Awards were taken by Lions Youth Brass, Coleshill Youth Brass and Macclesfield Junior Brass.
Coleshill's World War II theme was highly entertaining, if perhaps a touch misplaced for this event – although you couldn't help but admire the sense of purpose and endeavour that went into an inventive bit of presentation under the direction of Stephen Fagg.
Mirrored

Lions meanwhile also opted for an entertaining set – with everything from 'Eye of the Tiger' to the hymn tune 'Eternal Father' played with balance and warmth – and led by an MD in Iain Raisbeck who exuded encouragement and enjoyment – something mirrored in full by his players.
Finally, a very young Macclesfield Youth Band, who were excellently led by Cheryl Slamon.

Their programme placed an emphasis on good simple music making, with a fanfare opener followed by a warmly balanced 'Lloyd' hymn tune and the 'Lith Hill Suite' to close.
Iwan Fox
---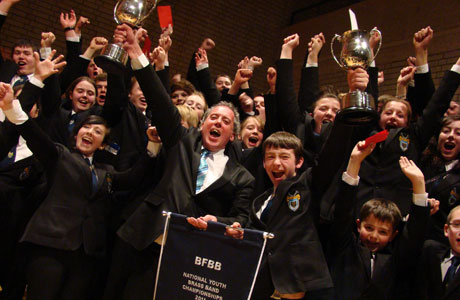 Champion cheer for Camborne Youth

Advanced Section:
Unlike the tin mines of Cornwall, which have just about run out of their rich seams of valuable bass metal, Alan Pope continues to unearth an almost limitless supply of musical gold in Camborne.
Remarkable

After a year away they returned to claim yet another National title – with a band comprising 13 debutants.

It was a quite remarkable achievement.
The Advanced Section is open to ensembles made up of players under the age of 19, performing a 20 minute programme of music that must include the set work – Philip Wilby's testing 'Psalms & Alleluias'.
With half of their 2009 National winning band now dispersed around the country at various universities or in jobs that cannot be provided in the immediate Camborne area, Alan digs deeper and deeper to find new nuggets of excellence – all with a boundless enthusiasm and evangelical zeal for the job in hand.

The rewards for his hard work are stunning.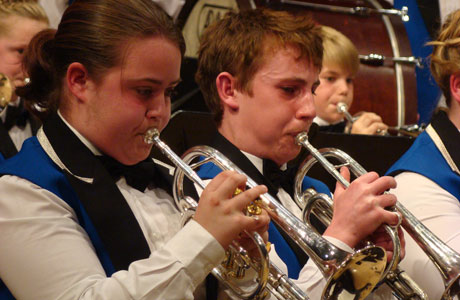 Classy cornets for the winners

Classy

Here they took the honours with a very classy bit of programming, delivered with a polished veneer of musicality borne of ingrained confidence.
In what was a rather puzzling contest, adjudicators Richard Marshall and Steve Pritchard-Jones were impressed enough to give them the only Gold Award, ahead of Silvers for Lions Youth Brass and Gloucestershire.
St Helen's Youth Brass claimed Bronze, whilst Merit Awards went to Oldham Music Centre Youth and Youth Brass 2000.
Strengths and weaknesses

Each of the competing bands delivered programmes that certainly emphasised their collective and individual strengths, but also very transparently illuminated their weaknesses too.
Camborne's opening 'Olympic Fanfare', complete with choreography was a cracker, followed by a rather less secure, but musically coherent interpretation of the set work.
Charlie Hodge was a supremely confident young xylophone soloist with 'Helter Skelter' before they closed with a bravura run through Dan Price's 'An American Tale'.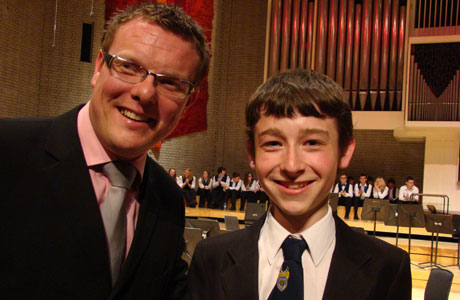 Impressive soloist and Best Instrumentalist winner Charlie Hodge

Tram load

Lions Youth (another organisation that continues to unearth a whole tram load of talented young players) mirrored Camborne's approach under the baton of Nigel Birch.
Their programme which also included Scott's 'Hymn to Barossa', the exciting opener 'Ground Brass' and the confident trombone soloist Ashley Taylor in 'Blessed Assurance', was well constructed if a little uneven in execution.
Option

Meanwhile third placed Gloucestershire Youth under Philip Harper opted for 'Alloway Tales' and the reflective 'A Little Prayer' to back their set work performance.
All three bands struggled somewhat with the Wilby set work – none every quite being able to sound at ease with the detailed requirements of the scoring or the broader musical flow.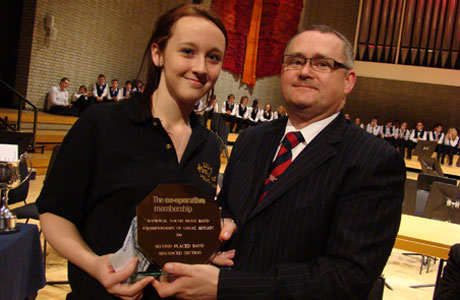 Second place for Lions Youth Brass

Ethos

However, St Helen's Youth may well be disappointed that their programme, that seemed to encompass the musical ethos of the competition to a tee, didn't find favour with the judges.
Mark Bousie's excellent direction elicited some fine ensemble playing from his young band, in Sparke's 'Concert Prelude' and Curnow's 'Jubilation', whilst the set work seemed the most technically secure of the day.
What they lacked in style they certainly made up for in substance.

A Bronze Award seemed more than a little puzzling.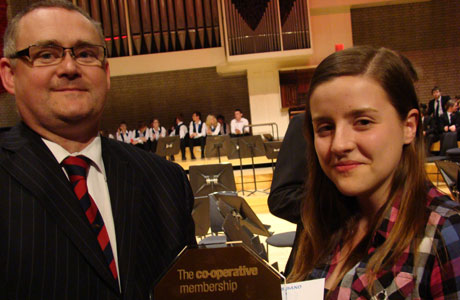 Third place for Gloucestershire Youth

Merit

Finally, the two Merit Awards, with Oldhan Music Centre Youth delivering a rather mixed set that started with a neat 'Arnhem' from William Relton's 'Three Memories for Brass' but rather fell away with the Khachaturian 'Adagio' from 'Spartacus' and the set work.
Youth Brass 2000 meanwhile will have left knowing that they didn't really deliver as they know they can– in what was a programme set that tried to produce a musical message of intent, but which rather stuttered in its execution.
The performance of 'A Little Light Music' minus the ice cream tarantella was a case in point – sounding a bit 'light' in substance as a result, whilst the set work had its moments of excellence but never quite felt at ease.
They sounded a band in a period of emerging transition - full of promise but a present just lacking their usual sense of competitive confidence.
Musical gold

Not so Camborne though – and they made the long (very long in fact) journey back home with yet another National title to their name.

Cornwall may no longer mine tin – but it is certainly producing musical gold.
Iwan Fox