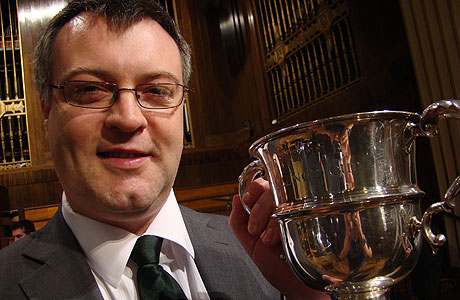 Thanks to Eric for Gary Davies and Llwydcoed

'Resurgam' may not have brought back startling memories of non conformist fire and brimstone pulpit preaching to listeners in the Second Section, but it did provide a measured reminder of just how difficult a work it remains to try and convey with a deep seated emotional connection to its subject matter.

Bible

And whilst some performances were as illuminating as a cover of an old Welsh bible (black, hard and uninviting) the majority did try and create the sense of opaque loss and spiritual redemption that so imbues Ball's iconic work, by playing with a sense of emotional colour, lyrical warmth and transparency.

That was certainly the case with the two high quality qualifiers in champions Llwydcoed and runner up Lewis Merthyr.

Perhaps the MDs Gary Davies and Gareth Pritchard are old Sunday School chapel boys (not that you can readily tell it must be said), because both displayed an intuitive appreciation of the emotive core of 'Resurgam' that hasn't been heard all that often around the country.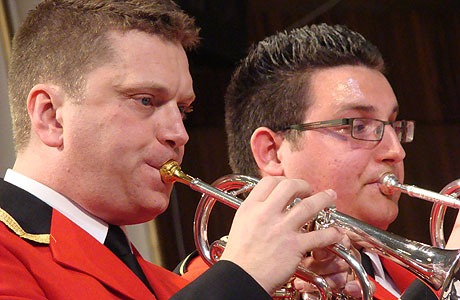 Iestyn Davies leads Llwydcoed to victory

Lyrical warmth

Whatever the roots of their spiritual backgrounds, as an old Senghenydd lad, David Read certainly had little difficulty recognising the sense of lyrical warmth they brought to the unfolding storyline - from the opening pick up and demanding cornet solo, through the knocking of death on the door, to the final redemptive climax and calm repose.

Gary Davies led Llwydcoed with an assured confidence–and his player's, most notably solo euphonium David Johnson and principal cornet Iestyn Davies responded in kind.

Coherent

It was well balanced, warmly toned, tastefully phrased – and above all lyrically coherent.

The emotion was never misplaced, the sense of redemption brought to a finely judged climax.

There was a stamp of quality David Read recognised in what he called 'a very classy performance' – and he wasn't wrong.

Lifeblood

The same applied to Lewis Merthyr, whose own long awaited contesting redemption came as they qualified for their first finals appearance since 1984.

'Resurgam' is the type of musical lifeblood that flows through Gareth Pritchard's veins, and his well earned reputation as a lyrical interpreter was shown to fine effect.

Cultured phrasing and elegant flow earmarked a performance that was only tarnished by unforced errors.

It was however, mature music making.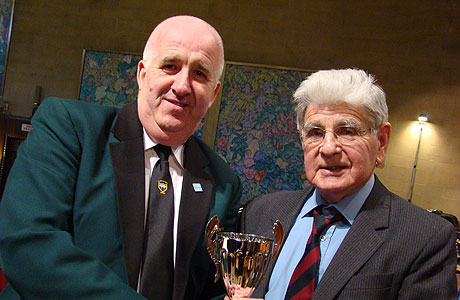 Best Instrumentalist winner - David Johnson

Touchstone

Mark Bousie's religious touchstone is perhaps harder to define, but he certainly brought a sense of chapel warmth to Royal Buckley's account, even though there were not enough bums on pew seats around the stands in places.

The understated approach with its simple appreciation of style gave the music a transparency only bettered by the qualifiers, and although tuning suffered in places it was a 'Resurgam' of musical depth and character.

Interpretation

Behind the top three, and much like the plethora of non-conformist chapels in the valleys, it all got in a bit of a tangle with interpretation.

None really sang from the same hymn sheet.

Llanrug's take under Paul Hughes was the old fashioned pulpit passion variety – great emotive sways of musicality, a little too loquacious in places, but certainly not lacking in passion and commitment.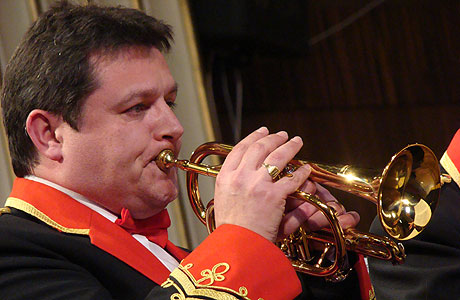 Redemption for Lewis Merthyr

It certainly set a quality marker off the number 1 draw, and with Beaumaris MD, Gwyn Evans enjoying himself on soprano, and the MD drawing emotive playing from his band, it was just the unforced errors that denied it an eventual podium finish.

Reserved

Blaenavon meanwhile opted for a more reserved approach: Technically secure but lacking that sense of an emotional core, there was some lovely solid solo work, but that deep seated belief that they were able to bring something extra to their rendition under Andrew Protheroe-Jones was just missing.

Security

Meanwhile, Newtown offered security in a strangely non-descript performance under Steve Edwards.

It seemed to lack the confidence to push past its self imposed boundaries in a rendition that just failed to live up to its potential.

In contrast, Cross Keys started well but lost focus and security as they tried to draw a bit too much red blooded emotion from the score under Ceri Bowden.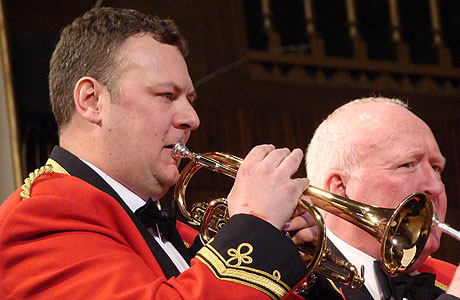 Just missing out for Royal Buckley

Struggle

The bottom three struggled somewhat: RAF St Athan having one of those days when all the good intentions counted for little with a punishing unforced error count, whilst both Gwaun Cae Gurwen and Ynyshir will know that on this occasion, 'Resurgam' rose a little too far above their hard working efforts.

All tried their best, with the three MDs all displaying an understanding of the score, even if their players were not always able to carry out their directions with the clarity and security they could have hoped.

Proud

Not so the two Cheltenham bound representatives, with a winner that fully deserved its classy victory and the runner up its well-judged qualification.

The local chapel ministers in Llwydcoed and Lewis Merthyr will have been proud of their efforts.

Iwan Fox