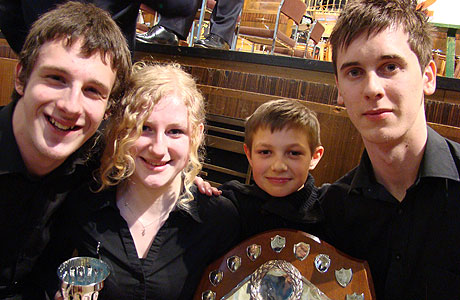 Winning smiles for Goodwick...

There is always talk in Wales of finding the new 'heir apparent' – from rugby and politics to choral signing and brass bands.

It's a bit of an never ending quest: Welsh rugby has yet to really find a new 'King' ever since Max Boyce lamented that in 1972; '...they broke the mould of solid gold, that once held Barry John'.

Neil Kinnock was never really going to be the new Anuerin Bevan was he now?

Heir apparent

Without wishing to place undue pressure on his shoulders, the young Dauphin of Welsh banding, the heir apparent to the Bob Childs throne, is without doubt Matthew Jenkins.

The talent is there is abundance – both as a gifted euphonium player and now as an emerging conductor of growing confidence and potential.

He has moulded a tremendous young band in Goodwick – one that retained its Third Section title with a wonderful performance of Philip Wilby's colourful test piece.

You suspect they made Brian Buckley's task an easy, and highly enjoyable one in the tent.

It was a 'A Little Light Music' in all senses - from the opening fanfares played with a regal pomp, through a light footed 'Clog Dance', a lyrical 'Romance' and breezy 'tarantella' full of youthful zest and liveliness, and a reprise that maintained control and stature right to the closing chord.

Brian described it as playing of 'outstanding consistency and musicality': He was bang on the money.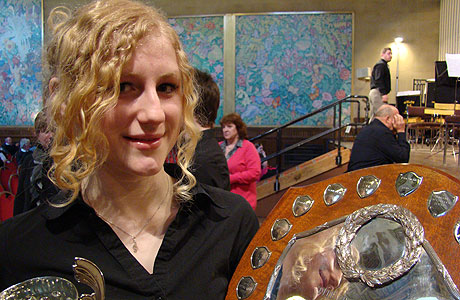 Best Instrumentalist: Ffion Williams

Sense of purpose

The MD controlled things with an unobtrusive sense of purpose – a style reminiscent of his Cory mentor, Bob Childs himself.

Like the man he is perhaps destined to meet on a contest stage at the highest levels in the not too distant future, he also brought out a great deal of detail to compliment the intuitive stylish musicality of his band.

With the technical aspects of the piece bolted together it allowed his young players to express themselves, with Ffion Williams on soprano taking the 'Best Instrumentalist' award for her sweet and neat contributions, as well as fine efforts from all the other leading lines.

It was a high class victor and will be a high class challenger for the National title itself (the band came runner up at Harrogate) in Cheltenham.

Quality ensemble

Joining them there will be another quality representative in Treherbert & District under Craig Roberts.

His in depth knowledge of the piece (he was instrumental in commissioning it nearly a decade ago) was still fresh and relevant as he directed his band through a stylish performance to gain the second qualification place on their return to the contest for the first time in three years.

The band's mix and match of young up and coming talent and experienced older heads produced a performance that although not without error, was admirably secure and certainly had the best 'tarantella' we have heard around the country this year – pacy, detailed and full of drama.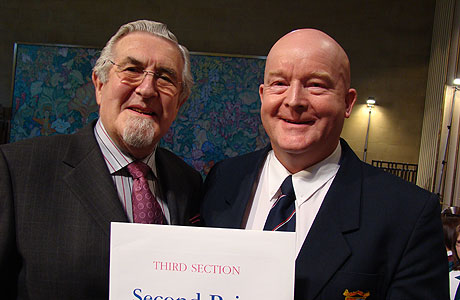 Stylish return for Treherbert

It just got a little robust in the ensemble sound in places, but given that the band has only been back together a few months and the players are commuting between bandrooms at present, it was still a fine achievement.

Much to enjoy

With the top two a good length or two ahead of the rest of the field, there was still much to enjoy with the remaining performances, although some of the contenders did struggle to overcome the technical and musical hurdles faced.

Tata Steel (Port Talbot) took the final podium spot with a performance that grew in confidence the longer it went on.

They also had a batch of talented young players on display, with the 13-year-old principal cornet player Will Mead a mature head on the youngest of shoulders, and some fine trombone playing from Kayleigh Holder.

It just lost its compactness as the adrenaline coursed through the veins in some sections of the band, but by its close it has certainly made a mark.

Encouraging

There was an encouraging performance from last year's Fourth Section Welsh champion, Crwbin in 4th.

Conducted by Andrew Jones, who was returning to his original alma mater they produced a solid rendition to confirm the progress they have made in the last couple of years.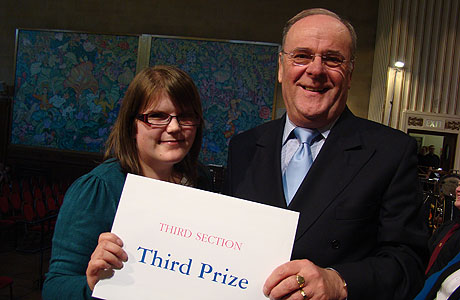 Ta Phil: Tata (Port Talbot) takes third place

Confident return

Severn Tunnel's return was also an encouraging one, with a confident rendition under Adrian Harris that was full of endeavour and commitment to the cause from first note to last.

It just got a bit fruity in places, but a fine timpani player really did catch the ear, as did the solid trombone section.

Meanwhile, Newport Borough's more restrained approach under the experienced Ivor Barnett, was steady and sensible.

Although the tuning did grate on occasions, it was a performance that made the most of strengths and covered the more obvious weaknesses, with a super bit of tuned percussion the best of the day.

Well managed

Brtion Ferry and Ogmore Valley did find Philip Wilby's test piece a struggle, although both MDs provided sensible, well managed direction from the middle to try and ensure that the more obvious fault lines in execution were minimised as best as possible.

Dr Christian Jenkins kept a lyrical flow to the music, but couldn't quite overcome the high unforced error count, whilst Alice Jones kept an intelligent hold on both dynamics and tempi to ensure her band was able to make its way through each of the demanding movements without over stretching themselves in the process.

Time will tell

Time will of course tell if Wales has indeed found the successor to the current banding 'King' of the Principality, but there is no doubting the authenticity of the man who so impressed everyone at the Brangwyn Hall with the full panoply of his talents.

Keep an eye out for Matthew Jenkins and Goodwick Band.

They could well enjoy a double investiture in Cheltenham in September.

Iwan Fox