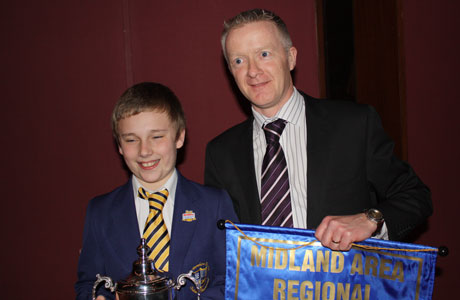 Happy smiles for Leicester Co-op

A good standard of playing at the Midlands Second on Sunday left adjudicators David Horsfield and Paul Norley stating that they enjoyed, 'a great time behind the curtain.'

Mr Benn

And despite the mental image created in the mind of a slightly surreal episode of the children's cartoon 'Mr Benn', as if by magic it was announced that Leicestershire Co-op and Bilton Silver had qualified for the finals and that both men were very impressed by their interpretations of Eric Ball's 'Resurgam'.

Both judges kept their pre-results comments short and sweet, expressing their enjoyment of the day's playing.
David, in particular had spectators laughing with his comments of just how good a time he and his counterpart had in the box.

Can play Resurgam

Meanwhile, Paul Norley won over the audience by praising the Midlands bands for proving critics wrong, stating that in his opinion at least, 'Second Section bands can play 'Resurgam''

Both judges also let it known that they were confident that the qualifiers they had sent to Cheltenham were the correct choices (always good to hear, even if it does state the obvious) and would do the Midlands proud at the Finals.

They also added that decent performances came from the 3rd and 4th placed bands, with everyone else bunching up after that.

Great form

The winning performance came from Leicestershire Co-op with MD Graham Jacklin at the helm, which continued the great form they had shown on the same piece in winning at Derby just a few weeks previously.

A well-rounded, musical interpretation of Eric Ball's masterpiece allowed the Leicester band to build further on that (and the recent invaluable work they had enjoyed with euphonium star David Thornton) to deliver an impressive winning rendition.

Fully justified

On what turned out to be a contest that fully justified Paul Norley's claim of overall quality, it was Bilton Silver that eventually claimed the runners up spot, thanks to confident ensemble playing, secure soloists, and good musical leadership from the experienced David Stowell.

Coming off lowly 10th and 7th place finishes in the last two years, the MDs direction seems to be what Bilton needed to turn around their fortunes and take them to the finals.

It was a very impressive reading and rendition.

The contest morning had started with a 'Resurgam' of real musical merit from Raunds Temperance, setting a high quality marker that also set the tone for the day.

It was also a performance that earned them the final podium spot, and although they just missed out on qualification in coming 3rd, it certainly showed that under Robin Norman they have been revitalised following last year's relegation.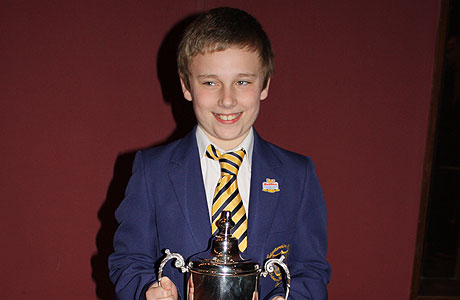 The smile of a winner - Leicestershire Co-ops young band rep...

Tired lad

Mark Wilcockson must have been tired after leading both Bakewell Silver and Shirebrook Miners Welfare onto stage directly after each other.

In the end he was rewarded with a well deserved 4th place for Shirebrook and 10th for Bakewell, with two performances that although cut from the same musical cloth were distinctly different in terms of overall quality.

Surprise

The big surprise of the day came from Matlock.

Despite solid mid-table places in the last two years since their promotion from the Third Section, they were not expected to do much at Bedworth on the weekend.

However, they walked away with a highly respectable 5th place after Dave Clark led them through a confident, well structured account.

Heart on sleeve

The final top six place was taken by Blidworth Welfare, who produced what for many was perhaps the most exciting rendition of the day – boldly coloured and musically shaped by Martin Heartfield and his band.

Perhaps it was a just a touch raw in emotion in places, as it was heart on sleeve stuff at times, but they will still feel disappointed that it didn't manage to claim at least a qualification place.

The same could also apply to Wem Jubilee, after a lovely opening section gave way to a little over exuberance, perhaps drawn through the MD Roger Thorne's emotive direction.

Good quality playing

The rest of the bands produced good quality playing, spoilt by careless mistakes, tuning mishaps and a growing litany of unforced ensemble errors.

Perhaps a lack of confidence or concentration was the root cause, but the likes of Towcester Studio, Bakewell Silver, Ibstock Brass and late drawn Porthywaen Silver all got their heads round the overall feel of 'Resurgam' only for their renditions to be undermined by noticeable lapses.

Not so the winners however, as Leicestershire Co-op took the honours to head to the National Finals full of growing confidence.

On this form it will not be misplaced.

Martin Benson