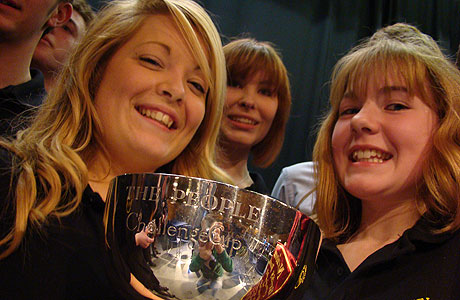 Brunel's best - the girls give us a winning smile or two...

If Eric Ball is ever to rise again, then it must be hoped that he isn't reincarnated as a seagull.

Perhaps he was trying to tell us something from beyond the grave on the Sunday as 14 bands battled to overcome the problems posed by 'Resurgam'.

Delighted

Thankfully, he would have been delighted by what he heard from the winners Brunel Brass, although perhaps a little more disturbed by the uneven accounts further down the field of contenders.

Brunel Brass delivered a technically secure, musically coherent account under the direction of John Winterflood to take the Second Section title.

It was a performance that had the hallmarks of an MD who knew just how to approach the music contained in the score, and players who were able to execute his wishes and directions.

High quality

It was a high quality winning performance – described as 'superb' by the judges.

It was hard to disagree; the MD eliciting the emotion of deep despair and redemptive resurrection without ever opting for heart on sleeve artifice emotion.

Few others were able to do the same in what was overall a disappointing contest.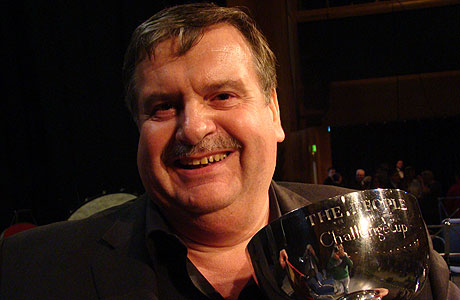 The winning MD - John Winterflood

Reasons

For a variety of reasons - mostly self induced it must be said, the bands through their MDS never seemed comfortable on the iconic work:

Aggressive ensemble sounds, percussion note production, over egged emotion, basic errors in rhythm, wrong entries… the list went on and on.

Ian Brownbill and David Lancaster described it as 'an immense challenge' – but it was made all the harder by MDs who decided to approach it as if written by Derek Bourgeois rather than Eric Ball.

There were some strange interpretations to say the least.

Uneven

Joining Brunel at Cheltenham will be Pendennis Brass (Falmouth) after their rather uneven account under Steve Thomas headed the 'best of the rest'.

A lovely solo cornet player enhanced their performance whilst the MDs good sense kept a lid on the extremes of the dynamic range, but it still occasionally became aggressive in production and timbre.

That it came runner up said a great deal about the standard of playing that came behind it.

They were a good margin behind the winners.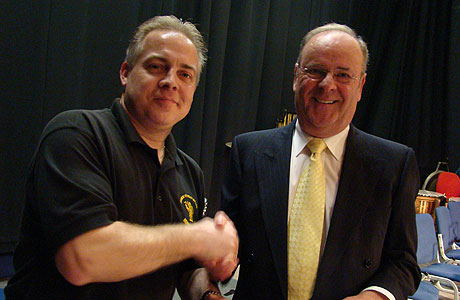 Just missing out - Forest of Dean

Unlucky

Forest of Dean may count themselves unlucky that their musical approach under Martyn Ford didn't quite catch the ear of the judges.

It may not have helped however that the on stage formation gave the overall tonal quality a rather lopsided balance, with the trombone sound appearing from where the back row cornets usually sit.

Perhaps that puzzled the men in the box, as the musical was persuasive and drew you in, but the overall tonality was at times a little odd on the ear.

Uncomplicated

The uncomplicated approach of St Pinnock held promise – especially with the MD allowing the music to flow, but its steadily lost its flow and the unforced error count grew.

4th place was about right for a performance that never quite developed past the embryonic stage.

For Bugle and Soundhouse Brass in 5th and 6th, missed opportunities and a tendency towards an aggressive tonality destroyed their hopes of coming higher than they did.

Poor tuning didn't help either with Bugle's last chord giving their account a sour ending, whilst Soundhouse, after a fine opening fell away with some alarming ensemble mistakes.

Problems

From 7th place down its became increasingly obvious that the bands were encountering problems at all levels – from basic tuning, poor entries and even wrong notes.

It was puzzling to say the least as many were led by experienced MDs.

The players though seemed either ill prepared or ill at ease with the music in front of them.

Phoenix Brass (Crewkerne) meandered in pace; Cinderford enjoyed a fine reading but a litany of errors in execution; Swindon seemed content to play the notes and nothing else; City of Bristol struggled with basic ensemble problems.

Very average

It may seem harsh to say just how poor the performances were – especially when it was obvious the bands and their MDs were trying their best to produce something of note, but the simple truth was that the standard was very, very average indeed.

Bath Spa never got going and were fragile in ensemble and solo lines; Wotton tried to shape the music with understanding but couldn't overcome the inherent weaknesses in the ensemble balance or security; Bodmin tried bravely given their recent circumstances (with 81 year old Denzil Stephens playing the euphonium solo); Bristol East & Kingswood took the wrong option in terms of style.

Alien

It was hard to be more positive about what was heard, other than thinking that on this occasion it was if a mass Eric Ball induced amnesia had overcome the players and the MDs.

The music sounded alien to them.

Not so the winners. Brunel was indeed 'superb' as the judges said on the day. It was just a pity other contenders didn't come close to being in the same class.

Iwan Fox
(Apologies to Pendennis for the lack of a quality image)