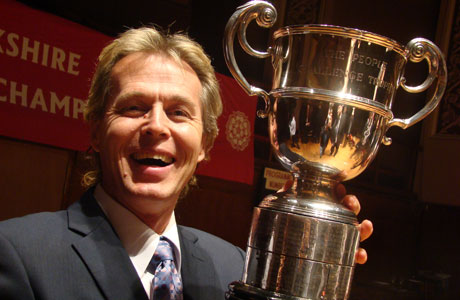 The King of Bradford with his trophy...

Down in the bowels of St George's Hall, where bands change before going on stage, the walls are covered with the garish 'tour' posters of some of the entertainers who have played here over the years.

Tucked away in the corner is a framed collage of the real 'stars' who have also appeared too – from Paderewski and Harry Houdini to Pablo Casals and The Rolling Stones.

Doubtful

It is doubtful (with the exception possibly of Mick, Keith and the lads) that any of them has been on the receiving end of a tsunami of appreciation that engulfed David King and Brighouse & Rastrick.

A stunning 'Paganini Variations' brought a tumult of applause crashing down towards the stage, where the MD stood, almost physically drained, in front of his inspired band.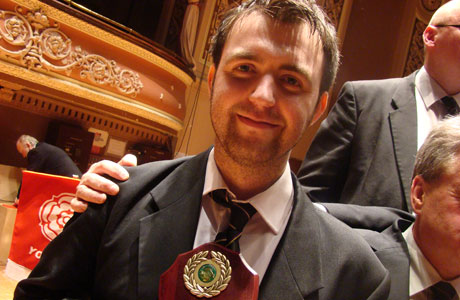 Eddie Noble Instrumental Award winner Chris Gommersall

It took five minutes before they were allowed to leave: five minutes where each of the players basked in the knowledge that they had delivered something very special (with Lucy Murphy on flugel and Chris Gommersal on trombone, the pick) to retain their Yorkshire title.

Centre

At the centre of it all was the Australian – who manipulated every aspect with a personal performance as theatrically fabulous as Mick Jagger at his strutting best, as musically inspiring as Casals at his peak.

He was in complete control; prowling the rostrum space with a physical presence that almost drew the notes from the end of his player's bells.

Startling

What was startling was the amount of emotional energy he invested in the process – from the audible sound of his exhaled breath to the passionate embrace of his leading soloists at its conclusion.

On occasions he hinted at playing to the crowd, but when he was eliciting such a response from his band, who could blame him?

When the final note rang out, with his right arm thrust into their air in acclamation, the hall erupted.

It was scintillating stuff – not without risks (he does like to employ mutes for dynamic effect), but also not without moments when sheer undiluted magic flowed too.

Collage

The St George's Hall management should make sure a space is created on that collage of stars with immediate effect.

There was no doubting the validity of the victory – not for a second, even if the announcement of the results almost surpassed the performance in terms of unfolding drama.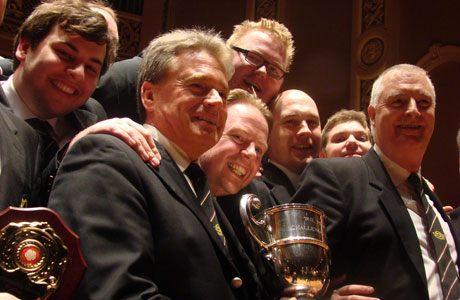 Looking down on the rest - Brighouse celebrate

Kelly's Eye

That had started before a note had been blown on Wilby's masterful work, with the reps of Black Dyke and Brighouse left to dip their hands into the velvet bag, with only draw numbers 1 & 11 remaining.

Guess who got Kelly's Eye?

Worse case scenario

It was the worse case scenario for the Queensbury outfit – number 1 for a second time in three years, with the main rivals for an Albert Hall berth lined up behind them; Grimethorpe at 6, Carlton Main at 8, Hepworth at 12.

In the end Black Dyke delivered a performance that despite its immensely impressive structure, was strangely unengaging; full of technical brilliance and stunning effects, but never somehow making the hairs stand on the back of your neck.

Brighouse would have got Duncan Goodhew fluffed up like a werewolf in a spin dryer.

Qualification place?

Even the most ardent Pondasher will have known their great rivals had the better of them, but their luck is out at the moment too, as this was a performance that many neutrals thought worthy of at least qualification place.

Not so Stan Lippeatt and David Read in the box.

As a result, Dyke missed out on London for the first time since 2000.

Omission

Also missing out for a third year in a row was Grimethorpe – although their omission was less of a surprise despite ending in fourth.

Allan Withington's subtle, delineated reading was not always replicated by his players, despite a fine opening that saw Michael Dodd's contribution go some way to him taking the Best Soloist prize.

Thereafter it became increasingly fraught, if exciting, and whilst it did have the odd moment when little touches made you hum in appreciation, they were never coherently joined together.

Nailed to the bandroom doors

Supporters of Dyke and Grimethorpe will claim bad luck, but both will know that they didn't deliver the type of performances that would have nailed their Kensington qualification tickets to the bandroom doors.

Not so the two bands that captured them instead.

Carlton Main Frickley, delivered perhaps the most musically interesting performance of the contest under Philip McCann.

It was an analytical approach that brought detail and texture to the fore, and despite some noticeable individual frailties the ensemble was always coherently balanced, with neat phrasing and defined changes in pace and dynamic.

It was one of those performances that stayed in your mind, despite the errors, and 3rd place saw them return to London again (although Ray Sykes MBE had to read his programme three time to make sure!)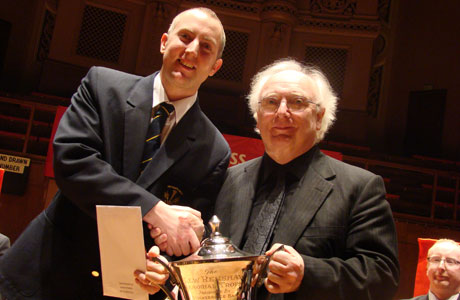 Back to London for Hepworth

Rousing

Meanwhile, an equally disbelieving Matthew Tinker clutched his head as he went up to collect the second place trophy after Hepworth closed the contest with rousing, adrenaline fuelled performance under Russell Gray.

Helped with added Scandinavian ingredients on solo cornet and soprano, it was impact playing of a very high quality – a touch scruffy around the edges at times, but so well defined, driven and purposeful from the word go.

It was also cut from the same musical cloth as Brighouse (bold tempo changes, elongated lyrical phrasing etc), so it was little wonder it persuasively hung on to its coat tails in the box.

Division of class

There was a definite division of class separating the top six bands are the rest of the bloated 12 band field – more a gulf at times.

Hade Edge's fragile performance was perhaps a reflection of the MD Simon Wood's enjoyable, but musically idiosyncratic approach, whilst Hebden Bridge were tested to the limit and beyond at times, despite Kevin Wadsworth's hard working efforts to keep things on track.

Drighlington's uneven effort eventually ended in 10th place, but like those below it was hard to believe it was a performance of true Championship Section status, whilst the same could be said of Wakefield Metropolitan's boldly coloured, error strewn rendition under Norman Law in 9th.

Quality

There was quality shown with Marsden in 8th, after they delivered a confident rendition under Glyn Williams.

However, the fragilities in the solo lines took the gloss off solidly delivered ensemble playing and subtle changes of pace and dynamic that the MD brought to his reading.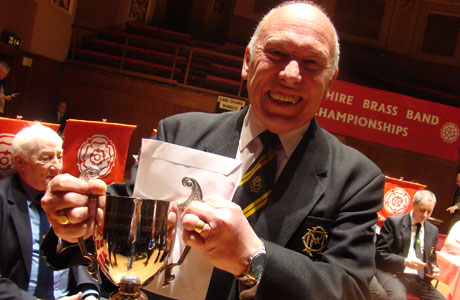 A smile of disbelief from Carlton Main's Ray Syke MBE?

Resources

Meanwhile, John Robert's intelligent direction enabled Skelmanthorpe to deliver a well rehearsed performance that was certainly the best of the second tier of bands that came outside the top six.

Compact and cohesive, it lacked that extra degree of flexibility that would possibly have pushed it higher, but it was an example of an MD understanding his resources and knowing how to use them effectively.

Pressure off

With the battle for Kensington raging around them the pressure was off the two pre-qualified bands – and both played with a flexibility borne of a release from the usual contesting shackles.

Rothwell Temperance delivered a very unRothwell performance as a result – much less rigid and formalised, a little riskier in approach and execution.

It showed just what a good band they are too – with Dave Robert's revealing that there is more to his contest metier than just making sure the nuts and bolts of high quality music making are riveted well and truly into place.

In the end, those extra risks didn't quite pay off, but it was a performance of impressive flexibility that will have been of huge benefit for major contests ahead.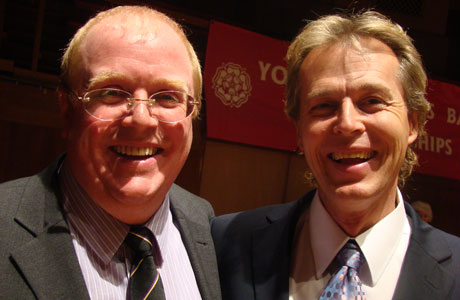 Alias Smith and King enjoy the winning feeling...

One of the great

All that and more though was overshadowed by one of the truly great 'Paganini' performances.

As Brighouse celebrated on stage, with the MD paying marked appreciation to his players and resident conductor Sandy Smith, you couldn't help but think that this could well be the start of a period of extended domination at the major contests.

The frightening thing is that David King believes that there is still more to come from his band.

In that case St George's Hall may have to dedicate a whole wall to them both.

Iwan Fox