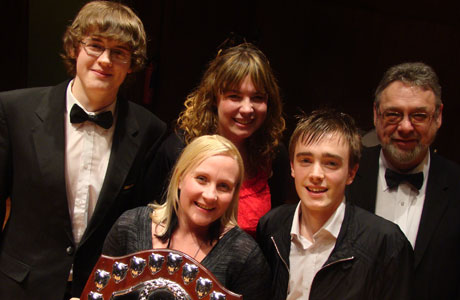 A Horbury quintet celebrate victory

Philip Wilby, the composer of the Third Section test piece, 'A Little Light Music', was in St George's Hall on Sunday to listen to all twelve bands tackle his demanding, but highly enjoyable work.

Mischievously he described it as 'the triangle players revenge' in his lovely little analysis before the announcement of the results – although on the evidence that was heard, the triangle player perhaps got off lightly.

Intriguing

At the end of an intriguing contest, Philip Harper and Major Paul Norley gave insightful comments as to what they'd been listening to.

For Philip, with notebook in hand, it had been a question of style as well as substance; from the opening fanfares, through the bouncy clog dance and romance of the lady in the lake, to the high paced ice cream tarantella and final reprise.

Desire

He welcomed the desire to play with lyrical warmth in the romance and with a degree of pace 'on the rev counter' as he said in the 'tarantella', which showed that a number of bands had worked their socks off to be able to play with a feel for the Neapolitan flair required.

Paul Norley reinforced the point and welcomed the approach of a host of bands to producing lyricism and a sense of plaintive sonority along with a warm tone and balance in the second movement in particular.

As always at this level the difference between the best and the rest was consistency – something that Paul earmarked in his written comments.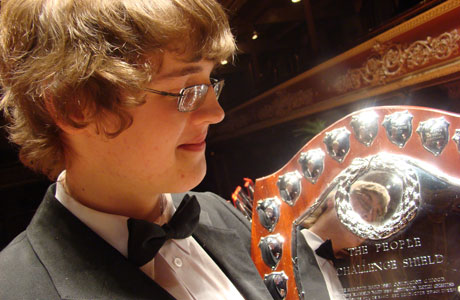 Looking more more People... for Band rep John Craven of Horbury

Beckley inspired

You've got to hand it to Duncan Beckley.

Over the years he has shown an uncanny ability to inspire all the bands he takes at the Areas (his record is quite something).

Once again he showed just how effective an appreciation of good basic brass band playing can be at this level.

No bluff

Off the number 1 draw he led Horbury Victoria to a victory based on the solid, no nonsense delivery of the elements required to bring the character of each movement from the page without resorting to bluff and camouflage.

In a way it was a performance of old fashioned values – something the piece rather emphasised in its engaging Welsh inspired (but Yorkshire written) portraits.

A solid fanfare opening was followed by a breezy clog dance, warm romance and bright reprise.

It did what it needed to do, with an emphasis on delivering the technical aspects with clarity and detail. It proved to be a marker that no one could match thereafter.

Skipping to Cheltenham

The runners up spot went to the most colourful – make that, flamboyant performance of the whole weekend from Lee Skipsey with the City of Bradford.

That's the right way to formally describe it too – as the former Black Dyke percussionist led from the front with a performance of almost theatrical artistry.

His band of experienced players and younger performers responded in kind too, despite his idiosyncratic conducting style.

Principal cornet, Tim Pool took the 'Best Soloist' award for his fine contribution, despite still suffering the after effects of a recent canoeing accident that split his lip and gave him a nasty gash on the hooter.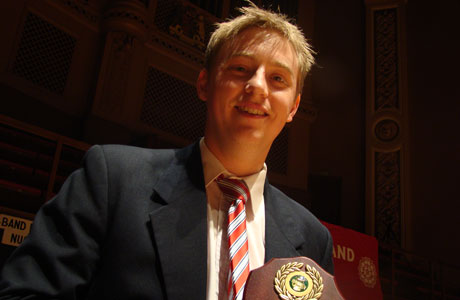 Canoe Man - Tim Pool wins the Best Soloist Award

Opposed

It was a performance almost diametrically opposed to Horbury Victoria in terms of musicality, although it did suffer the occasional nasty clip in the execution.

There was also a reminder that at this level you can't take anything for granted either.

Lee's little bit of show-boating in turning to bow to the audience as the final note sounded reminded you that even at this level you can suffer the same fate as Icarus if you are not too careful.

He won't want to do it again too often.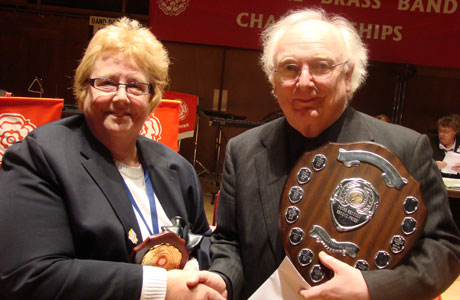 Heading to Cheltenham for City of Bradford

Solid and safe

Behind the clear qualifiers came a batch of well managed performances, headed by Chapeltown Silver and Elland Silver.

At most other areas you suspect they would have qualified in some comfort, but here they came up against two bands that sounded more than a match for most in the Second Section the day before.

Chapeltown's solid account benefited from well chosen tempos and good quality ensemble work from start to finish, whilst the same applied to Elland under James Shepherd – lots of detail and carefully chosen speeds, added to with some refined solo interventions from the likes of Samantha Harrison on cornet who was a lovely 'Lady of the Fountain'.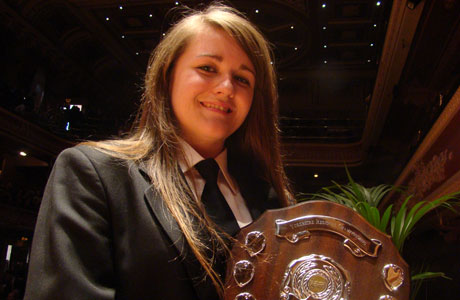 Just missing out - Helen Irvine and Chapeltown

Merit

Lofthouse 2000 and Crofton Silver both produced accounts of merit in claiming the final top six places – performances studiously managed with real sensibility by the MDs.

Variable

Behind these the standard was more variable with enjoyable, but uneven accounts from Skelmanthorpe 'B' and Worsbrough Brass, full of spirit and vibrancy but also pockmarked with noticeable unforced errors and tuning difficulties.

It was a similar story for Huddersfield & Ripponden and Thurcroft Welfare too as they found problems early on despite some fine lyrical playing in the middle movements in particular.


Admiration

For Gawthorpe Brass '85' and Maltby Miners Welfare it was a case of total admiration, as both bands didn't quite have the security in the personnel to deliver the well thought out readings from the MDs.

There was plenty of grit and determination on show but high error counts and some nasty slips and untunefulness consigned them to the bottom two places.

Overall though, this was a very enjoyable contest that produced two outstanding candidates for possible long overdue Yorkshire success at the finals themselves.

Malcolm Wood