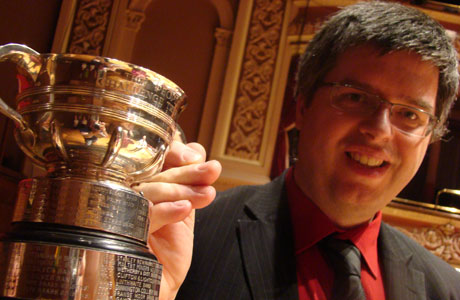 Resource Manager - Jonathan Beatty with the Yorkshire Trophy

Saturday morning's Fourth Section contest provided a taste of what was to come on the Bradford weekend.

Excellent qualifiers

Two excellent qualifiers in Dinnington Colliery and Dronfield CMW were pushed all the way to Cheltenham by a batch of rivals that certainly made a fine fist of John Golland's quirky little test piece, 'Prelude, Song & Dance'.

It was to be a blueprint repeated in the other sections.

Adjudicator's Stan Lippeatt and a slightly nervous Stuart Fawcett made sure the healthy number of supporters in the hall knew just how and why they had come to the decision they did.

There were few that disagreed.

Audition?

Stuart overcame his little faux pas - 'Thanks for being allowed to audition,' - to show that when it actually came to adjudication, he knew just what was needed at this level to succeed, after 21 years at the helm of Meltham & Meltham Mills.

The top two stood clear, the third placed band was very good, whilst there were little lapses and a lack of consistency in the rest, he said.

He was spot on.

They were findings echoed by Stan, who also praised the MDs for their sensible choices of tempos, the quality of the cornet players in the middle section, and the Music Panel for their choice of test piece – although he may have reserved a different opinion for some of the other sections on the latter point.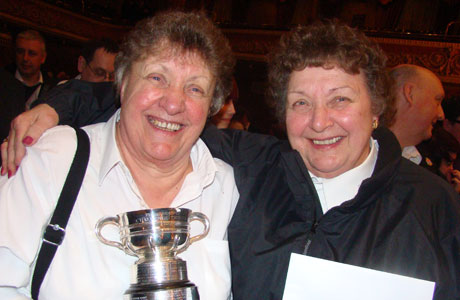 Dinnington stalwarts Joan & Kay celebrate with the cup

Dinnington and Dronfield CMW certainly made the judges job easier than expected on a piece that despite its slightly frivolous nature still contained plenty of pitfalls for those unable to master good band basics.

Remarkable job

Dinnington were a little short on numbers to fill the now iconic Hemmingway canary yellow and blue jackets, but despite only having two solo cornets and just the one stalwart on percussion, Jonathan Beatty did a pretty remarkable job in marshalling his limited resources.

The balance of the ensemble sound was excellent; with those two cornet players riveting their mouthpieces to their lips from start to finish.

Some lovely little interventions from the euphonium, flugel and solo cornet ensured that the more noticeable omissions on percussion (despite a fantastic effort to cover every bit of kit) were not really a major handicap.

By it's close, a performance of real musicality, led by an MD who used all his years of Grimethorpe experience to great effect, sent Dinnington back to the finals.

Now the BBC may be persuaded to make a proper follow up film to celebrate their achievements.

Classy rendition

Joining them will be Butlins champion Dronfield CMW, who produced a classy rendition on their Yorkshire debuts to book their place under the direction of an animated John Davis.

He really drew every last ounce of musicality from his band, with principal cornet player Adrian Wood on excellent form once more to take the 'Best Soloist' prize.

Both bands will be ones to fear come September.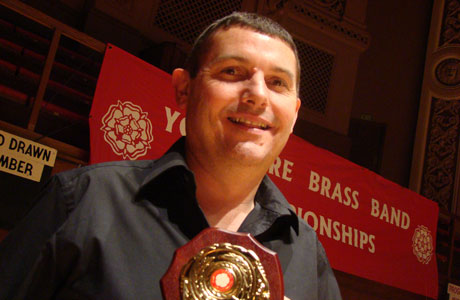 Best soloist winner - Adrian Wood of Dronfield CMW

Cry of delight

There was a real cry of delight when Friendly Band (Sowerby Bridge) was announced in 3rd place, after the experienced Barry Thompson took over the reins and Carol Caton took over the euphonium duties – both to fine effect.

The band has struggled here on occasions over the years, but this was a well managed account, full of tasteful individual contributions and an ensemble that delivered on Barry's sympathetic direction.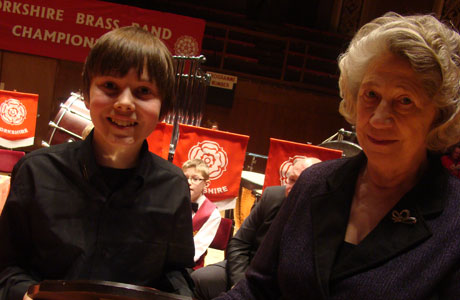 Finals smile for Dronfield CMW

More varied

Behind the podium finishers things started to became more varied, as both Stan and Stuart outlined – but the compare and contrast analysis that they had to make must have been an enjoyable one, with the likes of Golcar, Barnsley Metropolitan and Armthorpe Elmfield who came 4th, 5th and 6th.

Each delivered performances of merit, helped by MDs not trying to do anything untoward with tempos and dynamics.

Style and precision

A young Michael J Cox led a surprisingly mature Golcar with precision and style and was rewarded with a performance that mirrored his qualities, whilst the more animated Alex Francis elicited a more flamboyant rendition from Barnsley Metropolitan.

Meanwhile, the experienced Hayden Griffiths MBE allowed his players the time and space to deliver a solid rendition which featured a fine young solo cornet and neat sop – although the siren playing was as weak as a wheezing collier with pneumoconiosis!

Plenty to enjoy

As always there was plenty to enjoy with the contributions of some cracking young players: a few of the percussionists in particular displayed remarkable technical prowess even when on a least two occasions the timps and cymbals were bigger than them!

Oughtibridge, with MD Gavin Somerset conducting from memory delivered a pacy, vibrant account to come 7th, whilst Linthwaite, with MD Gary Pulleyn, looking and conducting like Major Peter Parkes at times, just tiring after a well managed account that was tarnished by little blobs and clips.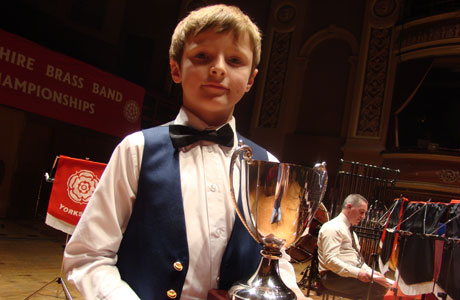 Just missing out for Youngest Player Matthew Lawrence of Sowerby Bridge

Progressing nicely

Meanwhile, Clifton & Lightcliffe B, with David Horsfield coming out of playing retirement to join his granddaughter in the ranks, showed that they are progressing very nicely under John Clay's excellent direction.

Wilsden (resplendent in copies of British Open champions Tredegar's uniforms) didn't quite play to that standard but delivered a purposeful and enjoyable account under Ken Lee, whilst Deepcar may have struggled a bit but they certainly enjoyed themselves, with the three lasses on percussion and the tiniest of young nippers on 3rd cornet smiling away from start to finish.

Encouragement

There was plenty of encouragement too for Yorkshire Traction Honley with Wayne Bostick making sure everyone was at ease by sticking his tongue out to someone in the audience before a note was blown!

It did struggle a bit, but full credit to Wayne for keeping things on track with nods, winks, that tongue again in a performance that kept its focus and drive right to the end.

With plenty of youngsters in the ranks, we hope to see them back again next year – it was a cracking effort.

Iwan Fox