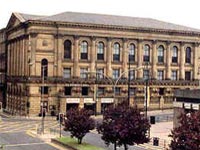 Saturday 5th March
Adjudicators: Philip Harper & John Roberts

Test Piece: Resurgam (Eric Ball)

Commences: 14.45pm
Draw: 13.00pm
---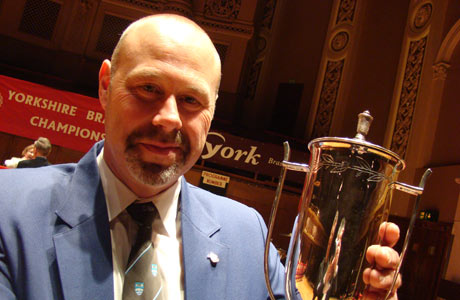 2010 champion - Knottingley Silver

It is now eight years since a Yorkshire band was crowned Second Section Champions of Great Britain, and despite another consistent showing from the two contenders at Harrogate last year, another victory is well overdue.

That last win came back in 2003, but it is encouraging for the region that nine of the last ten qualifiers have managed to gain a top six finish at the finals, so whoever gets the nod from Philip Harper and John Roberts (both right) should travel with confidence.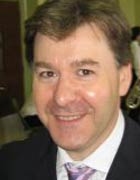 Hard way

Whoever gets to Cheltenham though will have done so the hard way, as 'Resurgam' is already proving itself to be one heck of a test.

Playing the notes is one thing on this piece, making some sort of emotional connection with the subject matter is quite another.

Reigning champion

Still, there appears to be a strong set of contenders ready to battle it out for glory, headed by last year's winners Knottingley Silver.

They produced a fine performance at Harrogate where they came 4th, whilst another hard worked 4th place at Brass at the Guild Hall showed that they may well be coming to the contest in pretty good shape to defend their title.

Butlins form

South Yorkshire Police also returns under the baton of Leigh Baker, and after their podium finish at Harrogate they followed it up with a fine 4th place at Butlins just a few weeks ago, to show they could be in the mix once more come the results.

Another band in good recent form is the newly named Barnsley Chronicle, who could be about to make the front page of their sponsors tabloid if they can repeat the fine runner up spot their achieved at Skegness.

Move forwards

Another band that did well there though was Dodworth MW, who after a couple of years of consolidation now looks to make another move towards the higher reaches of Yorkshire banding.

3rd place at Butlins was a cracking result, and held the promise of an equally impressive return this weekend.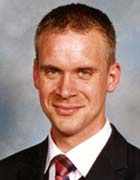 Relegated bands

The two bands relegated from the First Section will want to impress, with the experienced Neil Jowett hoping to reinvigorate Lindley as they look to stop the decline in their contesting fortunes at this event in recent years, whilst Slaithwaite will be headed by Tabby Clegg, as they seek to build on a disappointing return at the Brass at the Guild Hall contest.

Promoted bands

Meanwhile, the two promoted bands from the Third Section, Wetherby & District Silver and Clifton & Lightcliffe will also be looking to make a mark.

John Clay will want to get his young band back to experience the heat of battle at the finals after last year's Harrogate appearance saw them come 13th, whilst Alan Seymour heads Wetherby's challenge as they return to this level for the first time since 2008.

Enigma

The contesting enigma that is Strata Brass will want to show that they are not just one of the best entertainment outfits around at this level, as they seek a first finals appearance under the experienced David Hirst, whilst Rockingham will be confident of taking yet another step in the right direction after posting a fine 4th place finish last year under Roland Spencer.

That leaves the solid challenges of Garforth, who have been making excellent progress under the baton of Steve Bailey and Emley, who will once again be directed by the talented Gary Hallas.

They will be looking to improve on a disappointing 12th place finish at Brass at the Guild Hall earlier in the season.
---
As for a winner?

There is batch of bands that have shown good form of late battling for the two qualification places, so it could turn out to be a contest to savour.

Of those though we think South Yorkshire Police may just have the edge, but they could be pushed all the way to the finishing line by the likes of Dodworth, Barnsley and Knottingley Silver.

Strata should come close again, with Rockingham also poised for another top six finish. Our dark horse is Garforth.

4BR Prediction:

1. South Yorkshire Police
2. Dodworth MW
3. Barnsley Chronicle
4. Knottingley
5. Strata
6. Rockingham

Dark Horses: Garforth
---
Barnsley Chronicle
Conductor: Rob Straw

Last 14 Years:
2010: 7th (R. Straw)
2009: 8th (W. Rushworth)
2008: 9th in First Section (W. Rushworth) (rel)
2007: 10th (K. Wadsworth)
2006: 9th (J. Hopkinson)
2005: 8th (J. Hopkinson)
2004: 2nd in Second Section (J. Hopkinson) (prom)
2003: 9th in First Section (C. Hirst) (rel)
2002: 9th (C. Hirst)
2001: DNC
2000: 5th in First Section (I. Craddock)
1999: Winners of First Section
1998: 6th
1997: 7th
---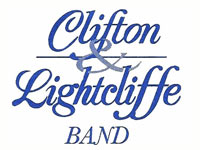 Clifton & Lightcliffe
Conductor: John Clay

Last 14 Years:
2010: 2nd in Third Section (J. Clay) (prom)
2009: 9th in Second Section (J. Clay) (rel)
2008: 11th (J. Clay)
2007: 2nd in Third Section (J. Clay) (prom)
2006: 2nd (J. Clay)
2005: 4th (R. Collinson)
2004: 9th (R. Collinson)
2003: 4th (R. Collinson)
2002: 6th (R. Collinson)
2001: Winners of Fourth Section (R. Collinson) (prom)
2000: 7th (R. Collinson)
1999: 8th in Third Section (rel)
1998: 14th
1997: 8th
---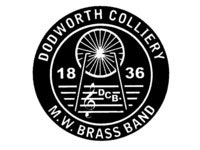 Dodworth M.W.
Conductor: Eliot Darwin

Last 14 Years:
2010: 9th (E. Darwin)
2009: 7th (E. Darwin)
2008: 7th (E. Darwin)
2007: Winners of Third Section (E. Darwin) (prom)
2006: Winners of Fourth Section (E. Darwin) (prom)
2005: 3rd (E. Darwin)
---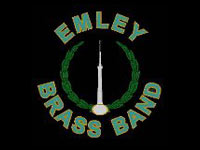 Emley Brass
Conductor: Garry Hallas

Last 14 Years:
2010: 10th (G. Hallas)
2009: 3rd in Third Section (G. Hallas) (prom)
2008: 4th (G. Hallas)
2007: 8th (G. Hallas)
2006: 2nd in Fourth Section (G. Hallas) (prom)
2005: 4th (G. Hallas)
2004: 7th in Third Section (G. Hallas) (rel)
2003: 11th (M. Robbins)
2002: 2nd in Fourth Section (J. Bowden) (prom)
2001: 6th (I. Knapton)
2000: DNC
1999: DNC
1998: DNC
1997: 9th in Fourth Section
---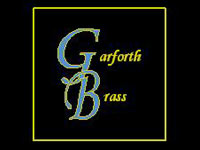 Garforth Brass
Conductor: Steven Bailey

Last 14 Years:
2010: 5th (S. Bailey)
2009: Winners of Third Section (S. Bailey) (prom)
2008: 2nd (S. Bailey)
2007: 6th (S. Bailey)
2006: 5th (S. Bailey)
2005: 2nd in Fourth Section (S. Bailey) (prom)
---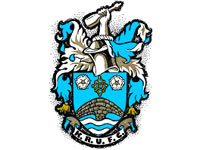 Knottingley Silver
Conductor: Dr Owen Wedgewood

Last 14 Years:
2010: Winners (O. Wedgewood)
2009: 9th in First Section (O. Wedgewood) (rel)
2008: 12th (O. Wedgewood)
2007: 9th (R. Morgan)
2006: 4th (K. Belcher)
2005: 11th (K. Belcher)
2004: 14th in Championship Section (K. Belcher) (rel)
2003: Winners of First Section (K. Belcher) (prom)
2002: 5th (K. Belcher)
2001: Winners of Second Section (K. Belcher) (prom)
2000: 2nd (K. Belcher)
1999: 7th
1998: 3rd in Third Section (prom)
1997: 4th
---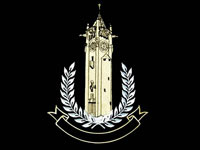 Lindley
Conductor: Neil Jowett

Last 14 Years:
2010: 7th in First Section (P. Andrews) (rel)
2009: 8th (N. Jowett)
2008: 14th (N. Jowett)
2007: 4th (N. Jowett)
2006: 7th (N. Jowett)
2005: 10th in Championship Section (N. Jowett) (rel)
2004: 12th (N. Jowett)
2003: 8th (N. Jowett)
2002: 4th in First Section (N. Jowett) (prom)
2001: 4th (N. Jowett)
2000: 12th in Championship Section (N. Jowett) (rel)
1999: 9th
1998: 8th
1997: 4th in First Section (prom)
---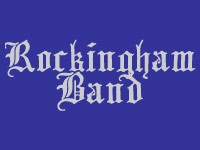 Rockingham
Conductor: Roland Spencer

Last 14 Years:
2010: 4th (R. Spencer)
2009: 11th (S. Shimwell)
2008: Winners of Third Section (F. Hoyland) (prom)
2007: 4th (D. Beckley)
2006: DNC
2005: 7th (F. Hoyland)
2004: 5th (F. Hoyland)
2003: DNC
2002: DNC
2001: DNC
2000: DNC
1999: DNC
1998: DNC
1997: DNC
---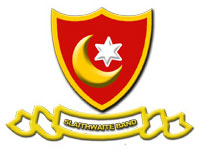 Slaithwaite
Conductor: Tabby Clegg

Last 14 Years:
2010: 10th in First Section (T. Clegg) (rel)
2009: 10th (B. Hudson)
2008: Winners of Second Section (B. Hudson) (prom)
2007: 5th (B. Hudson)
2006: 5th (B. Hudson)
2005: 2nd in Third Section (B. Hudson) (prom)
2004: 2nd (B. Hudson)
2003: 8th (K. Lever)
2002: 7th (K. Lever)
2001: 4th (K. Lever)
2000: 9th (K. Lever)
1999: 9th
1998: 12th
1997: 3rd
---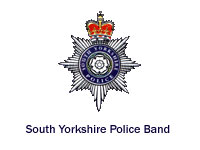 South Yorkshire Police
Conductor: Leigh Baker

Last 14 Years:
2010: 2nd (L. Baker)
2009: 6th (K. Wadsworth)
2008: 11th in First Section (I. Scott) (rel)
2007: 11th (A. Dennis)
2006: 6th in Second Section (A. Dennis) (prom)
2005: 5th (A. Dennis)
2004: 3rd (A. Dennis)
2003: 8th (N. Horne)
2002: 4th (D. Lever)
2001: 10th in First Section (D. Lever) (rel)
2000: 6th (D. Lever)
1999: 4th in Second Section (prom)
1998: 4th
1997: 7th
---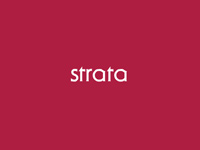 Strata Brass
Conductor: David Hirst

Last 14 Years:
2010: 8th (D. Hirst)
2009: 5th (D. Hirst)
2008: 4th (D. Hirst)
2007: 3rd (D. Hirst)
2006: 9th (D. Hirst)
2005: 3rd (K. Wadsworth)
2004: 7th (D. Horn)
2003: 7th (D. Horn)
2002: 8th (D. Horn)
2001: 4th (D. Moore)
2000: 8th (D. Moore)
1999: N/K
1998: N/K
1997: N/K
---
Wetherby & District
Conductor: Alan Seymour

Last 14 Years:
2010: 3rd in Third Section (A. Seymour) (prom)
2009: 5th (D. Ashworth)
2008: 8th in Second Section (R. Roe) (rel)
2007: 9th (G. Kearsley)
2006: 7th (G. Kearsley)
2005: 4th (G. Kearsley)
2004: 12th (G. Kearsley)
2003: 3rd in Third Section (G. Kearsley) (prom)
2002: 4th (G. Kearsley)
2001: 6th (G. Kearsley)
2000: Winners of Fourth Section (G. Kearsley) (prom)
1999: 7th
1998: 5th
1997: 6th
---
Past Qualifiers:

2010: Knottingley, South Yorkshire Police
2009: Holme Silver, Frickley/South Elmsall
2008: Slaithwaite, YBS Concert Brass
2007: Wakefield Metropolitan, Kippax
2006: Grange Moor, Meltham & Meltham Mills
2005: Hebden Bridge, West Yorkshire Police
2004: Yorkshire Building Society Concert, Barnsley Building Society
2003: Old Silkstone, Hatfield Coal Power
2002: Hade Edge, Horbury Victoria
2001: Knottingly Silver, Hade Edge
2000: Pennine Brass, Knottingly Silver
1999: Holme Silver, Stannington
1998: Wakefield Metropolitan, YBS Concert Brass
1997: Todmorden Old, YBS Concert Brass
1996: Rothwell Temperance, Tingley Thornhill
1995: Hade Edge, South Yorkshire Police
---
Yorkshire bands at the Finals:

2010: 3rd, 4th
2009: 4th, 6th
2008: 4th, 9th
2007: 4th, 5th
2006: 7th, 15th
2005: 9th, 14th
2004: 2nd, 7th
2003: 1st, 13th
2002: 1st, 14th
2001: 4th, 5th
2000: 2nd, 9th
1999: 1st, 13th
1998: 4th, 15th