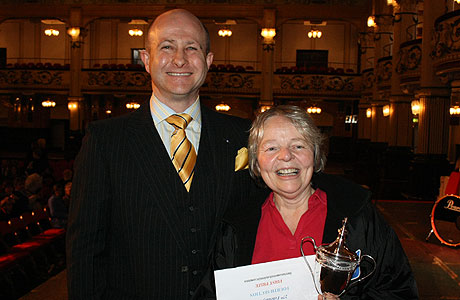 Winning smiles for Besses Boys - and ladies...
Picture: Steve Jack

Whilst the Pavilion Theatre and Opera House accommodated the excitement of the higher sections the Winter Garden's Ballroom, illuminated by a makeover of questionable taste, hosted the 21 bands battling for the four qualification places for Cheltenham.

Good news from withdrawals

It's not often good news comes from withdrawals at this level, but with Friezeland, Onchan Silver and Pilling Jubilee failing to make it to the starting blocks, there was no reduction in the number of qualifying bands for the finals.

The North West will send an impressive quartet of challengers as a result.

Well matched

Major Paul Norley had the task of finding the top four from a well-matched field of contenders, all of whom produced solid accounts of John Golland's whimsical 'Prelude, Song & Dance'.

At the end of the contest the Major received a warm welcome from the packed throng on what was his first venture into North West Fourth Section banding.

Impressed

And despite the length of the contest and his time in the tent, you suspect he wouldn't mind coming back, especially as he was so impressed by what he had heard, in what was a very open and transparent analysis.

He described the contest as a 'pleasure' with each band reaching, in his opinion, a very high standard of performance.

Not box ticking

On some occasions that may sound as if an adjudicator is 'ticking the PC boxes' to ensure an invite back, but there was little doubt that he was dead right.

It had been a very enjoyable, entertaining and intriguing contest – from start to finish.

Good technique

Major Norley also emphasised that what made it so enjoyable was that nearly all the bands were able to match good basic technique, tuning and dynamic ranges to their MDs well thought out interpretation of the descriptive score.

None went 'over the top' in search of misplaced excitement or thrill a minute effects, and it was good to see them ensuring that the dynamic levels were relevant and contrasting in each off the movements.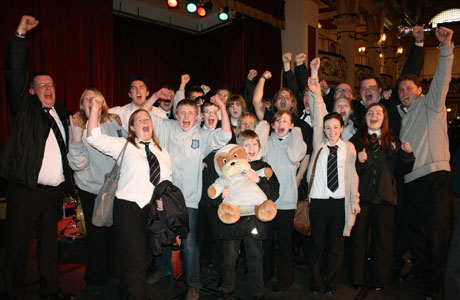 Heading for Cheltenham - Besses Boys (and girls) celebrate their qualification

Confidence

He was also impressed with the confidence exhibited in the performances from a host of bands, but made a special mention that the top two qualifiers had stood out for him on the day.

Besses Boys and Boarshurst Silver certainly provided the dynamic variance, natural rhythmic accentuation and ensemble balance he was looking out for.

The two MDs James Holt and Dave Ashworth were also able to bring a sense of style and wit to the music when required, with their intuitive readings of the score.

These are two talented ensembles, packed with players with solid techniques and good musical sense.

Both will head to Cheltenham confident of doing very well indeed.

Besses have shown fine form for quite a while now and right from the off there was a sense of style and purpose about their playing, whilst Boarshurst had that extra element of ensemble and solo confidence that earmarked their rendition from the word go.

Top four

The two other qualification places went to Ramsey Town and Golborne, who both delivered quality performances that had the hallmarks of solidity and musicality Paul Norley was looking for.

Both Robert Quane and Jason Smith were able to draw just that little bit of extra performance sheen from their players, with a lightness of touch in the final movement really bringing the wit of the music through to the listener.

Harder task

Paul's task was made all the harder by a number of well worked performances from the bands that made up the top half of the results table – notably from the two that filled the final top six places - Darwen Brass and Nelson Brass.

Little to choose

Behind them it started to become a question of personal contrast and compare, with little to choose between solid renditions from the likes of Copull & Standish, City of Chester, Port Sunlight and Parr (Richardson Ltd) St Helens.

Darwen and Nelson just had that extra bit of consistency in execution, but in truth the top 10 bands were pretty interchangeable such was the quality of their performances.

Consistency

Behind them the age of question of consistency started to raise its head more and more often, but even with the bands that did struggle somewhat at the bottom end of the results table there was still plenty to admire in the spirit, enthusiasm and musical approach.

Stick any one from Sale, Rode Hall, Ellenbrook & Boothstown, Wirral Brass, Greenfield and Blackley in most other areas and you suspect they wouldn't have been too far off a top six place or better.

All delivered good opening sections and solid middle movements, although the opening to the finale caused problems as conductors seemed unsure how to bring the bands in with clarity and purpose.

There were plenty of bundled entries.

Bottom quintet

The bottom quintet may well be disappointed that they didn't manage to come any higher than they did, but against such a strong field of rivals, the more obvious mistakes and errors were going to be penalised.

Still, plenty of plus points for Tottington, Denton, Mereside (on a highly encouraging debut), Littleborough and Dobcross Youth.

All will have benfitted greatly for this piece, even if it may not have felt like it straight after the full results came out.

Band bus

For the top four bands though, a trip to Cheltenham to look forward to, with at least a couple with realistic ambitions of returning home up the M6 with a National title tucked into the boot of the band bus.

John James