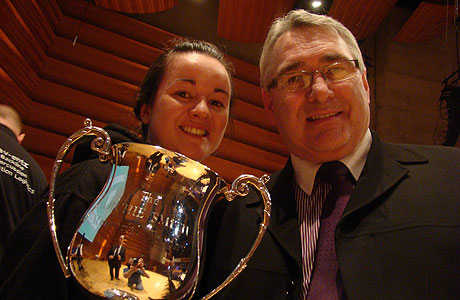 One for the cameras - Charles Keenan gets a little help to crack a winner's smile...

As was perhaps expected, 'Le Carnival Romain' proved to be a severe test of the First Section contenders on Sunday morning.

Firecracker

And with the exception of the winners Kirkintilloch Kelvin, it was hard to put forward a case for any of the others eight rivals fully coming to grips with Frank Wright's monochrome arrangement of the Berlioz firecracker, with Broxburn & Livingston perhaps surprising themselves by claiming the second qualification place on offer.

Kirkintilloch Kelvin certainly made a fine fist of the overture under the intelligent direction of Charles Keenan, to produce a performance that was technically adept as well as musically coherent.

It was not without error and the odd nasty corner or two, but overall it combined vibrancy and lyricism, technical proficiency and musical understanding to persuasive effect.

Fine fashion

It was led by the MD, but executed in fine fashion by his players – notably the prize winning horn, Rebecca Ritchie and euphonium, George Goode.

They were the only band to get off to a flying start too – with a host or rival cornet and soprano players already panicking about the first dotted minim entries before a note was blown, that they were playing a game of catch up from the word go.



Best horn player Rebecca Ritchie of Kirkintilloch Kelvin

Adjudicators Stan Lippeatt and Melvin White were sympathetic to the competitor's plight in their post contest assessments.

Generosity of spirit

However, even allowing for their commendable generosity of spirit, you felt they may have been pushing it a bit to suggest that it had been a 'great contest' with 'two or three very good performances'.

A closer analysis of what they said brought a clearer understanding of where they felt the bands came a cropper: from those opening cornet problems to the question of tempi at the Allegro, the horrendously difficult soprano part, horn and trombone balances and the need to project all this and more with a sense of carnival inspired verve and colour.

On that analysis it seemed more like one very good performance and eight others of varying quality.

Not the bands fault

This though was not the bands or their MDs fault (although a couple went a bit AWOL on the tempos) – just a poor choice of test piece that once again didn't correspond to the actuality of playing standards at this level in Scotland (and we suspect perhaps very nearly all over the country).

Ostensibly these bands were one step away from the Championship Section on the day, but in reality the majority were more suited to the Second Section.

Independent right

Scotland may have to insist on its independent right to sort out its competitive levels if there are not to be more contests such as this in years to come.

The winners won't worry about that for now though (although they only survived one season in the top section before being relegated last year), and with a number of talented young players in the ranks they have time on their side to mature further before the finals in Cheltenham in September.

On this form they should do well.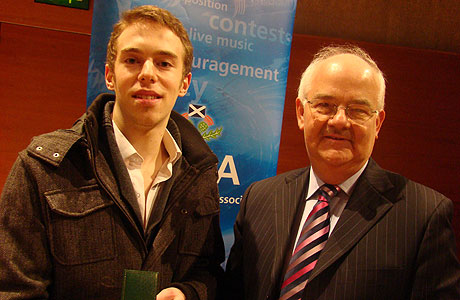 Best Instrumentalist - George Goode of Kirkintilloch Kelvin

Flair and sense

Joining them is Broxburn & Livingston directed with a touch flair and good musical sense by Charlie Farren, who later played with Co-operative FuneralCare in the top section.

His was a well thought out reading of the score – just taking the edge off the quicker tempos, but allowing free flowing lyricism in the euphonium solo section in particular.

Not everything came off, but it bubbled along thanks to a cracking bass end, whilst the judges forgave (or perhaps didn't notice) the more obvious errors and risks (a muted sop) that at times just chipped the veneer off a compact account.

Making up lost ground

Arbroath Instrumental very nearly managed to make up the lost ground caused by one heck of an untidy start.

Michael Robertson's young band played with the required verve and vivacity, (with a lovely euphonium contribution) but despite a thrilling final ride for home, they just came up tantalisingly short come the results.

Best sounding band

The best sounding band on the day was without doubt Clackmannan.

However, they will know that at this level they wouldn't be able to recover from a terrible ensemble dislocation in the euphonium solo that saw the back row cornets playing in a carnival in Glasgow by the sounds of it in the quaver accompaniment.

Paul Kiernan ensured he got his band back on track, but with further little niggles and errors the damage had been done and they had to be content with 4th place.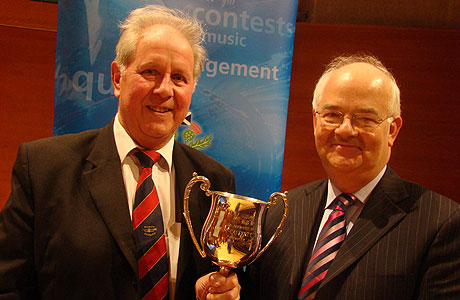 Broxburn head to Cheltenham

Never quite delivered

Johnstone Silver meanwhile will know that they never quite delivered, despite Ray Tennant's free flowing desire to keep the music moving with a lightness of touch.

As it tired the band lost its ensemble focus and it all become too ragged to end in 5th.

Light and breezy

The same applied in many ways to Newmilns & Galston in 6th, who also opted for a light and breezy approach in the Allegro under Alec McCutcheon's direction, but which also lost focus and pace before the close.

For the bottom three bands, a difficult day at the office - not helped on occasions by some pretty weird choices of tempi and the odd misplaced bit of showboating.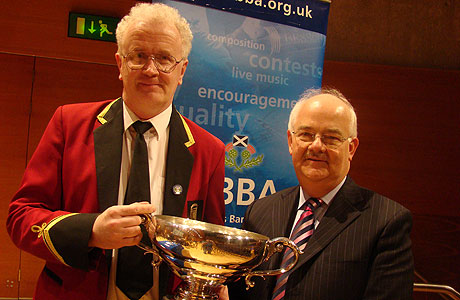 Just missing out - Arbroath Instrumental

Sensible approach

Jim Chamberlain's sensible approach to tempi and dynamics couldn't overcome the inherent weaknesses in the solo and ensemble lines to push Dalkeith & Monktonhall further up the prize list, whilst Eoin Tonner's flamboyant direction perhaps needed a touch more of the contesting artisan about it if it was to have really made a mark with Bathgate.

No real complaints for Coalburn either, with an error strewn performance that perhaps wasn't helped by Gareth Bowman's insistence in making small breaks in the musical flow in odd places.

Pit their wits

For Kirkintilloch and Broxburn the opportunity to pit their wits against the best the UK can offer come Cheltenham.

The rest will look forward we suspect to pitting their wits against something a little less taxing than 'Le Carnival Romain' for the rest of the year.

Iwan Fox