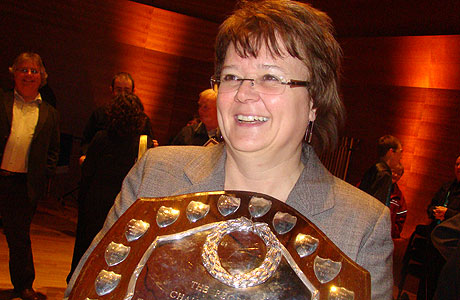 Modest smile - Lynda Nicholson with the Scottish Third Section Shield

No better sight

There is no better sight in banding than to witness a band full of youngsters enjoying their first taste of senior victory – and in Perth on Saturday there was no better sight to greet you tired eyes than Brass Sounds Inverclyde lapping up their first ever Scottish Championship success.

There were braced toothed smiles as wide as the mouth of the River Clyde, mothers and fathers holding back the tears (some failing of course) and the strange sound only excited teenagers can make when they are full to the brim with giggling joyfulness.

They went 'boffo' in celebration as teenagers say.

Elegant figure

And at the centre of it all (and not the slightest bit boffo in any way) was the elegant figure of Lynda Nicholson, who had masterminded the whole triumph for a band that is less than seven years old.

Modestly she deflected all the plaudits to her players, telling 4BR of the amount of sheer hard graft they had put in during the past few weeks as they battled to overcome the demands of Philip Wilby's enjoyable, but fiendishly tricky, 'A Little Light Music'.

There was no doubt however that it was her intelligent appreciation of the score that set her band on the course to victory.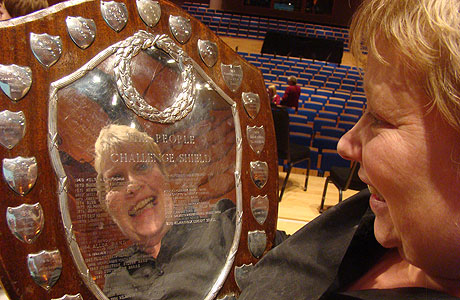 Reflective glory for a Brass Sounds Inverclyde player

Severe test

The suite with its Welsh inspired musical imagery had proved to be a severe test of all the 11 bands on the day, with adjudicators, Stan Lippeatt and David Read making sure that both the players, conductors and audience were left in no doubt to just hard it was, and how well the competing bands had done in trying to master it.

And in their all important opinion, none had done it better than Lynda and Brass Sounds Inverclyde, remarking later when their identity was revealed that they felt the MD had used all her years of experience and musical expertise to mould the technical aspects to her band's technical abilities – especially in the fearsome ice cream 'tarantella'.

Notches off the pace

A few extra notches off the pace allowed her band to produce a clean, well defined pulse that despite not being as adrenaline fired as perhaps originally intended, still retained enough Italian café inspired Neapolitan sharpness to bring it to sparkling life.

Allied to an opening fanfare section of clarity and purpose, a lovely lyrical interlude in 'The Lady of the Fountain' and a finale that had purpose and strength to close, it was a well deserving winning performance.

Joining them at Cheltenham appropriately enough will be a band with a Welsh saint's name, but a very proud Scottish history – St David's Brass, conducted by John Dickson.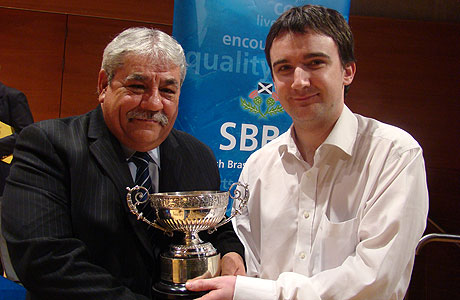 Double prizes for St David's Brass and principal cornet Stuart Dickson

It is doubtful if John or his band has ever made the trip to Cardiff to check out the sights and sounds that inspired Philip Wilby, but it certainly sounded as if they had done their homework.

Outstanding cornet

A fine opening was followed by a lovely lyrical interlude, where principal cornet Stuart Dickson was outstanding, producing some of the very best cornet playing of the entire weekend.

With a balanced ensemble to back him and a well-paced 'tarantella', all that was left was for a rousing climax and their place at the finals – which they did to fine effect. Stuart look both delighted and relieved as he collected his individual award as 'Best Instrumentalists' and then again as he picked up the second place prize from Stan Lippeatt.

After four years in which they have missed qualification by the narrowest of margins, they had booked their place in some style.

Just missing out

With two very good performances leading the way, it was unfortunate that a good quality performance from Jedforest Instrumental just failed to claim what would have been a worthy third qualification place.

Led by Phil Rosier their compact performance just lacked the sheen of the two qualifiers, but it was still full of warmth and balance, ensemble detail and solid solo lines.



Just missing out this time for Jedforest Instrumental

Hard fought top six

The hard fought top six places were taken by Perthshire Brass, Buckhaven & Methil Miners and Peebles Burgh, all of whom will have left Perth filled with encouragement despite finding the test piece one that stretched them close to their limits.

George Annan took the decision to stand his cornets and horns at the opening with Perthshire, in a move that made sense of sorts (standing horns doesn't project the sound any further – just higher).

Curate's egg

In between they sat to produce a bit of a curate's egg (David Read's remark concerning a number of performances on the day – not 4BR for once!), but one that retained its focus and balance right to the end – where George got them all to stand once more.

David Neil meanwhile opted to keep his charges at Buckhaven in the sedentary position, and for the most it worked well too, with the outer movements played with a vibrant sense of spirit, although the 'tarantella' was a bit of a hit and miss affair.

Time and space

Peebles meanwhile tried hard to capture the sense of musical flow in the middle section in particular, with Alex Know allowing his players time and space to express themselves.

It just fell away in the final two sections to stop them from posting a higher finish.

Outside the top six the standard did fall away – quite appreciably in places, but all the remaining bands brought something out of the score, despite lapses in consistency.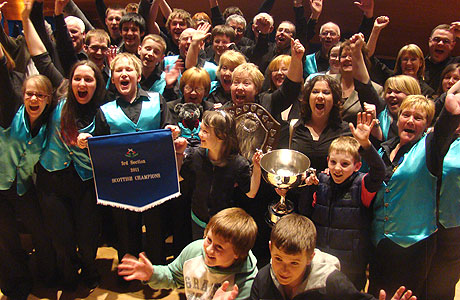 Time to celebrate for the youngsters of Brass Sounds Inverclyde

Decent marker

Renfrew Burgh under Tony Pacher started the contest with a decent marker that just lost its bearings with the choice of tempo in the 'tarantella', whilst Langholm led by Alan Fernie in a wonderfully robust Cymru red shirt (and he is a superb example of a conductor who exudes enthusiasm and the desire to enjoy the contesting experience to his players) delivered a performance that was a times as vibrant as his attire but also a little red raw too.

Bold

Dumfries Town were also bold and a little excitable under the baton of Peter Hayes to come 10th, whilst Dunfermline just lost their way in the final two sections after delivering a promising start under Andy Shaw.

Finally, Bon Accord Silver B under Richard Kidd, and a performance that can perhaps count itself unlucky that the their little errors were in the places where they caused maximum damage to their chances.

Intelligent approach

However, there was plenty to admire in the intelligent approach of the MD, the warmth of ensemble and the determination of a young band to make it through to the end despite the scratches and the odd clips.

They will return – and return all the better for this experience.

New waistcoats

For Brass Sounds Inverclyde, the hard works starts all over again – with fund raising for new waistcoats top of the list after 4BR revealed its colour blindness to Lynda (we thought they were cerise – when in fact they were a light turquoise).

With the determination and talent that was on show on the weekend, they could decide to turn up in boiler suits and googles and still play wonderfully well.

Iwan Fox