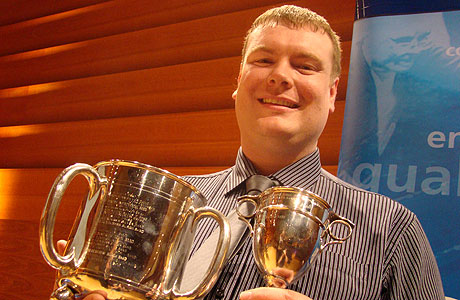 Whereas the choice of test pieces in the First, Second and Third Sections had proved to be a demanding ask of the competing bands in Perth, the more pleasant challenges of John Golland's whimsical, 'Prelude, Song & Dance' seemed ideally suited to the qualities of the seven challengers battling it out on Saturday afternoon.

Enjoyed

The real pity was that despite the wonderful work being done by SBBA to promote grass roots banding north of the border for the future, the results are yet to bear fruit numerically in the present.

Melvin White and Peter Bassano certainly enjoyed what was laid before them with Melvin making the pertinent remark that it was in his words, 'a pleasure to listen to bands perform pieces they could cope with'.

Double edge

And given the evidence heard in all the sections over the weekend, that remark had a neat double-edged meaning to it – and on both accounts Melvin was bang on the money.

Peter was also full of praise, remarking with his usual elegant clarity that he had been impressed by their ability to create the spirit of the each of the titles accompanying the three movements of the work.

Well placed constructive criticism

They did however reserve some well placed constructive criticisms for the MDs with their tempo choices, which resulted in a couple of stodgy 'Preludes', one or two 'Songs' losing lyricism ('play into the rest' was Melvin's advice to cornet soloists – taken first hand from the great Peter Parkes) and a few 'Dances' becoming more of a military two step.

Overall though they were encouraged by what they had heard.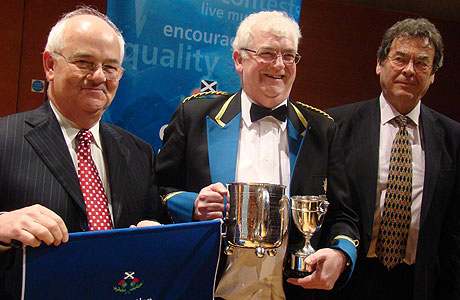 Investment smiles for the winners McTaggart Scott Loanhead

Enjoyable contest

The eventual winners after an enjoyable contest full of well led, warm sounding ensembles containing a host of classy leading soloists, was MacTaggart Scott Loanhead conducted by Mark Bell.

The band was relegated from the Third Section last year, but instead of wallowing in a trough of Celtic self pity, Mark had inspired them to build for the future, with a long term investment in their talented players from their youth set up, such as their talented 14 year principal cornet player.

Charismatic

The result has been a band reinvigorated by an intelligent, charismatic young conductor, who certainly brought the best out of his young (and not so young) charges.

It was a performance of substance too: a neatly played opening movement followed by a warm lyrical sense of flow in the middle section, and an upbeat, almost comical feel of musical surrealism in the third to round off a performance that fully deserved to claim a first Scottish title since 1992.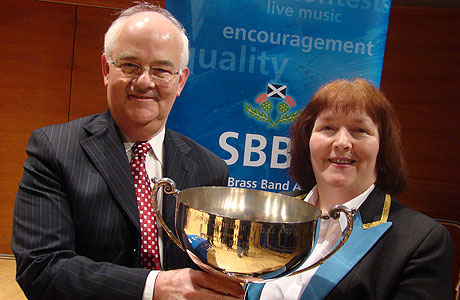 A long awaited return to the finals for Tayport Instrumental

Swagger

Joining them in Cheltenham will be another band that has waited a long time to get back to the finals – Tayport Instrumental under the baton of Frank Culross.

They last qualified in 2001 and came 3rd last year, but this time they left nothing to chance with a balanced performance that had a solid 'Prelude', followed by a lovely 'Song' interlude that featured 'Best Instrumentalist' winner Irene Reid on cornet, and was rounded off with a witty 'Dance', complete with kazoo whistles and even a touch of confident swagger.



Investment in youth pays off for Loanhead - with a 14 year old top man!

Just missing out

Just missing out came a hard working performance from Queensferry Community Brass, directed by James Anderson.

They produced a fine overall account that perhaps just didn't quite have the overall consistency of the two qualifiers, but was full of colour, lyrical intent and that final joie-de-vivre that Melvin White in particular was looking out for.

Plenty to enjoy

There was plenty to enjoy in the performance of fourth placed Dysart Colliery led by Gavin Lindsay too, as they delivered a vibrant account that started well but just tired in the final 'Dance', whilst Callander Brass will have taken huge encouragement from their debut appearance with a performance that was hallmarked by a fine bass led sound, talented soloists and a neat sense of style.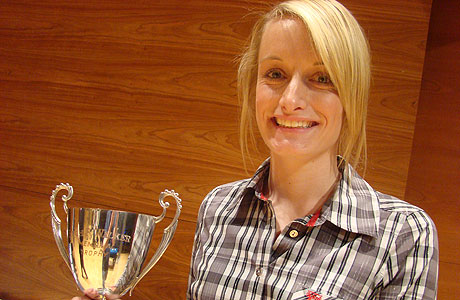 The best smile of the day despite just missing out for Queensferry Community Brass

Unlucky

Penicuik could perhaps count themselves a touch unlucky that they couldn't push towards the prizes after delivering a sparkling opening in a well thought out performance under Stuart Black's intelligent direction.

On another day, with just a few less noticeable errors, they could have been right in the mix.

Vibrant performance

Finally, Dundee Instrumental and a vibrant performance under John Tonner, which tried all the way though to brings the music to the fore despite the lack of numbers.

It wasn't to be on this occasion, but there was plenty of encouragement to be gained.

They may have finished last but they were not beaten and were just a length or two off the podium finishing pace.

Fund raising

Cheltenham and plenty of fund raising beckons for both McTaggart Scott Loanhead and Tayport Instrumental, but if they can produce this type of form again come September, all that hard work will have been well worthwhile.

Iwan Fox