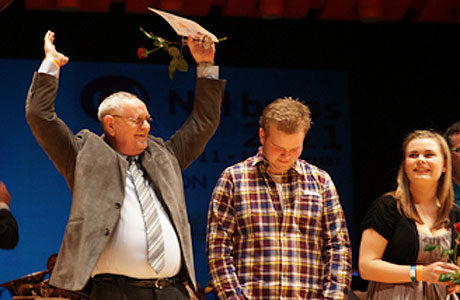 Winning delight for Jaren...

First Division:
With the emphasis in quality rather than quantity at the Norwegian Nationals, there was a great deal to enjoy in the First Division contest.

This year it took place on Saturday morning and was streamed live through the Norwegian Band Federation website.
So, if you were not lucky enough to sit in the hall and listen to the bands on stage, you still had the opportunity to hear them in the comfort of your own home.
Dead right

And for the neutral observer, the playing once again confirmed that the Norwegians have got the First Division concept dead right.
12 bands, all with ambition and talent lined up to try and capture the ear of adjudicators Bjorn Sagstad and Ian Porthouse – and by and large they did just that.
The overall standard was excellent, although Ian and Bjorn would have quickly realised which bands were, and which bands were not, potential 'Elite' outfits in the making.
No doubt

No doubting the winners in their mind – with Jaren Hornmusikkforening taking the title with a fine performance of 'On Alderney Edge' under the direction Garry Cutt.
Jaren has been a bit of a yo-yo band between the Elite and First Division over the years, but that has much to do with the quality of the higher section, which continues to improve at such a rapid pace.
This is a solid outfit, full of solid players – as was shown with a performance of the former Albert Hall test piece that was delivered with confidence and musicality to take the honours for the second time in five years.
Garry Cutt used all his experience to coax some wonderfully balanced ensemble work from the band (the tuba team won the 'Best Section award), whilst he also benefited from the main soloists being on top form too – especially a fine soprano, horn and flugel.
It was a worthy winner.
Impressive

Just behind them came an impressive performance of 'Sounds' by Kleppe Musikklag directed by Rune Hannisdal that rounded off the contest with a real flourish, whilst it was appropriate that it was the first band of the day, Tertnes Brass that came third under the experienced Yngve Nikolaisen.
Their performance of 'The Year of the Dragon' was also a rendition that benefited from some wonderfully viscous trombone playing from Kristian Berg that won the 'Best Soloist' prize.
Fine efforts

Behind these three high quality bands came fine efforts from fourth placed Jolster Musikklag directed by Arvid Anthun, who produced a exciting rendition of 'Dances & Arias', and joint fifth placed bands Oster Brass and Orskog Brass.
Oster, conducted by Torstein Aagaard-Nilsen presented a composed rendition of 'A Lowry Sketchbook', whilst Orskog may count themselves a touch unlucky that their colourful performance of 'A London Overture' just had a few too many little annoying clips.
Plenty to enjoy

Behind these renditions there was plenty to enjoy – with a notable performance of interest of 'Fire in the Sky' by Tomra, which despite coming 10th as they tired after a corker of a Deep Purple inspired start, showcased another work from the pen of Peter Meechan that is well worth investigating further for bands as an innovative own choice selection.
It will be Elite Section banding for Jaren in 2012 though – and on this evidence they should confident of staying there for an extended period of time.
---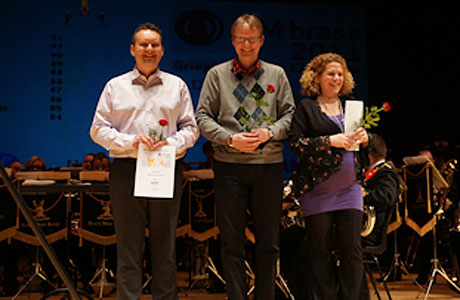 Waiting for the decision in the Second Division...

Second Division:
Strangely, the abiding musical memory of the 2011 Norwegian National Championships in Bergen was not to be found in the performances of the best bands in the Elite Division.
No. It came in the Second Division contest and a rendition of 'The Essence of Time' by Bjorsvik Brass that in anyone's books was just about as good as it gets.
Celebrate

It may seem a little unfair that a band that can call upon some of the finest current and 'semi retired' players of the Eikanger Bjorsvik Band is allowed to compete at such a level, but it is seen as something to celebrate rather than complain about here.
And despite their commanding victories in the Fourth, Third and now Second Divisions in the past three years, there is a desire by the members of the band to ensure a permanent presence at this contest.
Next year they will compete in the First Division, and hopefully in the years to come at the Elite level.

Benefit of others

Due to the make up of its personnel, they cannot practice every week, but that is down to the fact that many of the players are utilizing their musical experiences elsewhere for the benefit of others.
Martin Winter is to be found at the Bergen Phil most nights of course, but the likes of euph player Tormod Flaten took another band at the contest, as did principal cornet Svein Henrik Giske and tuba star Eirik Gjerdevik. Other players helped out other bands at the contest in a playing capacity.
Their victory came courtesy of that performance of the 1990 European set work by Peter Graham that would most probably won that contest on the day too.
Right from the first note, the sound, internal balances, precision of the ensemble – and above all – the quality of the musicianship on offer made Russell Gray's job perhaps the best brass band contest gig in the world.
Just how good

They knew just how good they were of course – but they didn't patronise the contest with a show of pyrotechnics. No. Just playing of a quality that comes alone ever so rarely in a banding year.
As we said at the time, it was a performance that could have won 95% of any top-level contest anywhere in the world.
Outstanding

And despite their overwhelming victory, what was equally amazing about this contest was the performances of the bands that filled the top six places – led by a outstanding rendition of 'The Year of the Dragon' by Radoy Brass conducted by Gareth Pritchard.
This was also a performance that would not have been out of place in the majority of top section contests in the UK, with the trombone playing of Hildegunn Sture Sylta on the fearsome 'Elegy' delivered with a lyrical liquidity that was outstanding.
Behind them came Brottum with a cracking 'Sounds' conducted by Michael Antrobus (without a score) that was full of insight and subtle nuance, whilst Borge ended in fourth thanks to well managed account of 'The Present Age'.
Freedom

The remaining top six places went to Linda's Brass led with his usual freedom of expression by Helge Haukas with a colourful 'Spectrum' and Askoy under Reid Gilje with a purposeful account of 'Coventry Variations'.
Remember this was the Second Division here – and even the bands who ended up at the bottom end of a highly competitive high class results table will have gone home with plenty to be pleased about.
Bjorsvik though were phenomenal.
---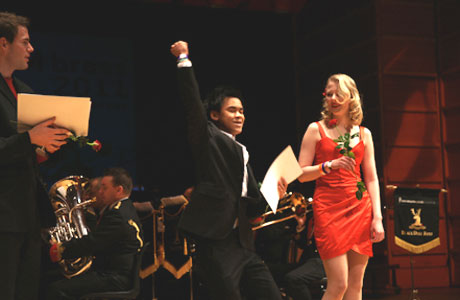 'ave it! Third Division delight for Rong

Third Division:
There is always something great about a band having a name that makes a headline writer's job easy – and Rong did just that in winning the Third Division title.
Impressed

A keenly fought out contest in the Peer Gynt Hall was something of a delight from start to finish for adjudicator's Peter Bassano and Harald Eikass, with Peter in particular thoroughly impressed by the overall standard of playing he heard on the day – and especially that from the winners.
Their performance of 'The Forest of Dean' gave the judges a benchmark that could not be beaten, with tuba star Eirik Gjerdivik leading Rong, 'right' to their second Third Division title in four years.
Nuance

It was a performance full of nuance and musicality, with Peter Bassano admitting that he was 'moved' by the playing of a work that was inspired by one of his great musical heroes, Herbert Howells, with its rich middle band scoring brought to life by the bands prize winning horn section.
Just behind them in what proved to be a closely fought contest came Hasle Brass under Robert Solberg Nilsen, with a fine account of 'Tallis Variations' that captured the contrasting sombre as well as vibrant elements with musical maturity.
Meanwhile, the final podium place was taken by Grenland Brass conducted by Christopher Roedvang, who rounded off the contest with a pulsating performance of 'The Saga of Haakon the Good' complete with very authentic blood curdling Viking battle cries.
Quality playing

With Fjell, Gjesdal and Folleso producing solid accounts of 'Purcell Variations', 'Psalms & Alleluias' and 'Prisms' to take the remaining top six places, there was little to disagree about Peter Bassano's impression of quality playing at the contest.
Even lower down the results (given sensible joint places) there was plenty to admire, but the day belonged to Rong, who did just about everything right to take the National title once more.
---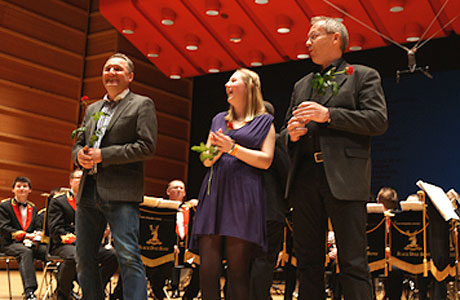 Happy smiles in the Fourth Division

Fourth Division:
It was a mammoth task asked of Cathrine Winnes Trevino and Karl Ole Midtbo in the Fourth Division to separate out 24 highly enjoyable performances from the competitors in the Peer Gynt Hall.
But in the end two exhausted judges enjoyed every minute of it.
Well chosen

And so did the audience who packed in to hear the bands too – thanks to slick organisation, some well chosen, not overtly ambitious choices of music and some wonderfully committed playing.
In the end it was the local Bergen Brass conducted by Sturle Berntsen who took the honours after producing an intelligently composed rendition of Edward Gregson's 'Occasion' that was hallmarked by controlled ensemble, solid solo lines and well defined dynamics.
Impressive

It was however pushed all the way to the finishing line by an equally impressive performance from Randeberg Musikkorps conducted by the determined Tarjei Gilbrant.
Their rendition of 'Dimensions' by Peter Graham, was helped by the classy contribution of their prize winning solo cornet player, who took a deserved 'Best Soloist' award.
They set a high-class early contest marker that was only beaten by the narrowest of margins.
Fine account

In third came Gjovik Bybrass directed by Torbjorn Lunde with a fine account of 'The Shepherd's Song', whilst the remaining top six places went to Fraena Musikkorps, Stavanger Kommunes Korps and Langhus Brass.
They all emerged with a great deal of musical credit from their well-chosen selections of 'Purcell Variations', 'The Four Noble Truths' and 'Psalms & Alleluias'.
Consistency

For the rest of the huge field it was the age old question of finding consistency allied to the good basics of brass band playing – as well as a few choices that seemed to stretch them to just about the edge of disaster – but thankfully no more than that.
For the winners though, a chance to show that they are not just the only local band around that can win a National title.
Iwan Fox