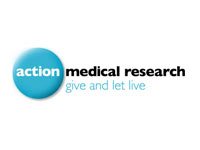 Blackpool is definitely the place to be if you want entertainment this weekend.
On Saturday, the tangerine clad lads of the never say die local football team will be looking to pick up three vital Premiership points at Bloomfield Road

Meanwhile, later that night, the lads in purple shirts come to town, as reigning Brass in Concert Champion Grimethorpe entertain local banding enthusiasts.
Away from the bright lights and beer

All that and the usual gruesome spectacle of hen parties and stag nights, all dressed in garishly coloured kits will meander into the small hours in a drunken haze down the soon to be shortened Golden Mile.

Away from the bright lights, beer and the beautiful game though, the real entertainment treat will surely be found on Sunday, when ten of the finest youth bands in the country battle it out for the 2011 Action Medical Research Youth Entertainment title at the Winter Gardens.
Whatever your taste in entertainment – you can't say Blackpool doesn't cater for your needs.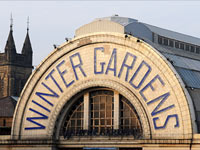 Council support
Once again, the organiser's are grateful to Blackpool Council for its financial support – especially in light of the recent news of expenditure cuts likely from April. Times are hard, but it's good to know not every local authority is taking the soft option of cutting funds to cultural events.
The contest itself has endured a bit of a roller coaster ride in recent times, but the fact that this is the 26th year the competition has been running, tells you something.
Numbers are up this year too, and although there is someway to go to reach the figure of 14 of a few years back, it is encouraging news. Contest organiser Gary Walczak works his socks off drumming up support for this event and his hard work has paid off once again.
That said, 50% of the bands that are competing are based around an hour or so from Blackpool, so there are concerns with ever increasing petrol prices that even such an attractive competition as this is feeling the pinch.
Split draw
The innovative approach and friendly atmosphere created by the organisers helps the competing bands, and the inclusion of a split-draw is another well thought out progressive move.
Three bands have already been drawn out of the hat, and can make the necessary adjustments to travel plans as a result, whilst the other competitors have been told whether they will compete late morning or in the afternoon. Good common sense, which families especially appreciate.
As always the day isn't all about contesting glory (although there is a palpable desire to win from all the bands). All the competitors will be raising money for a great charitable cause - another reminder of the significance of the contest.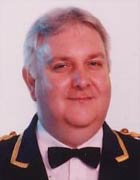 Talking points
The contest has opted for 'one in/one out' when it comes to the adjudication process and that common sense motivation sees the organisers take note of what the judges feel more comfortable with.
Last year the music judge, Alan Morrison told the audience he preferred not to be able to view the bands so he could focus on the music, which left Stan Lippeatt in the open to adjudicate the entertainment side.
It could well be different this year but with a precedent now set, it will be interesting to see what adjudictaors (right) - Jim Davis (music) and Captain Dave Barringer (entertainment) decide.
Age limit
Although there is a very relaxed atmosphere about the contest, the bands have been given a reminder that they need to make sure they double check the rules after the unfortunate disqualification last year of Youth Brass 2000.
All players must be 18 and under as of 31st August in the year prior to the contest. They have been politely, but firmly warned.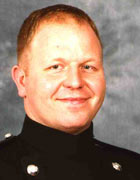 From Ballroom to Opera
The contest is superbly organised by Gary Walczak and his army of volunteers and even with the contest moving from its original venue in the Winter Gardens Ballroom to the Opera House, due to health and safety concerns, it was handled with the minimum of fuss.
With its broad, deep set stage, and with the audience close to the action, there is now a much more intimate feel to the contest – every nervous breath can be heard!
As always there will be plenty of innovation and lots of fine playing too, with bands invariably choosing programmes that balance the visual as well as the aural spectacle.
Brass in Concert invite
The link up between the Youth Entertainment contest and the 'senior' Brass in Concert event is maintained once again, with Youth Brass 2000 and Elland Silver Youth proving to be real hits at The Sage – and showing the top bands an entertainment thing or two in the process.
---
The Contenders
The reigning champion Elland Silver Youth under the inspirational Samantha Harrison return to defend their title, having won by five points a year ago.
Their 'Carmen' programme was a delight and it will take something special if they are to top that this time around – although you wouldn't bet against them doing just that.
Meanwhile, the strong Youth Brass 2000 under Lord Chris Jeans will be no doubt intent on regaining the title they won in 2009. Just a few weeks ago they made it a hat-trick of wins at Butlins after a delivering a very impressive performance, so confidence won't be in short supply that's for certain.
Lengthy journeys

Three other challengers will be making lengthy journeys to compete, with long road trips in the offing for Enderby Youth, Houghton Area Youth and Sellers International.
Enderby Youth from Leicestershire will head to the North West in good heart after a fine display at Butlins, which saw them come third against stiff opposition, whilst the improving Houghton will be looking to make a mark here once again after failing to come in the prizes twelve months ago.
Meanwhile, Sellers International has been quietly rebuilding under the baton of Black Dyke's Alex Kerwin, and they are fast approaching the type of form that saw them as regular challengers for honours.
Look out for Hammonds Saltaire's talented principal cornet, Jamie Smith within their ranks – a real star in the making.
North West Challengers
The strength in depth of the 'local' North West contenders is amazing, with strong outfits on parade from Bolton Youth, Macclesfield Youth, Poynton Youth, Rochdale Youth and Wardle High School Youth.
Bolton Youth under Helen Minshall are fast maturing into a real contender for top youth honours and with the cream of the best players in Bolton at her disposal they will be a confident band for sure.

So too Macclesfield Youth who return after taking a 'gap year' 12 months ago. Led by the inspirational Louise Renshaw, they should be a band to watch out for.
Creative

Poynton Youth's Americana theme certainly thrilled the audience last year, so it will be interesting to see what they have in store this time around, whilst Rochdale Borough Youth have a brilliant record here over the years and are due another success.
MD, Eric Landon is one of the most creative conductor's around so it will be interesting to see what he has created this time around.
Finally, Wardle High School Youth who are never frightened of performing challenging music and making use of the talents of a certain young teacher by the name of Paul Lovatt-Cooper.
Sixth place last year was followed up by third in the Intermediate Section at the National Youth Championships, so MD Lee Rigg, seems to have a fast maturing band under his command.
Individual prizes
Whilst there is the main title to be won, there are a host of individual titles up for grabs. Bands can make the journey home laden with more silverware than Geordie girls on a hen night.
Ticket details
It all kicks off at 10.30am with the doors opening at 10.00am.
The ticket prices are the same as last year: Adults £7.00, Children £4.00 and a family ticket @ £20.00 for 2 adults and up to 3 children. Great value for money in anyone's book.
4BR will be present on the day in Blackpool and will bring you our usual post-contest coverage.
---
4BR Prediction:
Predicting a winner here is never easy and this year is no exception.
It could be so tight in the bid for the title, that only a sweet wrapper may separate the top two, who we think may well be the current heavyweights of youth banding, Elland Silver Youth and Youth Brass 2000.
Poynton, Enderby, Rochdale and Wardle will all be battling it out for a place in the frame, whilst there are more good value outside bets to select than can be picked by a blind man with pin and a copy of the Racing Post.
1. Youth Brass 2000
2. Elland Silver Youth
3. Poynton
4. Rochdale
5. Enderby
6. Wardle High School