Blueprint for a brass band entertainment future?

The brass band entertainment contest is suffering from a middle age spread.

Its vibrant, energetic originality has in too many cases been replaced by a flabby mid life tiredness that has seen the traditional contest format become staid, and dare one say it - a bit boring.

It seems that brass bands and their promoters have lost the ability and desire to simply provide good old fashioned entertainment.

Recipe

In an age when consumer choice rules churning out the same prescriptive format for an increasingly elderly audience has become a recipe for atrophy.

That may be about to change though if brass banding follows the lead of one young man who aims to revolutionize at least one element of the genre.

Alexander Bray could soon become a name we won't forget. He's the man behind 'Brass Factor'.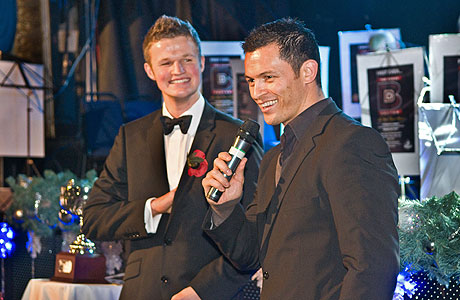 Star turn - Rugby star Robbie Paul is now a brass band convert

New and compact form

The 20 year old has packed in an amazing amount into his young life – a career that already seems a mix of John Craven, Mary Portas and John Henry Iles…

Currently a third year media and journalism student at the University of Huddersfield, he's presented local radio shows, worked on BBC programmes as diverse as 'Songs of Praise' to 'Countryfile' and Rugby League, written for his local newspaper, worked in a greengrocers and raised over £10,000 for charity.

And – he played for 5 years with the Hade Edge Band as well as Holme Silver and Hepworth Juniors.

As you may suspect, the inspiration behind his desire to produce a new, compact form of brass band entertainment contest owes more than a little to the phenomena that is 'X Factor' – Simon Cowell's behemoth television reality show.

Saturday nights have never been the same since the omnipotent Cowell brought his mix of Victorian freak show meets the Generation Game to our screens.

Amazing impact

Whatever your opinion about it, there is no denying its amazing impact – and Alex believes that it may also hold the key for the success of his concept too.

"The format of 'X Factor' is simple – it's pure family packaged entertainment," he told 4BR. "All the elements are geared towards interaction – from the artist on stage to the judges and presenters, and most importantly of all – the audience themselves. The atmosphere at one of their events is unbelievable – everyone becomes a part of it."

Alex hasn't simply come up with a nice idea and left it at that though. No. He has tried it out too – with spectacular results.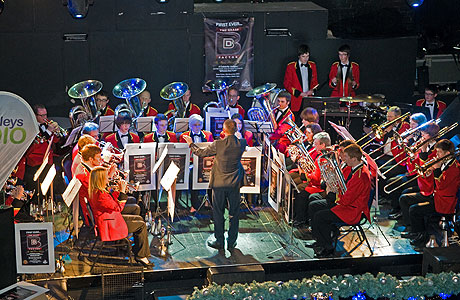 Compact entertainment - the bands in action...

Far reaching

What started out as a bit of a conceptual idea in early March, soon turned into something more tangible – and potentially, far reaching.

"I was talking one night about the things I like and the idea struck me about how I could modernise a brass band entertainment contest," he explained.

"I had plenty of ideas and before long I decided to develop it into a university project. I contacted the Holme Valley Brass Band Association, and with their help we organised the first 'Brass Factor' event."

Brass Factor

The first ever 'Brass Factor' event took place on Friday 12th November At Holmfirth Picturedrome.

Six bands took up the invitation to take part; Hade Edge and Hade Edge Juniors, Skelmanthorpe B, Scissett Youth, Yorkshire Traction Honley and Thurlstone, whilst the evening's judging panel was made up of well known band personalities Kevin Wadsworth and Les Beevers and local media presenters Jon Hammond and David Hoyle.

Alex was the evening's MC and presenter, whilst through his media contacts he persuaded the well known former New Zealand rugby league star Robbie Paul to add a bit of 'celebrity' sparkle and present the awards.

The regional BBC 'Look North' programme gave the event a huge boost by providing extensive media coverage, and as a result over 500 people crammed into the Holmfirth Picturedrome on the night.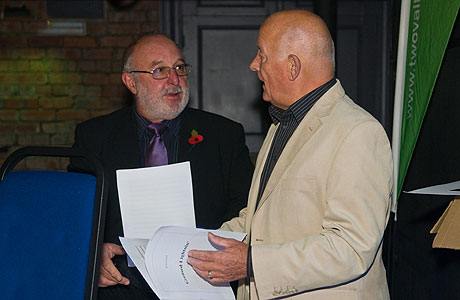 Playing their part: Kevin Wadsworth and Les Beevers enjoy their roles

Potential revolution

What unfolded was a potential revolution.

"We made sure right from the start that everyone knew what to expect. Everyone bought into the idea," Alex explained. "The bands knew they had to really entertain with their programmes, the judges had to give strong opinions after each performance, the presentation had to be slick and professional and the audience had to get involved too."

It worked better than Alex could have imagined.

"The bands were brilliant. We encouraged junior and youth bands because we wanted them to have fun and show off to their supporters and families in the hall. The judges were great with Les and Kevin in particular enjoying themselves in their Simon Cowell and Louis Walsh roles, and we made sure that just like the television programme, the audience made their feelings known too – encouraging them to cheer, jeer and play an active role from start to finish. The atmosphere on the night was fantastic."

Fabulous idea

Kevin Wadsworth was delighted to be a part of it. "What a fabulous evening and a great idea," he told 4BR. "I was asked to be a part, or perhaps more accurately, 'play' a part, and because it was trying something new – not repackaging what we already provide, I was delighted I did."

"It was essential everyone bought into the idea though," he added "otherwise it wouldn't have worked. This was the provision of brass band entertainment – not a contest like that at The Sage. Once that was understood, everything could be done brilliantly – and the audience, full of families wanting a good night out as well as people who were new to brass bands, loved it."

20 minute programme

Each of the bands played 20-minute programmes with their conductors introducing the items, but once they had played they moved the side of the stage to be told immediately just what the judges thought of their performances – just like 'X Factor'.

The result was plenty of witty banter (Les Beevers playing the part of Simon Cowell to a tee) as well as a good dose of musical common sense and comment about the playing on show - with both Les and Kevin talking directly to the players and the conductor and the audience showing them just what they thought about what they had to say!

"That part was great," Kevin added. "We knew our roles, but made sure we didn't offend the bands and made plenty of serious musical points too. The banter and interaction with the audience made it all come to life."

At the end of the evening the feedback about 'Brass Factor' was such that it has encouraged Alex to try and develop his idea further – with Robbie Paul an immediate brass band convert!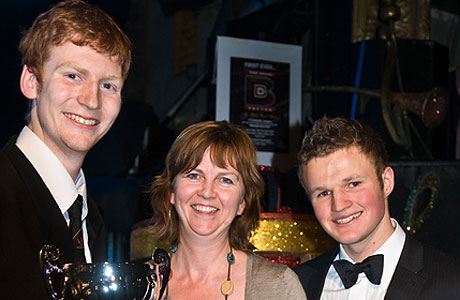 X Factor smiles - from Alex Bray and the evening's winners

Expanding the idea

It's given the young entrepreneur a real desire to expand his idea further: "We raised over £1,700 thanks to the local sponsorship and the packed out venue which was shared between the Holme Valley Brass Band Association and the competing bands – and it has given me the ambition to try and get others to take the idea forward."

It is hoped that over the next couple of years Alex will help organise and promote his 'Brass Factor' around the country with band associations to help provide a new 'short form' of the traditional entertainment contest.

"In a way, the result (Hade Edge were declared the winners through an inventive system that included marks from the judges for musical content and entertainment presentation as well as the audience) was not important – it was about providing a fantastic night's brass band entertainment," Alex enthused.

Ambition

"I have the ambition to try and create more 'Brass Factor' events all around the country. If bands and promoters are ambitious and willing to provide a real family night of brass band entertainment, I don' think they can go wrong. It's worked for Simon Cowell, so I think it can work for brass bands too. All they have to do is get in touch and away we can go."

If anyone is interested in hosting a Brass Factor in your area please contact Alex on Alexander.bray@gmail.com.

The revolution may have already begun…

Iwan Fox