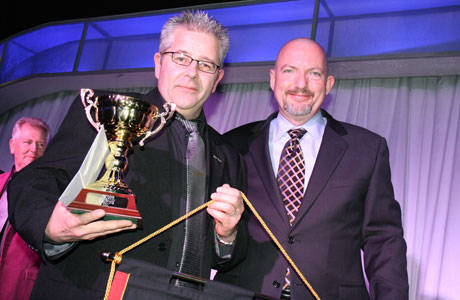 Reward for rock hard work for City of Sheffield

Granite is a hard rock – and 'Granite Variations' proved to be just as hard a test piece for the bands in the First Section.
Skill and determination was needed to shape the musical version into something of aesthetic beauty here – and despite some notable efforts, (and with apologies to the composer), it proved to be hard work.
It was granite by name and granite by nature.
Truncated

In five sections, the test piece's truncated movements never quite developed into a compelling end product, and with most performances around the 12-13 minutes mark, it made for renditions that seemed musically fractured as bands strove to perform with flowing consistency.
Credit has to be given to the soloists for some sterling performances, and to the conductors who in many cases, held things together when some movements lost focus and ensemble cohesion.
The struggle to overcome the rhythmical challenges of the piece was apparent - the tricky 5/8 section being a case in point – a number sounding almost as if in 6/8.
Marker
'Granite Variations' also provided an early warning indicator to how bands at this level will fare on the sterner test 'Carnival Romain' to come at the Areas. If this wasn't easy then heaven help the strugglers here on the Berlioz.
No-one unscathed
Nobody got away unscathed - not even the winners.
City of Sheffield under the tight direction of David Holling left the stage knowing they had given a strong account of themselves, although there were a few uncomfortable moments here and there throughout a vibrantly coloured reading of the score.
Everyone though dug deep, especially the soloists, and in the end a bit of true Yorkshire millstone grit helped them to take the Butlins title and the £2,000 first prize.
They will head to Bradford in a few weeks time boosted by this win – but realistic in their ambitions; 'Carnival Romain' will test this solid well prepared band even further.
Earlier in the day, two bands stood out in the first half of the draw - Yorkshire Imperial and Longridge.
Yorkshire Imperial under David Nesbitt were the last band to play before the comfort break, and produced a well judged musical performance with ensemble control and attention to detail. Although there were a few uncertain moments along the way, they fully deserved their eventual runner up finish.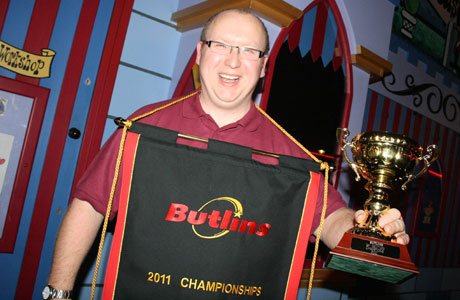 Do I look good in this? City of Sheffield MD Dave Holling celebrates victory

First to impress
Five bands had taken to the stage before Longridge became the first band to really resonate with Steve Sykes and Paul Norley in the box.
Of the opening quintet, it was Langley who set the early marker with a solid, well directed performance to eventually take fourth place, and give themselves a timely boost ahead of their First Section Midlands Area title defence.
Midfield finishers

Midfield finishers Carlton, Ipswich & Norwich Co-op and Haverhill meanwhile had their moments in somewhat inconsistent performances, the best of which saw Carlton end in sixth place, whilst Cornerstone Brass failed to shine off the number 1 slot.
Mark Peacock's approach with Longridge paid attention to the tempo markings, his band producing solid individual and ensemble playing in return to gain a well-merited podium finish.
Although they didn't know it at the results ceremony on Saturday night (where only the top four bands were announced from the stage) Foresters Brass 2000 determined account produced an encouraging 5th place finish. Although never quite having that extra quality in the ensemble it was an encouraging performance ahead of their forthcoming regional challenge.
No holiday double
There was to be no Butlins double for Jackfield (Elcock Reisen), who although showing that they had quality within the ranks, never seemed at ease in projecting its successfully. They will be disappointed to come 7th, but they will also know that on this occasion they were off the pace.
The challenge of producing five consistent movements in the set work, saw increasingly fraught performances lower down the prize list – although some bands may count themselves a little unlucky they didn't quite capture the ear of the men in the box as they would have hoped.
Steve Sykes and Paul Norley are two musicians who know what they want and stick by their opinions, so there was a consistent thread to their decision making – even if some bands may still be wondering just how they came to be penalised so harshly.
Inconsistent

Bands that produced inherently inconsistent performances from start to finish filled the lower midfield placings.
Phoenix (West Midlands), Bedworth Brass, Enderby and Cawston all had their moments (both very good, and very average) but it was their inability to really make a cohesive whole of their variable constituent parts that cost them any chance of coming higher than they eventually did.
East London Brass meanwhile certainly produced a performance that found favour with many in the hall (4BR included) but not the adjudicator's - perhaps due to their strong ensemble sound that found them playing at a robust dynamic at times.
Tough

For the bottom four bands, plenty to ponder over however, with performances that may ring a few alarm bells ahead of the Berlioz test in just a few weeks time.
'Granite City Variations' proved to be a really tough on Kippax, Kidlington Concert Brass, Murton Colliery and Harborough, but they all produced performances of character and purpose, even if the end result was mixed.
As for the American's of Central Ohio Brass?
Nothing but the heartiest congratulations and sympathy by the bucket load for their efforts, which were drastically hampered by flight delays in the United States that meant that the vast majority of the band didn't make it to Skegness until the contest had started.
Common sense

The good common sense of the organisers and fellow competitors allowed them to perform as the last band of the day, but despite the warmest of receptions, a combination of lack of sleep, jet lag, no real rehearsal time and unfamiliarity with the surroundings meant they couldn't do themselves justice – and had to be content with 16th place.
This was a good band dealt a very poor hand by circumstances beyond their control. Their commitment and spirit though was undimmed by the experience as was shown later the same night when they produced a highly entertaining concert.
For City of Sheffield though a victory that also was a testament to their desire and commitment to return to the glory days – and on this form they may well come sooner than later.
Malcolm Wood