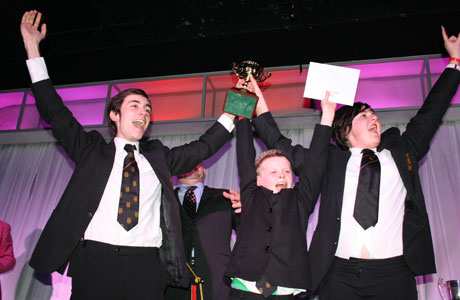 Hands up if we are the champion? Mossley celebrate their Butlins triumph

To borrow an old football cliché - this really was a contest of two halves in the Second Section.
50% really gave the test piece; 'Rise of the Phoenix' a real good work out, whilst the remainder couldn't quite manage to overcome all of its technical or musical aspects – although none really failed.
Encouraging

It was an encouraging contest for each of the 16 bands, and whilst some will have returned home happier than others, all will have benefited from the experience - none more so than the eventual winners Mossley, who have experienced a couple of difficult years of late.
Under the direction of Duncan Byers, they produced a well-balanced sound, allied to secure soloists and precise ensemble work from start to finish to take the £2,000 first prize.
Impressive

It was a close run thing though, as second placed Haslingden & Helmshore pushed them all the way to the finishing line, with a performance rich in musicality and impressive technique under the baton of David Holland.
Both these bands will line up against each other in just a few weeks time in Blackpool, and on this form it will be a battle to savour on 'Resurgam' as they are two very classy outfits on cracking form.
Mossley set their stall out right from the start, and with a strong cornet section leading the way the technical aspects of the piece were overcome with ease.
With the rest of the band was not too far behind it allowed Duncan Byers to shape the music safe in the knowledge that the basics of potential prize winning potential were admirably secure.
Grew in stature

The same applied to Haslingden & Helmshore – with a performance that grew in stature after a slightly hesitant opening. With a strong cornet section balanced by a solid lower end they sounded like a band that had something in reserve (and kept under control by David Holland) even when stamina was tested towards the end.
There should be an equally keenly contesting battle in Bradford on the evidence of the 3rd and 4th places achieved by a revitalised Dodworth Miners Welfare and a bold South Yorkshire Police.
Eliot Darwen and Leigh Baker excellently led both bands, and the young duo further enhanced their reputations as musical conductors by drawing out rich, well balanced sounds particularly in the detailed ensemble work.
Just little hints of fragility in some of the solo lines cost them both a chance of a possible victory.
Merit

The two adjudicators John Roberts and Brian Rostron would have enjoyed the contest as it unfolded, with each performance bringing out something of merit from the score. And although the music itself may not have been to everyone's particular taste, it did its job, and did it well.
One of the most enjoyable performances of the day came from Blidworth Miners Welfare under Martin Heartfield, with some cracking percussion playing adding colour and vibrancy to a performance that just had a few too many little errors to have pushed higher. It was a good one though.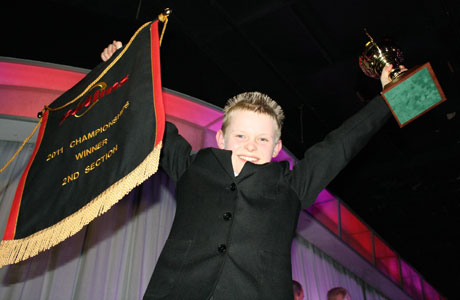 Champion - just champion!

Difficult to separate

It was difficult to separate the bands coming 6th – 8th on the day, with the judge's plumbing for a powerful rendition from Uppermill under the direction of Alan Widdop ahead of slightly more restrained versions from Leicester Co-operative and Fulham.
Both the Midlanders and Londoners will have left the Lakeside venue knowing that with a bit more care with the dynamics and a little more quality in the execution of the more exposed lines, they could have ended up in the top six.
As a work out for the Areas in a few weeks time, this will have given each a solid foundation to work from, and if they can eradicate some of the more obvious faults in time for 'Resurgam' they could all be in the mix for Harrogate qualification berths.

Plenty to think about

The remaining bands will also have plenty to think about as they work Eric Ball's masterpiece.
The biggest problem to overcome will be ensuring that the basics (especially in tuning and nerves) are settled, as many of the performances here were just undone by some basic errors and misplaced adrenaline rushes.
The one performance that stood out for us was Delph, who eventually ended up in 14th place – more than a little unlucky, although you could perhaps see why given the desire to try and create extra excitement where a touch of restraint was perhaps the better option.
It was the most musically colourful performance of the day – perhaps just a bit too vibrant in places.
Experience

Melvin White once again used all his experience to draw out a well managed account from Northfleet Brass in 9th, whilst it was good to hear North West Ellington Colliery produce a solid account of themselves under the much younger conducting talent of Jonathon Fenwick, to come 10th
Both Becontree Brass and Shirebrook MW Unison will reflect on a few too many opportunities missed on this occasion, just when their performances were building into something of note.
Ibstock produced the classic 4BR 'Curate's Egg', whilst both Denham Hendon Brass and Betteshanger Colliery will take more positives than negatives from their hard working performances – despite the eventual end result. There is better to come from both.
As for Mossley though?
If they produce a performance like this again at Blackpool the North West audience could be in for a real treat.
David Jack