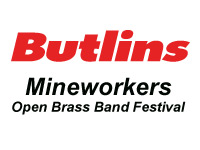 Championship Section:
Venue: Centre Stage, Butlins Skyline Resort
Saturday, 22nd January
Draw: 9.15am (Saturday)
Commence: 11.00am
Test Piece: Requiems (Darrol Barry)
Adjudicators: David Read & Paul Cosh
Sunday 23rd January
Draw: During Lower Section results on Saturday evening
Commence: 9.30am
Adjudicators: David Read & Major Paul Norley
Compere: Frank Renton
Prizes:
First Prize: The Warwick Vase Trophy, The Butlins Championship Section Trophy & £7000, plus the Champions Banner
Second Prize: £3,000
Third Prize: £2,000
Fourth Prize: £1,000

Butlins Most Entertaining Performance Trophy: £1,000
Highest Placed Mining Band – The William Lippeatt Memorial Trophy
The Geoff Dove Mineworkers Soloists Challenge Shield and £300
---
10 bands line up over the weekend to battle it out for the £7,000 top prize and the magnificent Warwick Vase Trophy, with Desford Colliery defending a title they have won three times in the last four years.
There is an intriguing feel to the contest, with a reflective choice of set work on the Saturday balanced against the fun and games of the entertainment format the following morning.
Personal appreciation

David Read and Paul Cosh are charged with task of positioning the bands in order on Darrol Barry's 'Requiems' – a very personal appreciation of some of the major musical influences that have shaped his life.
It's a work that asks searching questions of ensemble –from the brilliance of the opening 'Tuba Mirum' fanfare in memory of cornet player John Taberner, through the bass led scherzo, 'De Profundis', which recalls the friendship of the CWS (Manchester) tuba player Derek Davies.
The influence of the great trombonist Don Lusher is marked by a lyrical 'Sanctus' interlude, whilst that immortal brass band icon Geoff Whitham is enshrined in the aptly entitled Lalo inspired 'Gloria'.
A reflective 'In Paradisum' is dedicated to the memory of Barbara Cotter, the late wife of conductor Mike Cotter, whilst the closing 'Dies Irae' bustles with all the energy, splendour and occasional bluff of the television personality Fred Dibnah, who was a regular colourful visitor to Darrol's local pub when he lived in Tyldesley.
Entertainment time

With the serious stuff out of the way – its entertainment time on Sunday morning, where David Read and is joined by Major Paul Norley.
Last year the bands produced a number of well worked visual items in their programmes – the highlight, Thoresby's brilliant take on the 'Hallelujah Chorus', and whilst the actual playing was varied, there was an encouraging desire to try something a little more 'left field' than can usually be found at Brass in Concert.
The award of a separate £1,000 'Most Entertaining Band' prize has ensured that those bands not in the realistic hunt for overall honours can leave Skegness with a hefty cheque and even heftier silver pot to their name.
An increasingly prescriptive Brass in Concert contest should take note.
Favourites

Desford should take to the stage under Russell Gray as favourites to claim the title once again.
The Scotsman was on inspired personal form last year, and whilst he can be a bit hit and miss with his entertainment programmes, his ability to draw the music from test piece scores is almost unsurpassed.
'Requiems' has a potential Gray watermark stamped on it, so Desford's season could well be off to another financial flyer.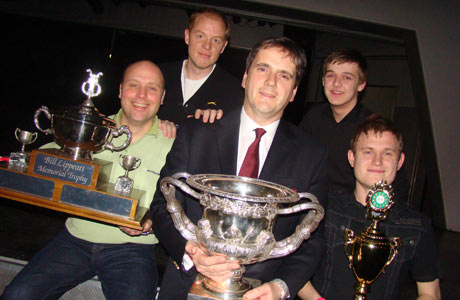 Can Desford retain their Butlins title?

Fancied runners

Two bands who should fancy their chances are 2009 champion Redbridge, and Virtuosi GUS.
The Londoners have gained a respected reputation for innovative thinking in their entertainment programming under Jeremy Wise, although they will have to be careful that they don't fall into the same trap as Brass in Concert, where they rather sacrificed musical substance for visual style.
There is a solid look about their personnel though, which should bode well for the set work in particular – one that should bring the best out of a conductor with lyrical strengths.
The improving Virtuosi GUS should be confident of improving on last year's fourth place under John Berryman, although they could do with just taking a few more risks with their entertainment programmes.
Solid, well drilled and technically secure they do have the odd momentary lapse or two, but there was persuasive evidence on show last year that those were being eradicated.
A major title could be within their grasp if they have married the need for a bit more excitement without losing their concentration.
Close behind

These three seem to have the ability to mix test piece consistency with entertainment flair, although the likes of EYMS and Flowers could push them close for a podium finish if they play to the top of their form.
Both bands are inconsistent though – EYMS failing to build on last season's well worked fifth place here, and Flowers only showing occasional glimpses of their real potential – their appearance at Brass in Concert being a case in point. Garry Cutt's influence could be a big plus point for the 2006 champions.
Dark horses

Woodfalls and Marsden may be the dark horses – although much will depend on their conductor's ability to highlight given strengths and camouflage equally obvious weaknesses.
The West of England band is an outfit that can mix it in quality test piece and entertainment company when really on form, whilst Marsden showed at Pontins that it has the ability to shine on the test piece discipline, although it will be interesting to see where its entertainment inspiration derives from.
Joyous

Thoresby were excellent value for their entertainment prize twelve months ago – a well-conceived programme that was joyously, if rather variably delivered in terms of quality. They may need to do something special again if they are to feature this time around.
As for Zone One? A band of undoubted talent both in front and behind the stands, but one that is hamstrung by the logistics of trying to get together an ensemble made up of such disparate musical parts on a regular basis.
If they have been able to put in the rehearsal time then they could well make a real mark on their debuts – but there could be a few sticking plasters on display to cover over the cracks too.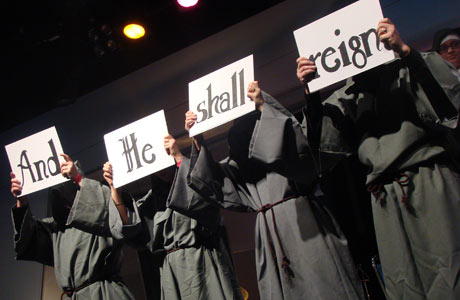 Thoresby entertain last year...

Mystery

That leaves the 2009 First Section winners Blackburn & Darwen who are making their top section debuts.
Nick Sheppard has moulded a solid test piece outfit under his command, as was shown at Pontins late last year, although they remain a bit of a mystery on the entertainment front.
4BR Prediction:
Three bands stand out, with Desford the obvious favourites. Virtuosi GUS should run them close, whilst Redbridge is a real threat too. We can't see the title going elsewhere this weekend.
If Flowers can up their game they could well push their way into the mix, whilst Woodfalls and Marsden may claim the final top six places. Our dark horse is EYMS.
1. Desford Colliery
2. Redbridge
3. Virtuosi GUS
4. Flowers
5. Woodfalls
6. Marsden Silver
Dark Horse: EYMS