4BR Time Team - Foden's historical ledger lines
30-Dec-2010
The discovery of a lost ledger charting 65 years of unique Foden's history has been found by Allan Littlemore.
---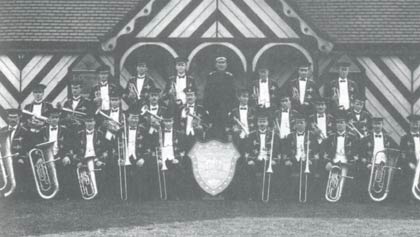 Foden's - 1920 Glasgow winners, with pre British Open Challenge Shield

It is quite amazing how rare gems are occasionally rediscovered to enable a new generation to shed a shaft of light on a remarkable era long since past.
In this case it was a gem not thought to be lost, but one, which, as far as I was aware, never even existed; a historic written record started in 1909 and continued uninterrupted until 1974.
So what is it?
Well, it is a hand written record, in a ledger 8" x 13", of every prize, and its value, and of every engagement, and the associated fee, fulfilled by Foden's Band.
It is an unique 65 year record – a treasure trove of facts and figures: a treasure trove in copperplate writing of an almost forgotten era.

Record pride

There was a time when such records were a matter of banding pride; attendance registers, concert fees, contest prizes - ledgers full of the proceedings of annual general meetings, correspondence and the like. Not so today.
So who started this great bureaucratic record of one of the most famous bands in the world? I wish I could say with confidence.
It certainly wasn't either William Rimmer or William Halliwell, Foden's two great conducting leviathans of the time. Both would have had other things on their minds.
I suspect it was Ted Wormald, who was Bandmaster from 1908-1913, as well as being a part time trombone player with the band.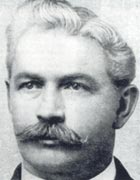 Early years of investment

Initially named Elworth Prize Silver Band in 1900, under the patronage of Edwin Foden, they became Fodens Motor Wagon Works in 1902 - with modest ambitions.
However, in 1908 Edwin decided that he wanted a top quality band so set his two sons, Billy and Edwin (Jnr) the task of recruiting a line up of the finest players.
Recruitment

They had all the necessary recruitment attractions at their disposal; new instruments, William Rimmer (right) as conductor, a job in Foden's factory, and, where necessary, a company house to rent.
It was no wonder then, with such resources, and with a sense of Edwardian propriety, formal records started to be kept – even if it was initially perhaps to show the owners just what return they were getting on their musical investment.
And what an investment it was to become.
First entry

The first entry of eight decades of banding history reads: April 10th 1909 – Brierfield Contest – 3rd Prize - £5-0-0.
That is about £442.00 in today's (2010) reckoning.
Soon, the successes, and the money started to pour in.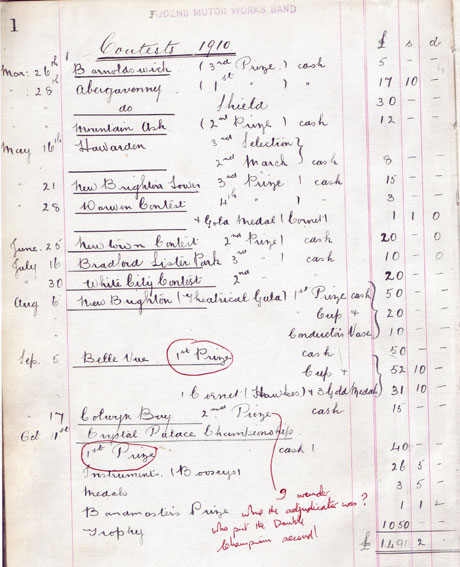 The book opens at 1910 to show winnings of £1,491

A second place at Belle Vue, Manchester, in 1909 was of immense significance: The prize, as recorded in the ledger, was £28-16 shillings, cash and a cornet (around £2,481 in 2010)
This contest, like today's Grand Shield, was the passport to the September Belle Vue event – later known as the British Open. In those days it was played on a Monday to coincide with the local Gorton Wakes.
With no 'Bank Holiday', a number of bandsmen would have taken a surreptitious 'sicky' – although this is not noted in the Foden's attendance register, which showed every tick and noted absence from a Foden's rehearsal like a primary school register (not that there were ever many players calling in absent).
Gold medals

On 6th September 1909, Fodens won the Belle Vue contest for the first time, for which they received the Challenge Cup, (to be returned), £50 first prize, a cornet and three Gold Medals - all with a total value noted of £128-16 shillings (approx - £11,400 in 2010).
According to the 1909 contest programme (which also showed that out of the 24 Foden's players – 23 lived in Elworth itself) three Gold medals were awarded – to the conductor, bandmaster and to the band as a whole.
Just nineteen days later at the Crystal Palace, London, the band hoped to win the National title. It was not to be; the band gaining second prize for which they received the Daily Telegraph Cup and instrument and £100 prize money (approx - £8,800 in 2010)
With the burgeoning railway network covering almost all areas of the UK by the second decade of the century, Foden's began to travel.
Diverse

1910 saw them record wins at such geographically diverse contest locations as Abergavenny in South Wales and New Brighton on Mereyside, as well as come second in Colwyn Bay (North Wales), and record their second Belle Vue success.
However, it was their historic 'double' in 1910 that really made the Foden's name and sealed the owners return on their investment.
The cash prize was £40, a Boosey's cornet valued at £26, medals (no quantity mentioned) at £3-5 shillings, the Trophy, (to return of course), valued at £1,050 and a Bandmaster's prize of one guinea. This amounts to a prize package worth around (approx - £98,000 in 2010)
Foden's was the finest brass band in the world – and they were marketed as such too.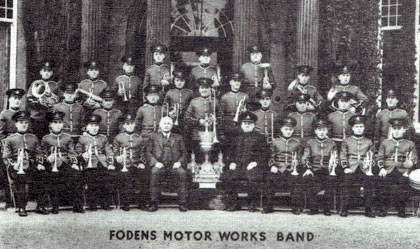 Golden Era: Fodens with the National Trophy in the 1930s

Far and wide

From then on, they travelled far and wide in search of success – and with it, prize money; from return trips to Abergavenny to overseas trips to the Isle of Man, whilst concert fees became increasingly important.
One entry at the time recorded that the band played at the opening of the bandstand in nearby Congleton Park, followed by a concert in the Town Hall in the evening, for a combined fee of £16 (approx £1,384 in 2010).
The contest prizes flowed – the 1912 Diamond Jubilee Belle Vue event, gained them 27 medals as winners, each with a diamond mounted in the middle valued at £5 each, whilst they also picked up £20 at the Nationals.
Expenses were accumulated though.
For the Belle Vue contest alone, rail fares and food cost £9-12 shillings; Mr Halliwell's conducting fee was £10. The 24 men were given £1 each, while poor Ted Wormald, the Bandmaster, only got 10 shillings! Meanwhile, the trip to London incurred hotel expenses of £35 and railway fares at £20.
Even then, modestly successful bands were out of pocket at contests. Plus ca change!
Banding cycle

The age old financial banding cycle could be seen in the black and white entries in the ledger: More contests and concerts meant more money going out, whilst the band had to work harder for the money coming in – as seen when the band performed at the local Haslington Flower Show.
The band was required to play 'Selections' in the afternoon, as well as for dancing in the evening - all for £15.
Even so, the ledger records that at the end of 1911 the band won £422-7 shillings at contests alone – around £36,500 in today's value.

http://www.thisismoney.co.uk/historic-inflation-calculator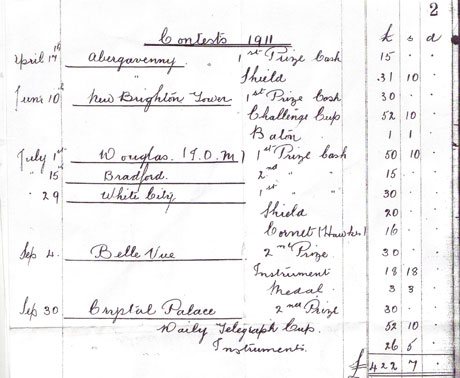 1911: Over £36,000 in today's prize money...

Not all concerts were for the benefit of the band though. During the Great War, there is listed, for the first time, two concerts where the proceeds were for the National Relief Fund. Foden's were certainly doing its bit against the Kaiser.
It is also interesting to note though that the likes of William Halliwell may well have been making a very good living out of conducting bands at this time – his fee for taking Foden's to Belle Vue in 1916 was £11 (around £830 in 2010). He also took at least another 5 bands!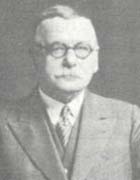 Change

Everything changed after the War – and not just with the news that Foden's great cornet player Edwin Firth had been killed in action. Wartime exigencies had hit hard and they needed to include deputies, although they managed to play at an engagement at Peel Park, Salford, where Prime Minister Lloyd George was amongst the listening dignitaries.
Maybe the most significant of all concerts around this time was the one given free in the band's own village of Elworth. It was on 19th July 1919, and was in aid of Elworth Peace Celebrations Committee. A month later there was a concert for the 'Sandbach Discharged Soldiers and Sailors Comrades of the War'
Post conflict contests and concerts soon began again in earnest, with the ledger noting appearances as far afield as Glasgow in 1920 (where the band won the trophy that is now presented to the winning band at the British Open) as well as recordings with the
Edison Bell Company.
Mr Halliwell (right) was now charging £3 per rehearsal.
Historic first

A historical first occurred at a contest at Leigh on the 29th May 1926, where there is seen the first entry of Fred Mortimer as Bandmaster – he got £2 for his efforts (around £90.00)
From then on, history was made, including a fee of £21 for probably the first ever radio broadcast for the BBC in Manchester in 1927.
This was Foden's 'Golden Era' – concerts from Loggerheads and Belper to West Ham and Southend on Sea, week long concert tours and amazing contest successes.
Everything is noted in precise copperplate handwriting in the ledgers – from upgraded medals for multiple wins Belle Vue, to BBC recordings, lucrative seaside weekend engagements at Scarborough, Southend on Sea and Bournemouth to tours of Scotland.
There was even a tour to South Africa in 1936 – for the astronomical fee of £2,300 (not including further expenses) – the equivalent of around £120,000 today.
Liberation

The post Second World War period was also a great time of change, although the ledger reveals an entry for the period 30th April to 23rd May, 1945, with a fee of £550, referred to as 'BLA'.
This was the British Liberation Army, as the band travelled through the Low Countries in the wake of the Allies drive towards Berlin, with memorable concerts and huge crowds leading the way to Brussels Opera House for a celebration concert on Victory in Europe night.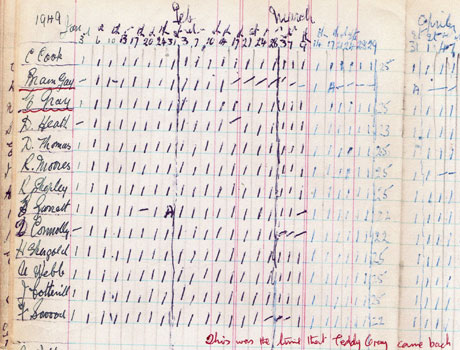 1949: The Foden's attendance register - with a young Bram Gay's name ticked...

Later the same year, the band played in Hyde Park, London for £285, plus a supplement of £305 to London County Council for the VJ Day celebrations.
Further memorable entries show appearances at the Festival of Britain on the South Bank of the Thames and a significant entry in February 1954, which states simply - 'BBC Television'. I think this was the band's debut on this new medium, but there are no further details.
Further tours were made, and in 1964, the last Mortimer inspired (Rex at this time) Open victory came at Belle Vue.
Infamous

Concert fees at their peak were £140 a shot (£2,100), although the ledger doesn't list one quite intriguing concert that was undertaken by the band in 1972 – at the famous (or should that be infamous) Annabel's Night Club in London.
Despite Rex Mortimer's initial reservations the band made two appearances at a venue that at the time was hosting visiting superstars such as Frank Sinatra – and at £825 (£8,500) for a nights work in 1972, it was well worthwhile!
Last entry

However, with Rex Mortimer's retirement in 1974, the last entry in this unique piece of social history was made: 18th December 1974 - Northwich £105.
It later fell to me to become the Band Manager, but at the time I was totally unaware the existence of the ledger. If I had been, I would have certainly carried on this wonderful record.
Instead it surfaced many years later, and now remains in my possession as a remarkable record of a remarkable band.
Allan Littlemore
---
Other Allan Littlemore 4BR articles include:

In Memorium – Edwin Firth
http://www.4barsrest.com/articles/2004/art414.asp
Joe Moores – the finest bass trombone ever
http://www.4barsrest.com/articles/2006/art609.asp
Teddy Gray remembered
http://www.4barsrest.com/articles/2009/art953.asp