4BR Scouting Report - Vincent Bearpark
17-Dec-2010
4BR meets up with one of the brightest brass talents in Switzerland - and a young man who has a name with a familiar ring...
---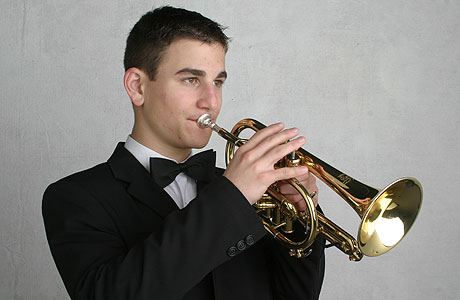 Vincent Bearpark
Age: 17
Instrument: Cornet
Bands: Valaisia Brass Band, Cécilia Chermignon
From father to son: The name Bearpark has a familiar ring about it.
In the mid 1970s, Angelo Bearpark was a highly respected cornet player with Black Dyke and James Shepherd Versatile Brass, as well as being a very successful competitor on the then popular solo contest circuit.
Angelo emigrated to Switzerland in 1982 to take up a teaching post, and now lives very happily in the lovely village of Chermignon in the Valaisian Alps, with his wife Fabienne and their two children, Stephanie, who's interests are in tennis and theatre production, and Vincent, a young man who has certainly inherited his father's musical genes.
Burgeoning reputation

At just 17, Vincent is the current Swiss National Junior Solo Champion. In a remarkably short space of time he has also forged a burgeoning reputation as one of Switzerland's finest young brass talents – a fact backed by his competitive record over the past few years

Vincent, started playing at the age of 4 under the supervision of his father, and cut his first competitive teeth by taking part in the most junior of regional solo competitions, when he was 10 years of age.
Since then he has become triple Valaisian Cadet Cornet Champion in 2006/07/08 (ages 12 – 15), triple Valaisian Junior Cornet Champion 2006/08/09 (ages 16 - 19), in 2009 he was the overall Valaisian Champion all categories, 2010 Swiss National Junior Cornet Champion and Swiss National Cornet Champion in 2007 and again in 2010.
Earlier this year he competed at the prestigious Prix de la Musique competition in Berne, in an event featuring the best young instrumental musicians in Switzerland, and was awarded second place.
Busy year

He recently rounded off a very busy 2010 by performing as a featured soloist at the Gala Concert of the Swiss National Championships in Montreux before retaining his Valaisian title for good measure too, just a week or so ago.

No wonder his father is a very proud man.
However, there is much more to this very likeable young man than just his amazing ability to perform as a soloist, as his father acknowledges, with a hint of his former Lancashire roots.
"Vincent has his feet firmly on the ground and his head screwed on right," Angelo says with just the occasional remaining detectable note of that Pennine drawl in his lyrical musical voice.
"He works hard at his playing and knows what he has to do to improve as a player as well as a soloist. I've taught him since the age of four and I'm a very proud father of course, but I know that there are other things in life that are just as important to him as playing the cornet."
Professional career

And although Vincent has enjoyed a chance to be educated at Sion Conservatoire School that has placed a firm emphasis on music, his professional career seems to be set for high tech industry as he works towards qualifying as a computer technician before going to university to gain an engineering degree.
"I want playing to be a very important aspect of my life," he told 4BR. "However, I know that I must have a professional career too. I am very interested in computers and engineering, so I will make sure I qualify professionally before concentrating more on my playing. I think I have plenty of time to do both."
In the meantime he is certainly enjoying both aspects of his education –gaining further invaluable experience as a founder member of the emerging Valaisia Brass Band, who won the Swiss National Championships in 2009 and performed with notable distinction at the European Championships in Linz this year.
Improving

"We are a young band, but one that is improving all the time," Vincent proudly said. "I played assistant principal cornet at Linz and really enjoyed the experience, and since then I have been promoted to the principal cornet position, which gives me much greater responsibility – but responsibility I am really enjoying."
That was certainly evident in his performances with the band in Montreux, despite them not being able to retain their title under the direction of Arsène Duc. "I thought we played really well, but we had too many small mistakes and that cost us," he said with just a touch of disappointment in his voice.
Vincent hopes to develop his solo playing further over the coming years, and he has shown his versatility as a fearless performer by showcasing his talents with new works by respected Swiss composers such as Eddy Debons, Bertrand Moren, Tony Chesaux and Gilles Rocha.
"I won the National title this year playing a piece called 'Abenzoares' by Tony, which really was difficult, and Gilles, wrote a work called 'The Hypnotist' for me for the recent Valaisian championship, which was also technically difficult. Playing both pieces has really developed me as a player."
Proud father

The proud father ensures however that each victory forms part of his son's overall development as a player, and Angelo is keen to see him improve his skills further – perhaps by coming to play in the UK in the future.
"He has all the basic requirements and skills to be a top class player," he said proudly.
"He's fearless when playing, so confident. However, he is keen to work on the areas of his playing he knows he needs to improve on, so we are developing his big band and orchestral repertoire.

We have discussed what he would like to do in the future, and we both think it would be great if he could spend some time in the UK working with the likes of Roger Webster, who has taken a real interest in his playing, or play with one of the top UK bands in competitions."
Enthusiastic

Vincent is equally enthusiastic about the prospect of perhaps following his father into the ranks of Black Dyke too. "I know that if I qualify as a computer engineer, I will be able to work in other countries (like most young Swiss students, he can speak at least two languages), so I would love to be able to spend time in the UK and maybe get the chance to play with Black Dyke if I'm lucky," he added modestly.
You suspect that luck won't play much of a part in it for this personable and gifted performer.
Lancashire bred

With a polished technique, an authentic cornet sound (very much like his father), a well developed sense of musicality, that tiny gene streak of paternal stubborn Lancashire bred determination and common sense, to go with his clear minded Swiss outlook, the future looks wonderfully bright for a young man with a considerable talent.
You can be sure, the name Bearpark will be ringing more than a few bells in banding circles in the years to come.

Iwan Fox
---