4BR Dinner Guests - Harmen Vanhoorne
12-Dec-2010
British Open Solo Champion Harmen Vanhoorne tells 4BR who he would want to invite around his dinner table... from Kim Clijsters to David King...
---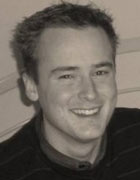 Given the opportunity, the wish list, the ability to mess about with the Space-Time Continuam like Doctor Who, and the skill to cook like Heston Blumenthal, who would you like to invite around to your place to enjoy a meal and chin wag with?

4BR started it all off a few days before Christmas 2007 with our 10 dinner guests, so we thought we had better ask a few more brass band personalities who would be on their all time dinner list too..

Multi talented

This time it's the talented Harmen Vanhoorne, the 2010 British Open Solo Champion and one of the finest young cornet players in European banding.

Harmen won the British Open title in Tameside with a stunning performance of 'Fortune's Fool' written for him by his friend and fellow EXIT_BRASS member Stan Nieuwenhuis, which left adjudicators Dr Nicholas Childs and James Scott with next to nothing to write about in criticism!

The 24 year old was a finalist at the 2010 European Solo Competition in Linz on the same weekend as leading Brass Band Buizingen at the main European contest as principal cornet with a remarkable display of maturity.

He has recently graduated from the prestigious Lemmens Institute in Belgium with distinction, and willl fly to Australia in 2001 to represent Belgium (and Europe he says) at the prestigious Ern Keller Competition.

He told 4BR: "It was difficult to pick my 10 Dinner Guests! There were so mnay people I wanted to invite, so perhaps I will have to make it a week long dinner and have lots of people around.

We may have to go out for food though as I don't do much cooking, but with the people I have choicen I think we will be talking about bands all night long!"
---
1. EXIT_BRASS!
The power of EXIT_BRASS! is that we're such good friends and already for many, many years.
That's the reason why we feel so comfortable with each other in making music, such as our theatre productions. It's also thanks to them that I could win the double of Solo & Quartet competitions in this year's British Open Solo Competition in Tameside, with Stan Nieuwenhuis (one of EXIT-BRASS members) writing the winning solo piece for me.

2. Roger Webster
No question about this one.
Roger has been a very good friend to me for many years. He is also the biggest inspiration for every young cornet player – and that also included me! He has given me so much confidence about myself as a performer
For all these reasons he had to be on my dinner list

3. Peter Meechan
One of my closest friends in the UK. Recently he composed a new piece 'Manchester Concerto' that I had the chance to premiere on my final exam for my Post Graduate Masters Degree on my request.
He's not only my favourite composer, but I also know him as somebody who can turn every dinner into a big party!

4. Michael Jackson
He's the man! A pure legend!
There is no one who has accomplished as much as he did. Also, if you want to learn something about stage performance, this is the man from whom you can learn everything. A very interesting man to have at a dinner party for all sorts of reasons!

5. Jason Katsikaris
I had a great time playing for the Leyland Band last year. Jason was the first UK based conductor who really believed in me by asking me, for the first time, to play for a top band in England.
I believe Jason is a real innovator in modern banding. Every performance with him as conductor is something special and new. He's a very important man for the future of banding – and he's great company too.

6. Kim Clijsters
The biggest star in Belgian tennis history!
She reminds us that Belgium, even without a sign of a government, means something in the world. She's also the only sportswoman that I know that successfully combines motherhood and a huge career too.

7. Derek Bourgeois
The man who already earned his stripes as a composer. I have already played some pieces written by him, and he has the gift to make everything he writes to sound interesting. Who doesn't enjoy listening to 'Concerto Grosso' or 'Blitz' even after all these years? Not me for certain – so I would love him to come to my dinner.

8. Denzel Washington
Only one thing to say about him: He's the best actor in the world, a legend on his own! I think I've seen all his films so far, there's not one I dislike – and he's such a cool guy! That's says enough I think.

9. Maurice Murphy
I first saw his name when I listened to the original recording of the Ernest Tomlinson concerto, which I later played twice at the British Open Solo Competition.
What a player. Even though never met him, my respect for him is incredibly high. A man who can go from the hot seat of Black Dyke to the solo seat in the London Symphonic Orchestra, can't be anything else but one of the world's best. I think his death has robbed us of one of the greatest ever talents the band movement has produced.

10. David King
Without doubt the most talked about man in brass band world – especially in Belgium!
His years with Yorkshire Building Society Band were a source of inspiration for almost every player and conductor in banding. I recently heard his performances with Eikanger-Bjorsvik at the European Championships and with Brighouse at the Nationals. They were both exceptional in every way! He still is a brass band God for many people!
---
Previous dinner guest lists:
Previous guests have included the 4BR selection; Chris Wormald; David Read; Pete Meechan; Alan Jenkins; Derek Broadbent; Philip Harper; Peter Roberts; Frank Renton; James Shepherd; Dr Roy Newsome; Paul Lovatt-Cooper; Bramwell Tovey; Kevin Crockford; Morvern Gilchrist and Lesley Howie; Richard Evans; Simone Rebello; Ian Porthouse; David Daws; Alan Morrison; Alan Wycherley, Mark Bousie, Steven Haynes, Simon Dobson, Ian Buckley , John Roberts, Cai Isfryn and James Stretton.