2010 Swiss National Championships - retrospective
2-Dec-2010
An iconic band will represent the home nation at the European Championships - and Treize Etoiles are genuine contenders after a thrilling victory in Montreux.
---

Gourlay delight - the Scot starts the celebrations...

Each European nation has its iconic brass band.
Black Dyke in England, Cory in Wales, Eikanger in Norway, Willebroek in Belgium…
Not always the best, but always the one to beat.
In Switzerland it is Treize Etoiles.
Nations hopes

After their 12th domestic National Championship victory at the Stravinski Hall in Montreux (their first came in 1978), they will carry the nations hopes of a first European title success at this equally iconic venue in just over five months time.
And if they perform as well that April weekend as they did over this one, they may well be celebrating a historic first European title too. They are genuine heavyweight contenders.
Inspired by the music of two Englishmen and the baton work of a Scot, they claimed victory in fine style – pushed it must be said, all the way to finishing line by an inspired challenge from rivals Brass Band Bugermusik Luzern.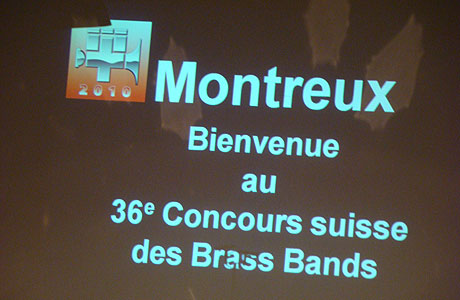 A warm welcome from Montreux

Mirror

The two legged Swiss National mirrors the European format, with an own choice discipline following the set work. Treize Etoiles will be nothing but very well prepared as the diverse nature of the musical challenge faced here proved.
Paul McGhee's contemporary set work, 'Waiting for a Pain Hit!??!!?' combined with the more traditional strictures of Martin Ellerby's 'Genesis', provided the evidence that the band can master almost any genre and style of brass writing.
Despite its esoteric title and fractured musical structure, McGhee's work didn't inhabit the ultra modernist margins of compositional technique as many may have first thought. In fact it proved to be an enjoyable and listenable piece – dislocated and searching without a doubt, but still rooted in the mainstream in its outlook.
Difficult

It was though a difficult piece to really compare and contrast (the judges, Simon Dobson, Nigel Boddice and Jean-Claude Kolly intelligently keeping the competitors within an eight point margin of each other), but the quality of the best bands was still quite easily recognisable in the ability to maintain ensemble precision and a flow to the varied musical motifs, changing meters and intriguing ciphers.
In the end it was Burgermusik Luzern who ended the morning in a narrow one point lead over Treize Etoiles, with Valaisan in third and Fribourg fourth.
All four performances captured the spaciousness required, without losing the feel for the underlying pulse and the growing sense of darkly uplifting optimism as the piece drew to its powerful conclusion. The remaining bands, although notionally still in the hunt, were playing a distinct catch up.
It was therefore all to play for in the afternoon.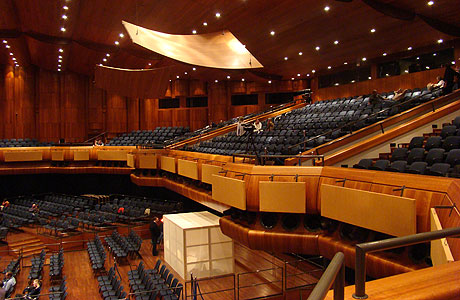 A very large modern auditorium at the Stravinski Hall

Leading from the front

Although they didn't of course know it, Burgermusik Luzern had to lead from the front as they pinned their hopes of a first domestic title with a combination of exciting compositional and conducting talent.
Peter Meechan's 'The Legend of King Arthur' may have had it's mythical roots firmly sunk in the green and pleasant land that is medieval Britain, but under the direction of Michael Bach it was a tale that was brought to modern day relevance in an evocative and thrilling manner.
Boldly structured and brilliantly coloured, the MD inspired his band with a mini masterclass of quality direction. By its thumping close, the audience was already halfway to its feet, with an almost primitive scream of vocal appreciation echoing across the hall before the final chord came to a shuddering end.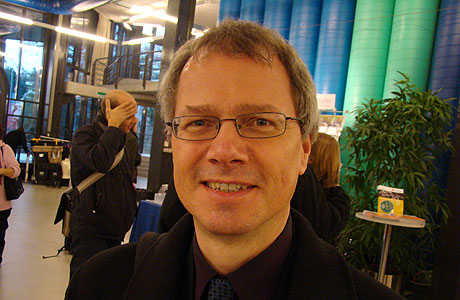 Martin Ellerby was on hand to hear Genesis...

High class

It was a high class performance of a cracking piece, from a quality band under a rare conducting talent. Because of its almost raw emotion it was not without error and was beatable – and so it proved.
Before Treize Etoiles managed to do just that, there was much to enjoy from other contenders.
Reigning champion Valaisia Brass Band produced an exciting if untidy rendition of 'From Ancient Times', that occasionally thrilled but also thoughtlessly meandered, whilst Fribourg under Robert Childs delivered a quality rendition of 'A Tale As Yet Untold' that combined detail and balance but just lacked that essential extra element of controlled excitement.
Meanwhile Ensemble de Cuivres Melodia, just came a little unstuck with 'Music of the Spheres'; letting enthusiasm and misplaced excitement get the better of them once too often.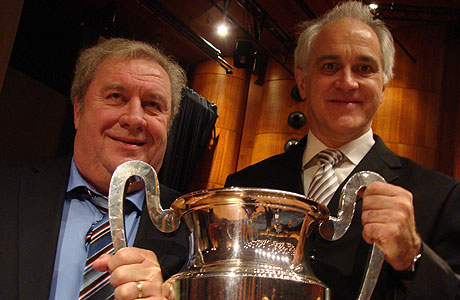 Geo Pierre Moren and James Gourlay

Dramatic

Treize Etoiles were not to be denied however.
Right from the dramatic opening moments of Martin Ellerby's 'Genesis', with an extended introduction played on three separate timpani sets, James Gourlay never let the musical reins slacken for a second.
A taut opening movement made way for a lyrically inspired, evocative middle section before an intriguing third movement, full of a quickening pace, immense detail, precision and control saw them home by a short neck.
The MD was in his element, with a piece he later told 4BR he found deeply emotional and engaging. If they reprise it again come the Europeans, the audience will be in for another treat. It was a performance of a very high quality.
Hunt for glory

With the audience still catching its breath, the remaining contenders bravely gave it their best shot without suggesting that they were in the hunt for glory.
The rather tired sounding Valaisan produced a solid, constructed account of 'Dances & Alleluias', without it ever quite thrilling the senses, whilst Risch-Rotkreuz delivered a strangely un-engaging 'Within Blue Empires' that sounded rather bland and colourless.
Oberaargauer's rendition of 'The Promised Land' somehow failed to capture the Welsh inspired emotion or the biblical grandeur of the composer's inspiration.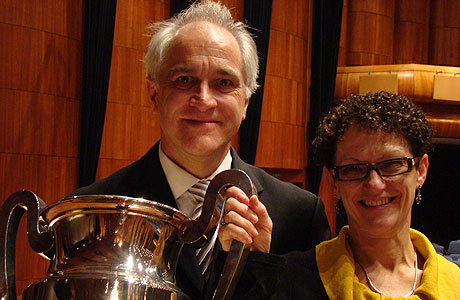 Well done Jim - Mrs Gourlay joins her husband with the cup

Interesting

It would have been interesting to have been in the box with Hannes Buchegger, Garry Cutt and Ben Haemhouts, as the standard of the own choice performances varied somewhat between the eight bands – and not just in terms of technical execution.
A couple could count themselves a touch fortunate with their final placing.

A wintery scene but a warm welcome in Montreux

Return

Not so the eventual champion – and a delighted James Gourlay could not hide his delight as he clasped the huge silver Championship pot (which is an uncanny three quarter sized version of the European Cup) close to his chest for a sixth time.
'An old friend' he called it – and as an old friend in Geo Pierre Moren, the founding father of Treize Etoile, joined him on stage, you couldn't help but wonder if the same scene could well be played out here in just a few months time.
Now that would be a truly iconic moment in Swiss banding history.
Iwan Fox