2010 Brass in Concert Championship - retrospective
25-Nov-2010
Malcolm Wood sees Grimethorpe recover their magic touch at Brass in Concert to leave rivals in catch up mode once again.
---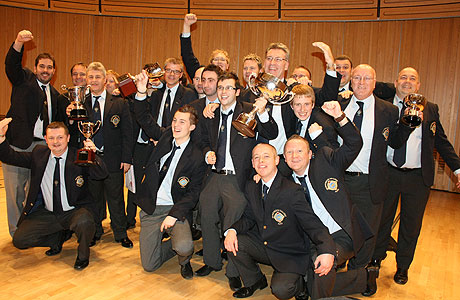 Grimethorpe find their magic mojo again...

As Grimethorpe's Band Manager Terry Webster clung onto the Brass in Concert Trophy, with more than just a glimmer of a tear in his usually hardened gimlet Yorkshire eyes, you could sense his relief that after a year of test piece disappointment for his beloved band, they had not lost their inherent entertainment magic formula.
Grimethorpe took the premier UK entertainment title for a record 15th time, because on the day, they were the only contender able to provide the judges with a programme that had a touch of truly original thinking about it.
Nearly 40 years since the advent of this contest, Grimethorpe still lead the way as innovators.

And even if their Venetian themed programme had a hint of familiarity about it, it was still too good for their rivals.
Not a vintage one
The 2010 contest wasn't a vintage one. Only a handful (if that) of bands managed to really grasp the opportunity presented to them to deliver variety and imagination.
With eight of these bands at the British Open and ten at the Albert Hall, perhaps time wasn't on their side to produce something fresh and imaginative – but then again, given they were all invited here months ago, how many of them really tried?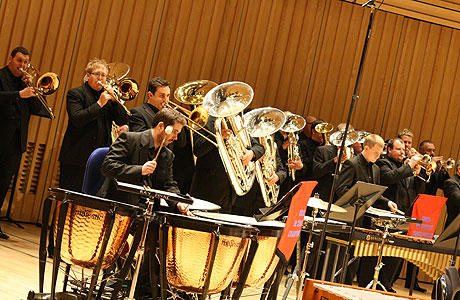 All together again for Grimethorpe

Run out of ideas?
Apart from Grimethorpe, and some extent Redbridge, the majority of programmes were designed to tick boxes rather than quicken the beat of the old ticking heart.
Prescriptive, polished and predictable; too many 23 minute sets lacked real innovative individuality.

From the usual selection of Hollywood blockbusters and incomprehensible overhead projections to fat men dressed as busty women – the formula consisted of variations on tried and tested themes.
The audience loved it for the most part, but you know when something isn't right when music from the execrable film of an equally execrable Dan Brown pulp novel is talked up as being something groundbreaking.
Perhaps all the tricks and ideas have been played out here one too many times. Whatever the reason, Grimethorpe's victory almost came by default.
Copycats
In the next year or so, you'll no doubt get the copycats – but by then Grimethorpe will surely have moved on.
Allan Withington's experiences at the truly innovative SIDDIS Contest in Stavanger, will give them a head start (Manger Musikklag won this year with a programme inspired by medieval madrigals): the rest will be left to play catch up once more.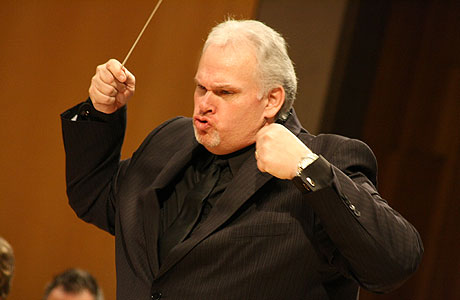 Determination from Steve Sykes to claim second place...

Outside the box
Grimethorpe's musical portrait of a historical meander though the sites and sounds of St Mark's Square on a Sunday afternoon was creative as well as crafty.

The musical links were tenuous at best, but somehow bonded seamlessly together (apart from the lumpen update of 'Mr Lear's Carnival' to close).
From Verdi, Novacek and Monterverdi to Bacharach, Morricone and Sid Ramin: It was classy playing and classy presentation (especially from a band that had its fair share of debutants in its ranks – anything up to 8 if the rumours were true) and more than good enough to take the £4,000 first prize.
The cornet section was by far the best of the day and Kevin Crockford once again demonstrated that he remains a class act with a vintage display.

Something's don't change even for Grimethorpe.
Exceptional Fairey
Fairey (Geneva) under Steve Sykes ran them the closest.
The quality of their ensemble playing was never less than excellent, and whilst the presentation was a bit stilted in comparison to their Yorkshire rivals, it was all done with taste and a touch of refinement (although they sailed a bit close to the wind with their march selection).
Resplendent in crisp black shirts, the band looked relaxed and confident from start to finish, despite the obvious fault with the technicians not dimming the lights in their atmospheric Nordic interlude.
The highlight was undoubtedly the performance of Matthew White with a superb individual rendition of 'Bravura' to take the 'Best Soloist' Award.
A third successive runner up placing at a major contest may have been a disappointment, but given where they were a year ago, Fairey (Geneva) is once again a major player at all the major championships.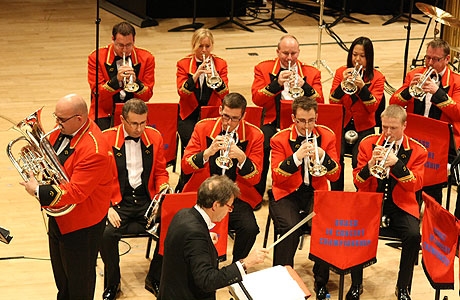 Group backing for Glyn Williams at Fodens in third

Third for Fodens
Despite the length of applause at the end of Foden's performance, it didn't mask the fact that the reigning champion's brave defence wasn't good enough to retain their title.
The experiment to team up with John Wallace though was a success, with his elegant demeanour hiding a wicked sense of humour.
The boldly coloured programme had its moments, great, odd and middling; from the thumping Queen inspired opening to Glyn William's top notch work on a rather puzzling solo and the rather underwhelming ending. Overall it never quite caught fire.

Third place it was then, despite the deserved individual awards.
Off the pace
Brighouse arrived at The Sage after giving the Scots a preview of their programme in Perth 24 hours earlier – and after their rather tired performance in Gateshead, perhaps the Scots had the best part of the double header deal under Richard Evans.
It still had the usual polish and precision, but it never quite sparkled and the humour (usually done so well) didn't have that 'off the cuff' cutting edge.

Everything about the set seemed a touch too predictable. They will have to up their game in 12 months time if they are to be crowned champions again – and they, and Dicky, know it.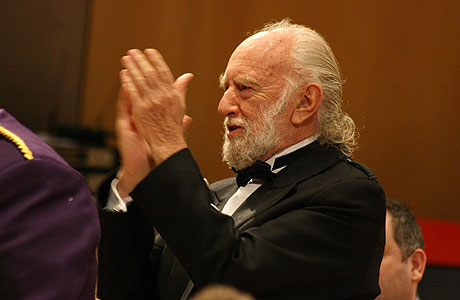 Give the man a hand - Richard Evans shows his appreciation in fourth

Magical Leyland
Leyland's magic theme must have seemed like a good idea on paper – and very nearly became a great one in practice too.
The actual magical links were a bit tenuous at times, but the playing was classy and well delivered in terms of presentation.
Some things worked better than others. The MDs arrangement of the 'Witches of Westmorland' was a cracker, as was the 'The Wizard' in Whit Friday style that took the march prize whilst the euph solo more a little crack pot.

And whilst the overall package only gave them fifth place overall, the excellent individual contributions from the likes of John Doyle and Kristy Rowe got their deserved reward.
More highs than lows
Tredegar's sixth place was about par for a performance that didn't see the Welsh band play to their very best, but certainly showed that they had put plenty of hard work into the presentation.
As a result they topped the entertainment poll from Stan Lipepatt and Brian Hillson but came 6th in the playing from Derek Broadbent and Rob Wiffen.
It was good to see Matt Hall's original work, 'Legends of Cyfarthfa' complete with coherent visual images take the composition award on a day when there were far too many effective, but dull arrangements churned out.
Not too sure about his cross dressing antics though as a character from 'Little Britain' – but it was done with considerable aplomb. Meanwhile, Stephen Sykes continued to develop his burgeoning reputation by taking the trombone prize.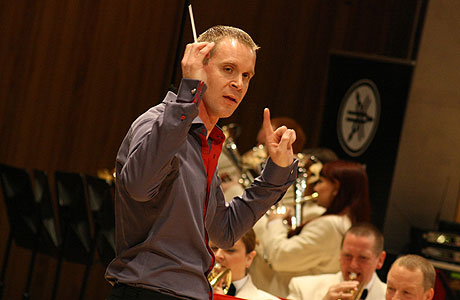 Looking to the right future for Phil Harper and Leyland in fifth

Mixed bag in the main from Carlton
Carlton Main with Philip McCann at the helm produced a real Revels bag of musical mixtures.
There were a few coffee creams picked out despite an absolute 100% perfect sweet as an orange centred truffle from Kirsty Abbots on her cornet solo.

The overall result though was a programme that held interest but lacked definitive substance.
Sam Fisher's contribution took the 'Best Flugel' award, whilst Kirsty Abbotts can count herself a touch unlucky she didn't claim the principal cornet prize. Seventh place was about right.
Hit and miss for Rothwell
Rothwell was certainly a different outfit from the one that made its debut last year. Whilst there was much to admire about their usual solid, detailed execution, Dave Roberts and his band are still a little way off the pace in terms of providing engaging entertainment (although the prize winning six bass option made the foundations of the hall rumble at times).
They are getting better though, although 8th place was a fair return for a programme that rounded off a long day of contesting in uneven fashion.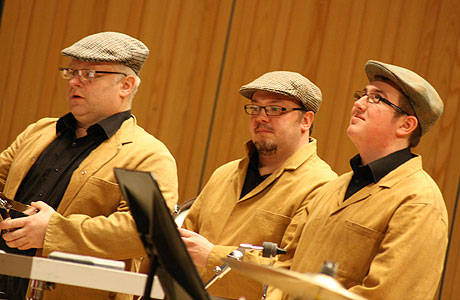 Cloth cap image from Tredegar in sixth

Different Redbridge
Redbridge played their entertainment hand very well indeed, but somehow forgot that it had to be backed by a bit more substance in the actual playing department than they showed.
The presentation was excellent, the humour, quick witted (if a little overlong), the choreography better than an inspired Ann Widdecombe.

The trouble was that it needed more than just occasional episodes of high class playing to compliment it.
The result was predictable - athough they can count themselves more than unfortunate they didn't come closer to the top of the entertainment points table.
9.30am on a Sunday morning
For Reg Vardy a performance that will not live long in the memory banks, and perhaps gave the signal that despite being the local favourites, their time here has passed.
Last year's bravura theatrics were missing, and despite Ray Farr's best efforts it was a prescribed and imbalanced programme that never captured the attention of the early bird listeners at 9.30am.

A double dose of the admittedly excellent Mark Nightingale summed things up. It all lacked imagination – even with the 'Toccata in D Minoresque' Chopin tub thumper to close. .
Inconsistent Flowers
Finally, Flowers, and a performance that will surely seal their future away from the contest for a few years to come.
Although there were fine individual contributions, especially with the two main soloists, Tim Malpas and Phil Green, it was an entertainment set that felt dated and uninspired.

It got what it deserved despite the undoubted commitment to the cause and Garry Cutt's best directorial efforts.
Webster bows out in style
Although the individual prizes were divided up amongst the bands, it was Grimethorpe who brought a sparkling end to a year that had until now rarely bubbled with contesting conviction.
No wonder Terry Webster had a tear or two in his eyes. It also brought to an end his 14 wonderful years as Band Manager.

There was no better way for him to go out.
Malcolm Wood