2010 Brass in Concert Championship - Postcard from Gateshead
27-Nov-2010
Malcolm Wood enjoys a weekend of interest, intrigue and challenge at The Sage.
---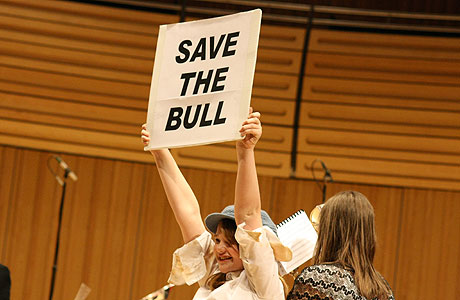 No musical bull from Elland on the weekend...

Brass in Concert once again proved to be an interesting, intriguing and at times challenging, musical weekend.
Challenge

The interest as always came from the eclectic programmes chosen by the 11 competing bands, although the challenge for Brighouse & Rastrick for instance came with the long trip down from Perth where 24 hours before their appearance they performed at the Scottish Open Gala Concert.
There was also great interest in the increasingly popular taster sessions supported by The Shaw Trust and run under the direction of Dr Nicholas Childs and members of Black Dyke.

Success

Getting 75 musicians, young and old, registered for a wonderful day of tuition that came to a rousing close with an afternoon concert in the main Sage auditorium, was certainly a challenge, but one that proved to be an overwhelming success.
A couple of years ago, a mildly interested teacher came to the event to find out more, and ended up two years later challenging her own musical desires by setting up a brass band in her school.

That is the tangible measure of the success of the family orientated approach which has brought a new, proactive audience to an event that is definitely looking to the future.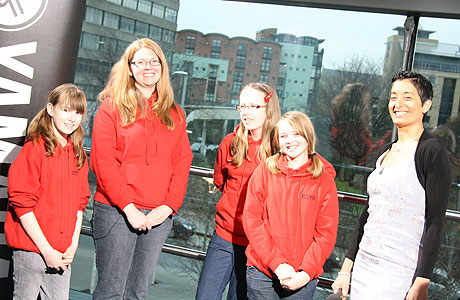 Innovative stars of the future - Sam Harrison and the girls meet Simone Rebello

Cracking band

With the 'Concourse Band', as it was immediately christened by the Black Dyke MD, providing wonderful interactive entertainment, the afternoon concert was also enhanced by the performance of the reigning Action Medical Research Youth Entertainment Champion, Elland Silver Youth under Samantha Harrison.

They really are a cracking band, brilliantly led.
Full house

A full house enjoyed the now traditional Gala Concert on Saturday night. Foden's under Professor John Wallace and Black Dyke and Dr Nicholas Childs provided a slightly uneven appetiser to the contest on the Sunday.

You just sensed that it was a bit of an edge of the seat roller-coaster of a ride for Fodens under Wallace, whilst Dyke had the feeling of a band keeping well within its limits before it recovers full contesting strength.
Beamer

On the Sunday, those who were unable to make it to Gateshead could maintain their interest in the contest by paying just under £8 (or £5 if you attended on the Saturday night and registered) to have the event beamed into their homes via the internet.
Fine work

The technical challenges of providing a first class product seemed to be overcome by the producers, thanks to excellent camera work which related to much that was being played instead of just relying on a few default general picture settings, and the fine presentation work of Simone Rebello.

The percussion star is fast becoming the 'face' of brass banding to what is hoped will become a growing home based audience.
As for the contest; an innovative, but not totally ingenious Grimethorpe programme stood out from the chasing pack thanks to Allan Withington's knack of conjuring a touch of magic from his mix and match musical quality street tin.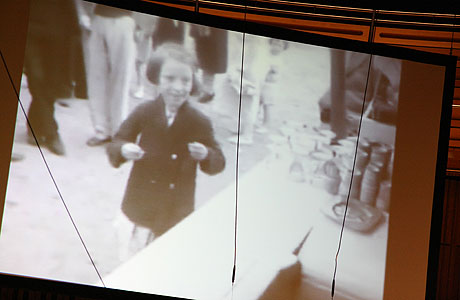 Old images made no sense...

Maintaining a real interest in many other bands performances though was much harder.
You are beginning to wonder whether some bands have finally hit the brick wall with concert programme entertainment formats here. Interest, as well as enjoyment in meaningless rehashes of Hollywood blockbuster soundtracks and blokes dressed as busty women must surely be waning?
Tweaking
The new style entertainment marking system was certainly an improvement on the old one, but still relied on placing the bands in order, 11 – 1, making it difficult to really understand if the marks related to entertainment, presentation, programming, or a combination of these three elements and more?
Why the need to place the bands in order anyway? Why, not copy the SIDDIS Contest method and give a general mark out of 10. Then the actual quality of the playing would take more meaningful prominence.
10 is the magic number

10 would also perhaps be a better number of competing bands too.

Even with Desford dropping out, eleven 23 minute programmes (which stretched to 40 mins or more with the gaps between the playing and setting up on stage) meant for a very long day – and that with a 9.30am start.
Reduce numbers

With Brass Band of Central Florida almost certain to attend next November (and possibly the Euro Brass winners) and with a couple of bands not really making a mark at the contest for a number of years, perhaps the time has come to reduce the numbers to eight UK based bands with two overseas berths.

If they are not taken then fill then up with the Brits. 10 is more than enough.
As ever, Brass in Concert was interesting and challenging, but perhaps this year, not as intriguing as we may have all hoped.
Malcolm Wood