2010 Scottish Open Championship - retrospective
25-Nov-2010
4BR was in Perth to witness Co-operative Funeralcare finally banish their mid season torpor to take the Scottish Open title in thrilling fashion.
---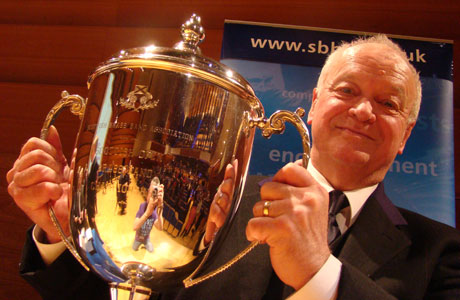 Robert McCorkell lifts the Scottish Open Trophy

Co-operative Funeralcare's mid season slump in form came to a spectacular end in Perth on the weekend.
Poor at the Open and awful at London, they emerged from their July to November contesting torpor to produce a winning performance that was a class apart on Saturday afternoon.

Technically polished and musically literate, they took the £3,00 first prize with a degree of comfort.
They are a puzzling old band at times.
Engaging portrait

Right from the start of Simon Dobson's evocative work, '…and when the river told...', Michael Fowles engaged his band's concentration, settled any nerves and led them in an interpretation that combined clarity of ensemble precision and lyrical solo lines with beguiling musical flow to create a portrait that encompassed atmosphere, mystery and blood curdling drama through to a climax of stately majesty.
When they perform like this they are genuine heavyweight contenders for any major titles.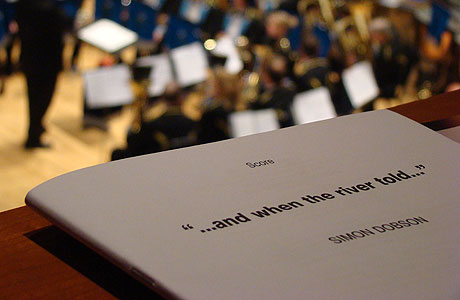 Evocative images from Simon Dobson's score...

Innovative

Behind them came domestic rivals Kirkintilloch, with top English representative Pemberton Old Wigan DW in third.
The innovative (if slightly over complex) adjudication system, which was an amalgam of separate placings and collective average, saw them win by what looked like an insignificant 1.33 margin on paper, after claiming two firsts and a second place from Hannes Buchegger, Howard Snell and the composer Simon Dobson.
The real gap, despite the close maths, was considerably greater.
The Cornishman's tremendous test piece tested all 15 competitors to the full – and beyond in many cases, to once more reveal a fresh, innovative compositional voice the banding movement cannot afford to lose.
Getting cornets to mimic the swirling harmonics of marching bagpipers is hard enough, but it was the subtle internal ensemble colours and textures, the sense of timeless flow and dark edged drama that permeated the music from start to finish that captured the imagination of the listener.

This is a work that deserves to be heard on more than just one major contesting platform.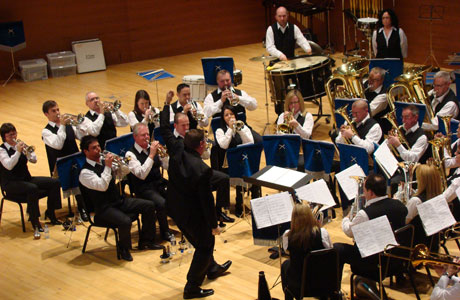 In full flow: Co-operative Funeralcare and Michael Fowles head for victory

Essential ingredients

Co-operative Funeralcare captured the essential ingredients to a tee (thanks in no small part to the direction and interpretation of a complex score from the MD) – including the clever use of a proper military drum in the battle scenes that brought an extra dramatic dimension to the musical picture.
Michael Fowles had certainly done his homework, and with a detailed opening that saw the never ending two note structure meander perfectly like a babbling stream, they were ahead of the field from the word go.

By the time they thumped out a climatic ending the title was as good as theirs – although the composer himself thought it was narrowly beatable.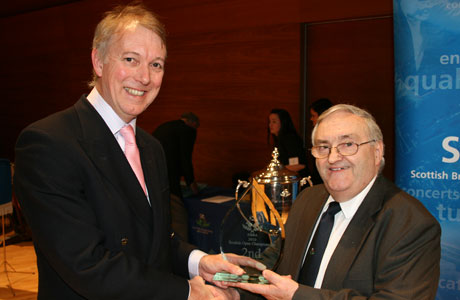 Peter Fraser accepts second place on behalf of the Kirkintilloch Band

Imaginative

Kirkintilloch was not the band to do that though, despite a highly imaginative and effective interpretation under Allan Ramsay that just contained too many individual frailties to have claimed the title.
After their poor performance at the British Open, there were real signs here of a return to top class form, despite the unforced error count, that just took the gloss of an exciting reading. It robbed them of the chance of a first victory at the contest.
Mark Bentham's ability to draw excitement and drama from the detailed scoring allowed Pemberton Old Wigan DW to make a mark on the judges and claim the final podium spot, with the composer finding a great deal to his liking in awarding them first place in his order of preference.
Hannes Buchegger and Howard Snell were a little less effusive however and placed them 4th and 6th, but for a band that had struggled somewhat at Pontins just a few weeks back it was a very solid return to form.
Contrasting

Kingdom Brass produced an admirably consistent account under Andrew Duncan to come 4th, with three contrasting movements that benefitted from the excellent contribution of 4BR 'Best Instrumentalist' winner Helen Douthwaite on trombone.
With the European championship to look forward to in May next year, the rapidly improving Fife band may well look to this test piece as an ideal own choice selection. They are very much on the up, with more to come on this form.
Missed

The final contesting performance of Bactiguard Wire Brass was a disappointment – although certainly not in terms of the exciting execution of the colourful interpretation of the score by Paul Andrews.
Full of bold timbres and compact ensemble cohesion (helped a bit by their close knit seating arrangement which almost surrounded the MD) it was a rendition that resonated with Howard Snell and Simon Dobson, but unfortunately not with Hannes Buchegger who placed them 11th.
They will be a band that will be missed on this form.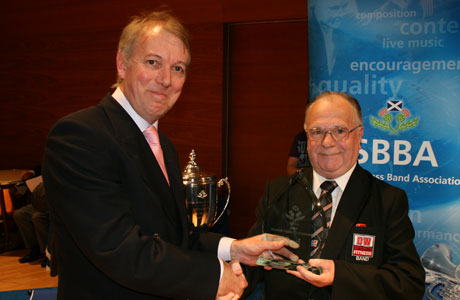 Pemberton Old Wigan DW return home with third place

Colourful

The final top six place went to another colourful rendition – this time from Woodfalls, who seemed to have the measure of the piece from the word go under Gareth Pritchard's neat direction, but which eventually lost focus (especially dynamically) as they strove somewhat unnecessarily to create the blood curdling excitement in the battle scenes and final climax.
Behind the top six, the standard became increasingly variable, with the bottom three bands some considerable way off the pace.
Kirbymoorside, Newtongrange and Bon Accord all give it their best shot, but on this occasion a combination of technical fragilities and tempo issues (the river ran with the viscosity of custard at times) saw them gain an average mark of 13.66 each, with Simon Dobson's individual opinion consigning them to their respective fates.
They had little or nothing to complain about. All three judges recognised the collective frailties.
Consistent

Above them came more consistent performances from Dalmellington and Fishburn – both of whom perhaps needed a touch more purposeful drive to have brought the more dramatic episodes of the score to life.
John Ward's elegant direction brought a somewhat restrained performance from his band; neat, compact and balanced, it was one of the cleanest in terms of execution, but also a little sanitised in terms of evocative musicality.
So too Dalmellington under Allan Morrison's astute direction, with a performance that very nearly, but not quite, had enough clannish red blooded drive in its veins to have come any higher than it did.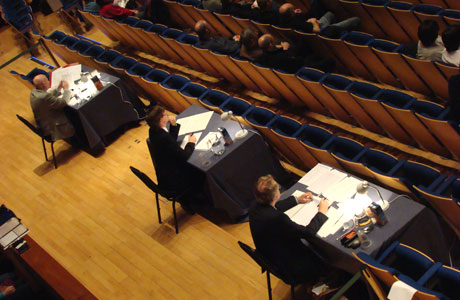 Splendid isolation: The three judges keep their distance

Midfield

That left the midfield finishers from seventh to ninth.
Felling missed out on a top six finish despite a purposeful account under Stephen Malcolm's direction that was intelligently led. It was solid no nonsense stuff from start to close.
Yorkshire Imperial Urquhart Travel meanwhile certainly hit the mark with Hannes Buchegger (he placed them 3rd) but not so with the other two judges after their slightly monochrome account under Dave Nesbitt.
Co-operative Milnrow were certainly exciting under David Evans, but a few too many inconsistencies in execution tarnished what could have been a possible top six finisher if they had just managed to rein in their obvious enthusiasm for the piece.
Timely

As for enthusiastic winners celebrations?
Perhaps the players of Co-operative Funeralcare didn't want to tempt fate too much at the announcement of the results – as only Band Manager Rob McCorkill was on hand to grasp the Scottish Open trophy for a third time in the contest's short history.
It was a pity – as they would have enjoyed their celebratory wake after a timely return to form.
Perhaps they won't leave it so long next time.
Iwan Fox