2010 Scottish Open Championship - Bringing things into the open
25-Nov-2010
4BR wonders if the age old debate over open adjudication may be getting closer to being resolved after an enlightening weekend of judgement in Perth.
---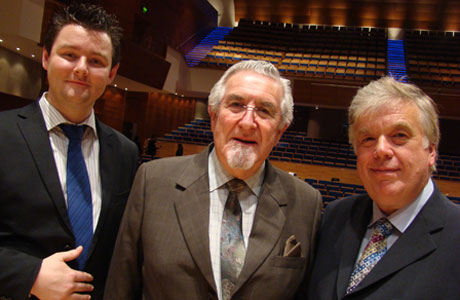 The three judges at the Scottish Challenge Shield reveal themselves...

At the end of a long, but highly enjoyable day of contesting at the Scottish Open and Challenge Shield Championships, there was much to debate in the packed bar of Perth Concert Hall.
And the most popular topic under discussion was of course the question of open adjudication, and whether or not it had proved to be a success.
Odd grumble

Despite the odd little grumble here and there, there was little doubt that if 4BR had undertaken a very unscientific straw poll through the bar area of players, conductors and general supporters, there would have been a hefty majority voting in favour of employing it at all future Scottish (as well as UK) competitions.
It did of course help that the organisers had employed six highly respected musicians to make the all important decisions – something that was remarked upon time and time again during the course of the day.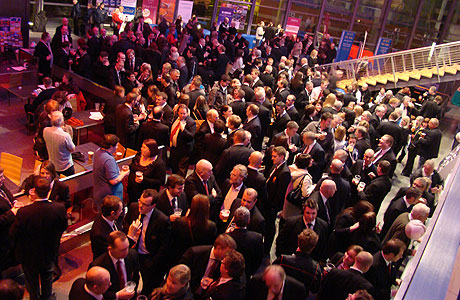 Scientific approach to bar work...

As one rather cynical observer also noted; Given Brass in Concert was trying to market itself as such a progressive event on the same weekend, how come it was the Scots who ended up with Howard Snell and Hannes Buchegger on the adjudication bench, whilst in Gateshead it was Derek Broadbent and Stan Lippeatt?
Chestnut

That said, the same old hoary chestnuts did surface at the announcement (and full display) of the results. You know the ones: Who's he? What does he know about brass bands? What conducting experience do they have at British contesting etc, ad nausea, etc, etc….
However, when asked if they trusted the ability and impartiality of the adjudicators at both contests to make decisions based on their professional experience, talent and musical understanding of the music performed for them - not one person we spoke to questioned one iota of the six judges integrity.
That it seems was the key.
Curiosity

For the vast majority, the sight of three adjudicators going about their work in full view of them either on stage or as an audience member held little or no curiosity value, after the immediate novelty of seeing them sat at their desks wore off.
Positioned towards the back of the hall at ground floor level, the judges were isolated enough to give the most determined peeping tom eye strain if they wanted to try and glance over the shoulders, whilst those sat in the cheap seats had to crane their necks behind them if they wished to have a gander.
The adjudicators (Howard Snell, Hannes Buchegger and Simon Dobson; Les Neish, C. Brian Buckley and Stephen Roberts) had their own techniques to ensure they didn't miss a thing both aurally and visually.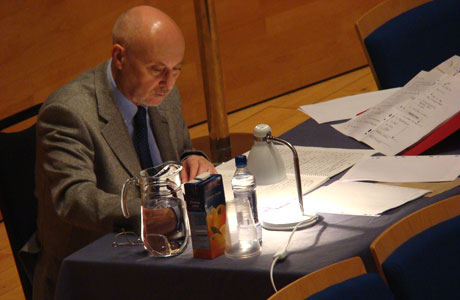 Howard Snell at work...

Howard Snell for instance sat at a perfectly laid out desk – crib notes perched to his left, adjudication sheets and score directly in front, pencils, light, soft drink etc to his right.
Simon Dobson was even more relaxed (although he looked so young compared to his colleagues you have expected him to have a lucky gonk on his desk like an A Level student at exam time), whilst the professorial Hannes Buchegger sat impassively, occasionally looking up the right English translation to highlight his adjudication notes.
Divided time

Each adjudicator divided their time between writing, score reading and sitting back and listening. None looked in any form of discomfort (although all kept their jackets on) or distracted. Notes were made, personal marking methods kept; all within sight of each other, but all resolute in their self imposed isolation.
At the end of each section, the judges took their time to reach their final decisions and made sure the admin work was in order.
It all seemed so eminently sensible.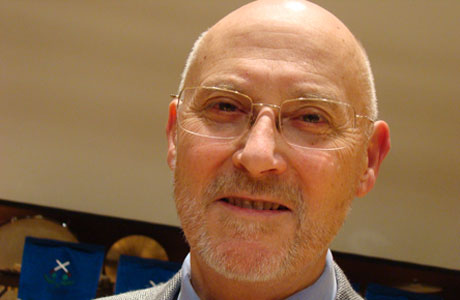 The Master: Howard Snell

Later, Howard Snell remarked to 4BR that the only difficulty he had was to keep up with the admin to ensure everything was in order. Hannes Buchegger didn't bat an elegant eyelid. Simon Dobson revelled in experience.
In the Shield competition the relaxed Stephen Roberts took it all in his stride, Brian Buckley enjoyed himself and Les Neish lapped it up.
System

Meanwhile, up in the press box, two journos (Iwan Fox, Chris Thomas) and the SBBA Development Officer (Alan Edmond) tried to copy the system – making independent decisions on what they heard from all the bands in the Scottish Open.
We all had scores, all had a personal marking system (some very personal!) and all jealously guarded our opinions on each performance - save the odd raised eyebrow or two.
Nothing scientific

Nothing scientific to draw parallels – just three blokes with no personal favouritism, listening to a piece all enjoyed and felt they understood.
And what did that prove? Nothing really in all honesty.
At the end of an inventive, innovative and highly enjoyable day of brass band contesting, the question of whether open adjudication is preferable to closed was still not resolved one way or another.
But on the evidence of the opinions aired at the Scottish Open and Challenge Shield on the weekend, it may well be getting closer than people may think.
Iwan Fox
---
Open judges and open opinions

| | | | | | | | |
| --- | --- | --- | --- | --- | --- | --- | --- |
| Overall Place | Band | HB | HS | SD | IF | AE | CT |
| 1 | Co-op Funeralcare | 1 | 1 | 2 | 1 | 1 | 1 |
| 2 | Kirkintilloch | 2 | 2 | 4 | 3 | 4 | 2 |
| 3 | Pemberton Old | 4 | 6 | 1 | 7 | 5 | 9 |
| 4 | Kingdom Brass | 6 | 4 | 5 | 8 | 6 | 8 |
| 5 | Bact Wire Brass | 11 | 3 | 3 | 2 | 2 | 3 |
| 6 | Woodfalls | 5 | 8 | 6 | 5 | 7 | 5 |
| 7 | Felling | 7 | 7 | 9 | 13 | 8 | 13 |
| 8 | Yorkshire Imps | 3 | 10 | 10 | 9 | 13 | 7 |
| 9 | Co-op Milnrow | 9 | 5 | 12 | 6 | 10 | 6 |
| 10 | Fishburn | 8 | 9 | 11 | 4 | 3 | 4 |
| 11 | Dalmellington | 10 | 11 | 8 | 10 | 11 | 12 |
| 12 | Unison Kinneil | 12 | 15 | 7 | 11 | 9 | 10 |
| 13 | Bon Accord | 14 | 14 | 13 | 12 | 14 | 11 |
| 14 | Newtongrange | 15 | 12 | 14 | 14 | 15 | 15 |
| 15 | Kirkbymoorside | 13 | 13 | 15 | 15 | 12 | 14 |

Key:
HB: Hannes Buchegger
HS: Howard Snell
SD: Simon Dobson
IF: Iwan Fox
AE: Alan Edmond:
CT: Chris Thomas