2010 Scottish Challenge Shield - retrospective
25-Nov-2010
There was plenty to enjoy with the four season starter in the Challenge Shield - as Johnstone confirming their claim to be the form band of the year.
---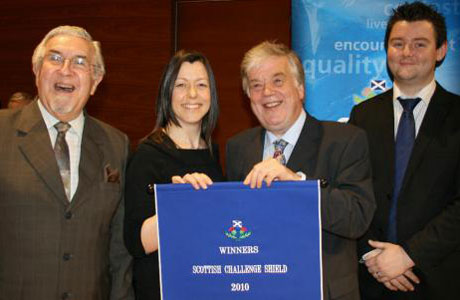 Winning smiles for Johnstone Silver

Johnstone Silver confirmed their status as one of the bands of the year north of the border by claiming the Scottish Challenge Shield under the direction of Raymond Tennant.
And although officially they were runner up in the annual 2010 'Band of the Year' standings (won by Lochgelly), there is little to doubt the authenticity of their claims to be regarded as the form band of the second half of the season.
No doubt

There was certainly no doubt in the minds of the three judges that they deserved to take home the splendid trophy and the £500 first prize after their performance of Edward Gregson's 'Dances & Arias'.
Although by no means perfect it had the clearly embossed stamp of musical authority about it from start to finish.
Stephen Roberts, C Brian Buckley and Les Neish knew what they were looking for in the score as well as on the stage and found it in Raymond Tennant's astute direction of an own choice selection that craftily highlighted the undoubted strengths of his emerging band without too obviously casting a direct light on its weaknesses.
Precise direction

In fact, the MDs precise direction was perhaps one of the major reasons why the more noticeable small errors did not detract too much from the overall musical picture – with a tight, balanced ensemble sound projected at every dynamic level.
In the end all three judges agreed (without a word of collective discussion) that it was a worthy winner. There could be few complaints about the result.
The structure of the event meant that there were four ingredients of competition in one to tickle the taste buds (a bit like a deep fried Four Season pizza) – an end product that on the face of it looked messy and over complicated, but in fact emerged as a highly enjoyable starter for the main course Scottish Open that followed.
Well chosen own choice selections, some pretty good direction (the SBBA conductors course is already paying dividends it appears) and confident performers made it an easily digestible contest to sit back and savour (unlike the pizza you would imagine).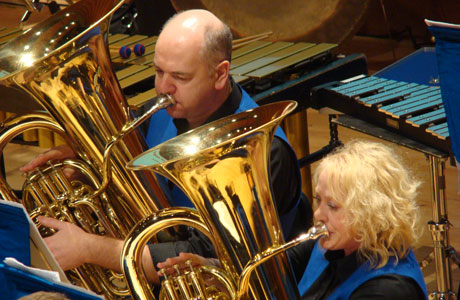 Confidence from the bass end at Johnstone...

Levels

The levels of musical strata were pretty well defined with the three First Section bands locked in a battle for the podium places.
Johnstone's confidence allied to that persuasive interpretation from the MD proved to be more than enough to give them a clear victory.
Well constructed

Second placed Bo'ness & Carriden, may have felt a little disappointed that their well constructed performance of Philip Sparke's 'Partita' didn't quite capture victory though.
The impressive Bede Williams looked a natural talent with the baton in hand, and whilst there was a need for more clearly defined dynamic contrast, some fine individual contributions and a fluid sense of style to the demanding second movement showed a band that should be confident of further improvement in 2011 and beyond.
Much the same applied to third placed Lochgelly under the equally astute direction of the vastly experienced Archie Hutchison (especially as he was minus a soprano player after their player unfortunately failed to turn up on the day).
'A London Overture' understandably had its fragile moments (despite a fine effort from the second cornet player to mimic some of the sop lines), and whilst a little way behind its rivals, was well worth its podium finish.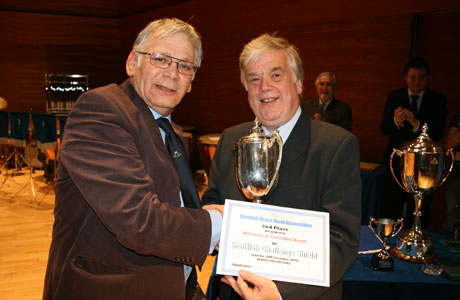 Second place for Bo'ness & Carriden

Rousing

The battle for fourth place (there were individual prizes for each of the highest placed lower section bands) saw Dalkeith & Monktonhall take the honours thanks to a rousing run through Gilbert Vinter's 'James Cook – Circumnavigator'.
It was a performance of colour and excitement – and a wonderful bit of cornet cadenza playing too.
Just behind them came Coalburn with a spirited performance of 'Purcell Variations' under the baton of the talented Gareth Bowman.

An untidy start cost them the chance to make an immediate impression on the judges, but they soon recovered to deliver a persuasive account that featured a bravura soprano and fine trombones.
Talented youngsters

The talented youngsters of Kilmarnock Concert Brass showed that despite Scottish banding struggling to make a mark at the Lower Section Finals in Harrogate a few months ago, there are some impressive bands in the Third Section if their performance of 'Land of the Long White Cloud' was anything to go by.
An ambitious choice, it rocked in places, but Craig Anderson's sensible tempos and his players ability to produce full, rounded sounds gave them a highly encouraging 6th place, and beat Second Section rivals City of Discovery into the bargain.
Bruce Wallace and his band may have left a bit disappointed that their rendition of Leighton Lucas's 'Symphonic Suite' didn't register the same level of appreciation with all three judges (Brian Buckley placed them 12th and last in fact) but it was still a performance of solid merit.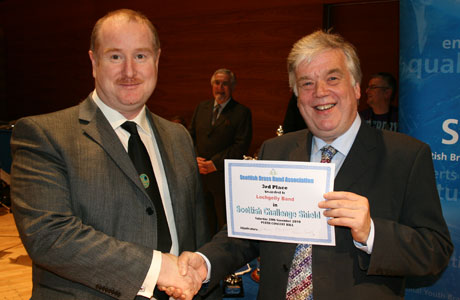 Lochgelly claim third prize...

Original version

For Irvine & Dreghorn a robust rendition of the original version of 'Laudate Dominum' was just a touch too enthusiastic in places under John Boax despite some fine ensemble sounds, whilst St David's Brass produced a neatly styled portrait of Gilbert Vinter's rarely heard 'Vizcaya'.
The really encouraging highlight of the contest however was the standard of performance from all three Fourth Section bands.
Despite a lack of numbers in Scotland the grass roots of senior contesting may well be enjoying some overdue good contesting fortune in the next few years if the playing of Dumfries, Langholm and Tayport was anything to go by.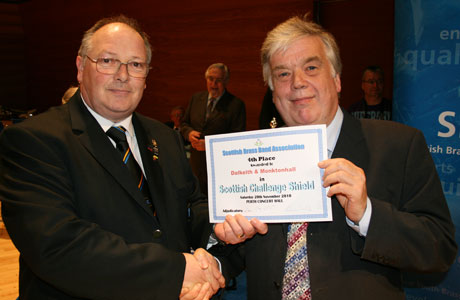 Fourth place for Dalkeith & Monktonhall

Cracking

Dumfries in particular under Peter Hayes was excellent, with a cracking rendition of 'Music for a Festival' that was full of vibrancy, solid solo lines and a warm, well rounded ensemble sound.
Langholm Town were not far behind either under Alan Fernie, with a crafty choice of his own 'A Royal Mile Suite' bringing out some great playing from all quarters of his young band.
Finally, Tayport with a real mix of young and old producing a neat performance of 'Dimensions' that just got a little sketchy as tiredness crept in towards the end. It was a highly encouraging performance, well directed by Frank Culross.
With open adjudication providing the judges with the opportunity enhance their written remarks with astute observations about the performances (Brian Buckley later mentioned his observations on some of the percussion playing) there was a real sense that this format of contest has a real future, especially if SBBA tweak it to become an end of season domestic 'Champion of Champions' event.
Iwan Fox