2010 Scottish Youth Championship - retrospective
25-Nov-2010
Chris Thomas looks back on a fantastic day of youth band contesting and enjoyement in Perth on the weekend.
---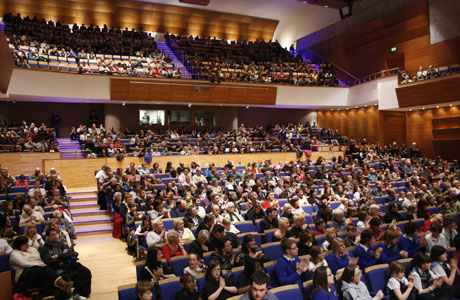 A full hall from start to finish on Sunday

The Scottish Brass Band Festival reached its celebratory conclusion on Sunday evening in Perth following a day wholly devoted to the Scottish Youth Championships.

Hard graft

For the Scottish Brass band Association's Youth Development Officer Alan Edmond and his team the event was both the pinnacle and the culmination of a year of hard graft that has once again highlighted the phenomenal rise of youth banding in Scotland, a rise that in some ways has seen the contest evolve into an event that has become a victim of its own success.
With the Youth contest not taking place at all from the late 1990's until 2005 when it was reinstated with just five bands, 2010 saw a staggering 32 bands comprising over 1000 youngsters of all abilities take to the stage; numbers which are set to rise once again in 2011.

Novice Section

With twenty bands in the Novice Section alone, several of which have come into recent existence as a direct result of the SBBA's ongoing policy of taking brass banding into schools, the audience was treated to a feast of enthusiastic music making that was by turns, both amazing and moving in its quality.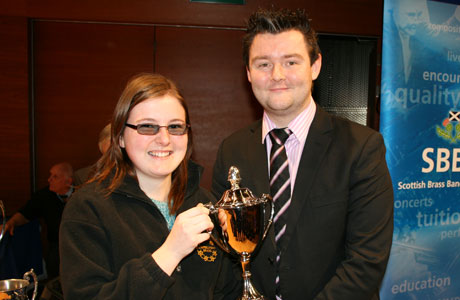 Novice Champions Campbeltown

Alan Edmond is a man that doesn't do things by halves, but the tears of pride in his eyes told their own story.
With a diverse range of ability on display in the Novice Section, the 2011 contest will necessitate something of a structural re-think with the likely introduction of a further "junior" tier to ensure a reasonably level standard of competition; no mean feat with this number of bands.

But then as Alan Edmond himself accurately pointed out, "it's a great problem to have."

20 bands

The eventual winners of the Novice Section emerged early in the field of twenty bands in the form of Campbeltown Youth under James Mc Vicar, whose six hour journey from the Mull of Kintyre (yes, six hours!) inspired them to a terrific performance from the number three draw that endured in the minds of Hannes Buchegger and Les Neish to the very end.
The band's ten minute programme, which included a spirited reading of 'The Flintstones' and concluded with 'I Will Follow Him from Sister Act', was also marked by some fine playing from the band's soprano cornet player in the hymn tune 'Sandon', whilst one young lady in the cornet section will remember the day for a long time as she was brought to her feet to mark her eighth birthday.
In the runner up spot Arbroath Instrumental Youth's pop music inspired programme under Ann Ness drew on Robbie Williams and Westlife.

After a starter of Paul Lovatt Cooper's 'The Big Top', the band delivering an impressively confident performance marked by solid sounds around the stands, whilst joining the two front runners with deserved gold awards were Newtongrange Juniors, Kingdom Brass Youth, Perth and Kinross Junior Schools, Kings Park Youth, Abbey Brass (Jedforest), St. Margaret's Academy and last year's winners Hawick Saxhorn Youth, all of whom won warm praise from the adjudicators.
Development Section

Taking to the stage as the first of the six bands competing in the Development Section, Perthshire Youth Brass under George Annan demonstrated a bold, powerful band sound from the start in their winning performance that included 'The Incredibles', 'I Will Follow Him' and an emotional conclusion in Andrew Duncan's arrangement of 'Loch Lomond', complete with some superb work on the solo bagpipes.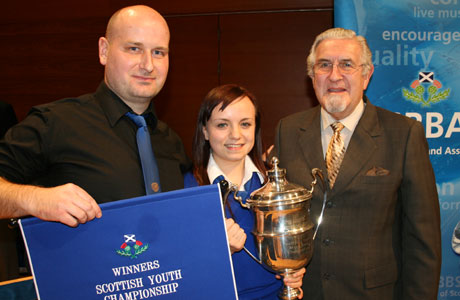 Development winners Pertshire Youth Brass

With Perthshire being the only band to secure a gold award in the Development Section, it was St. Ronan's Future Brass that took the Runner Up spot along with a silver award whilst Alan Fernier and Loanhead Brass Roots also picked up a silver for the band's enjoyable contribution.
Senior Section

In the Senior Section Alan Fernie capped an extremely busy weekend (he conducted no less than five bands across four sections in total) by leading Scottish Borders Youth to victory from the number one draw, with a strong programme of impressive weight that included a welcome and appropriate performance of Arthur Butterworth's 'Royal Border Bridge', Phillip Littlemore's glowing arrangement of Morton Lauridson's 'O Magnum Mysterium' and a finale of 'MacArthur Park', with Grimethorpe's favourite encore going down particularly well in the Perth Concert Hall.
In second place Perth and Kinross Senior Schools under Robert McDonald also secured a gold award with a polished performance and a programme that although not quite matching up to the level of Scottish Borders Youth, was delivered with considerable flair.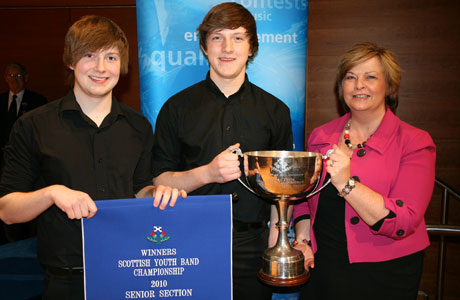 Scottish Borders Youth pick up the Senior honours

Premier Section

That just left Carnoustie and District Youth and West Lothian Schools to contest the Premier Section, with Michael Robertson and the forty four strong Carnoustie and District Youth Band repeating their victory of 2009 in lifting the trophy with a remarkably mature programme and performance that could have challenged many a First Section and even Championship Section band, such was its quality of execution and direction.
Opening in majestic fashion with 'Olympic Spirit' by John Williams, the eighteen year old Scottish Open Solo Champion Ross Knight repeated his excellent performance of Monti's 'Czardas' given with Brighouse and Rastrick the previous evening, with effective contrast being provided by the middle movement of Alan Fernie's 'A Scots Miscellany' and a rousing conclusion in the form of 'Dundonnell' from Philip Sparke's 'Hymn of the Highlands'.

It was a performance of stature that despite its brilliance, in no way detracted from a bold effort by West Lothian Schools and Nigel Boddice which also picked up a gold award.
As the euphoria of the results ceremony approached the day was to end with a surprise that not even the SBBA itself had expected.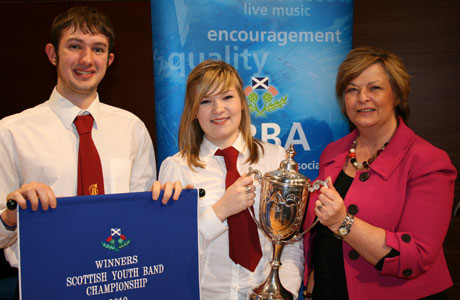 Carnoustie retains Premier title

MSP announcement

The visit of Scottish MSP and Minister for Culture Fiona Hyslop (above in pink) to present the prizes had come about as a direct result of lobbying by Alan Edmond, but with the Scottish Parliament's spending review completed only days before the contest, there had been no prior knowledge that the Minister was to use the occasion as a media platform to announce that funding of ten million pounds was to be allocated to continue Scottish Arts' highly successful Youth Music Initiative for another year.
It's a decision that in times dominated by economic austerity measures, all but guarantees that the exceptional youth development work of the SBBA can continue for another twelve months.

Liittle wonder then that Association President George Burt and his team exuded good spirits as they wound up the Scottish Festival proceedings for another year.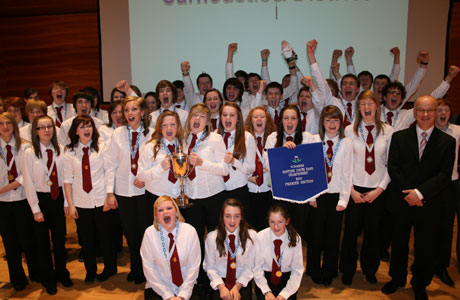 Time to celebrate...

The extent of what has been achieved over a period of just five years in Scottish youth brass banding is little short of remarkable, stemming from a combination of central funding and belief in the mission by those that hold the governmental purse strings but also in no small part to cohesive policy and decision making by the SBBA coupled with dedication and a large dose of sheer determination.

To see that dedication flourish into the event witnessed by the audience in Perth is something of which the Scottish Brass Band Association can be justly proud.
Christopher Thomas