2010 Brass in Concert Championship - Contest Preview & Prediction
18-Nov-2010
4BR takes a closer look at what we can expect to see and hear from the 11 top bands at The Sage this year - and tries to work out who will win...
---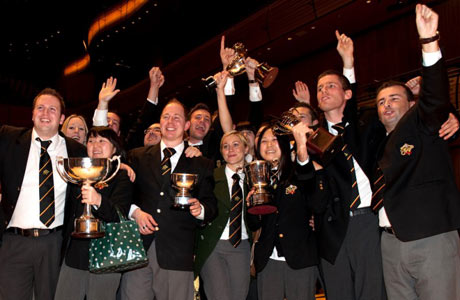 The reigning champions: Can Foden's repeat their 2009 success?
Picture: Ian Clowes

Prizes, prizes everywhere...

With the draw already made well in advance of the contest day, it will be local favourites Reg Vardy who will kick off Brass in Concert 2010 on the stroke of 9.30am.

Some eight hours later it will be the turn of Rothwell Temperance to try and tickle the fancy of music adjudicators Derek Broadbent and Robert Wiffen, and entertainment duo, Stan Lippeatt and Brian Hilson to claim the impressive £4,000 top prize.
In addition there is an exhaustive list of individual awards that are up for grabs, courtesy of the welcome expertise of trombonist Chris Jeans.
In fact there are 23 prizes in total – from the new 'Best Soloist' Award in memory of Geoff Whitham, to cash pick ups for 'Best new Composition or Arrangement', 'Youngest Player' and even 'Band Secretary'.
No band leaves The Sage empty handed.
Impressive field

There is an impressive looking field of competitors this year, and despite the absence of the foreign influx from the USA and Europe, a number of the competitors have looked beyond Britain's green and musically conservatively pleasant land for their programme inspirations.
Without giving the game away there is plenty of European flavour in some offerings as well as a bit of Hollywood blockbuster showmanship too, whilst the audience will surely sit back and enjoy a host of high class soloists.
As for the humour? Wait and see. If it's delivered well it's a delight. If not – you can hear a pin drop in silent embarrassment.

One MDs thoughts of PG Woodhouse can be another adjudicator's impression of Benny Hill.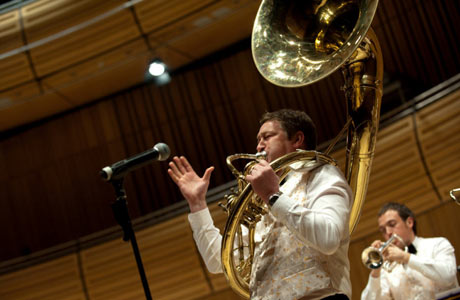 PG Woodhouse or Benny Hill? Humour varies...
Picture: Ian Clowes

Hard backed chair

11 top ranked bands then to enjoy both in the comfort of the fine wood panelled auditorium at The Sage and the possibly less than comfortable hard backed chair in front of your computer screen at home.
In draw order

Reg Vardy enjoyed a fine return last year in coming 5th with a programme that was a well balanced mix of musical theatre and solid band playing.
It's also been a bit of a mixed year results wise for the North of England and Doctor Martin Trust Entertainment champion, but with Ray Farr at the helm they always bring something a little bit different to the proceedings, so hopes of another top six finish are high.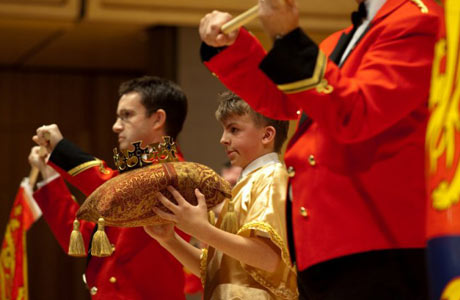 Musical theatre from Reg Vardy
Picture: Ian Clowes

Puzzled

Following them on to the stage will be Leyland under Philip Harper – a band that has thrilled, puzzled and frustrated in equal measure here in the past few years.
Boosted by their top six finish at London, a confident band can be guaranteed to bring something interesting to enjoy – even if they don't always hit the bulls eye on everything they attempt under Mr Harper's baton.
Interesting addition

The interesting addition to the line up is Redbridge, the London & Southern Counties champion, and a band that is developing a well earned reputation as an innovative entertainment programme maker under the baton of Jeremy Wise.
The debutants will want to bounce back after their disappointment of London, but if their Butlins Mineworker's programme was anything to go by in Skegness earlier in the year they will certainly be well worth keeping an eye out for.
Form bands

The two form bands of 2010 follow the Londoners onto the stage, with Fairey (Geneva) under the baton of Steve Sykes and Tredegar directed by Ian Porthouse.
The English National Champion is on a musical high, despite having to overcome the recent pyrotechnic disaster that befell them on Bonfire's Night.
Fresh from their runner up finish at London they will be keen to add a second major title to their 2010 CV. They have taken a few risks here over the last few years (remember the Michael Jackson inspired 'Thriller'?), so it will be interesting to see just what approach they take on this occasion under Steve Sykes as they look to claim their first Brass in Concert victory since 1996.

Meanwhile, Tredegar has been on something of a high ever since they created their own thrilling piece of banding history at the British Open.
Multiple winners from Porthcawl to Blackpool. Birmingham to Yeovil, they will be keen to show that their 7th place at London was a temporary blip in form on what is their first appearance back at Brass in Concert since 1996.
Disappointing

Carlton Main's return last year was a major disappointment as under the baton of Russell Gray their eclectic mix and match programme failed to resonate either with the judges or the audience as they ended in last place.

Philip McCann can always be guaranteed to bring something intriguing to this event (remember the buzzing bumble bee as the Green Hornet a few years back) which sometimes hits the mark and sometimes doesn't. When they do though they are a band that could well make a significant mark on the prizes.
Flowers appearance 12 months ago wasn't anything to write home about either, as they ended in 11th place after delivering a programme that was varied in more ways than one.
It's been a rather varied season in contesting terms too, but the West of England Area champion has gained a well earned reputation of being an innovative entertainment competitor over the years.

Garry Cutt won't want to sully his immensely impressive record here with an also ran performance either.
Grimethorpe?

What then of Grimethorpe?
There was a time when they reigned supreme, but their last victory came in 2005, although they just missed out last year with their very individual entertainment set under the baton of the all singing and dancing James Gourlay.
Allan Withington is also a man who is not afraid to step outside the box so to speak, so could we be in for an inspired Grimethorpe once again? All the elements are there of course, but as ever with Grimey - wait and see…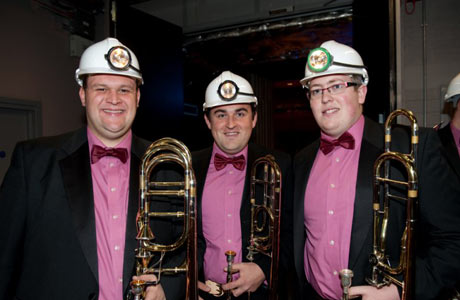 Inspired Grimethorpe or old hat?
Picture: Ian Clowes

Tricky Dicky

Mr Entertainment himself – Richard Evans, will be back to front Brighouse & Rastrick's challenge, and Tricky Dicky will know that they will have to up their game from last year's rather prescribed effort if they are to take the title for the first time since 2007.
Expectations are high, what with the National Champions current level of form and the arranging talents of Sandy Smith and Leigh Baker to call upon.

Mr Evans will no doubt make his usual entrance and have the audience eating out of the palm of his hand – but can he do the same with the judges?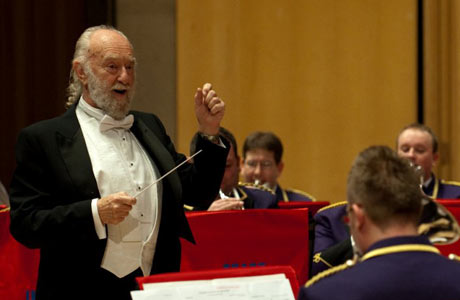 Mr Evans will be wearing this year..
Picture: Ian Clowes

Reigning champion

The reigning champion Foden's is under a bit of pressure – no doubt about it.
The mix and match approach with conductors since the departure of Garry Cutt hasn't been an overwhelming success, with rather uninspiring performances both at the British Open and London.
This time it's John Wallace who takes the baton in what promises to be a combination that could take this contest by storm – or not, as the case may be.
On form and with an inspired bit of programming to play (such as last year) Foden's is nigh on impossible to beat, but if they do misfire (as was the case here a couple of years ago when they opened with the volume of AC/DC) they could end the year with just the North West Area title to their name.

Same mistake

Finally Rothwell Temperance, who made a disappointing debut last year in coming 10th with a programme that whilst musically interesting, was a bit of an entertainment no go zone.
Given the band's current 2010 form, and the amount of intensive rehearsal they put into to their contest performances under Dave Robert's command, you sense they won't be making the same mistake twice.
4BR Prediction:
A more difficult task than you may initially think given the line up of the contenders.
The smart money may well be on Brighouse though – if the in house team of Baker and Smith have come up with something Tricky Dicky can get the audience eating out the palm of his hand with.

It's interesting that they will be leaving nothing to chance this year in giving the programme a full concert preview at the Scottish Open Gala Concert in Perth less than 24 hours before the big day.
Foden's will surely raise their game to put up a stirring defence of their title, whilst Fairey (Geneva), Grimethorpe and Tredegar have the ability to raise their game to push them all the way too.
Rothwell surely won't make the same mistakes twice, whilst our dark horse is Reg Vardy.
1. Brighouse & Rastrick
2. Foden's
3. Grimethorpe
4. Fairey (Geneva)
5. Tredegar
6. Rothwell Temperance
Dark Horse: Reg Vardy