A Trombonist's Life... - The Brett Baker blog from Down Under (Part 2)
16-Nov-2010
Brett Baker continues on his journey through Australia and New Zealand with some musical highlights and an encounter with a Manta Ray...
---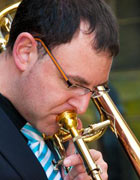 Brett Baker's Tour of Australia and New Zealand - Part 2

This is the second exciting installment of my tour of Australia and New Zealand which took place after the FABB Festival in the Gold Coast in Queensland Australia.
Monday 25th Oct:

After a great weekend at FABB the flights to Melbourne were fortunately not till the afternoon giving me time for lunch and a look around but there were rumours that the airport was shut due to traffic air control congestion in Sydney.

We got to the airport early to check the situation and fortunately flights to Melbourne were unaffected.

I spent most of the day writing up this report on my return to the Ford house in Caroline Springs.
---
Tuesday 26th Oct:

A day off!

I had not given myself that much downtime since being here so had a lie in and late breakfast. Broden Ford was kind enough to give me a lift into the city where Patrick (known at Patch) the solo euphonium player of Kew Band who is a sports injury specialist gave me a neck & shoulder massage.

He was able to sort out some neck pains I had from all the travelling on planes and no doubt the large amount of playing I had been doing.
---
Wednesday 27th Oct:

I left early in the morning getting a lift from Brodan Ford (he had nothing better to do being a student) for a flight to Adelaide today and was met at the airport by Bruce Raymond. Bruce is an extraordinary gentleman and has had a full and varied life.

I was taken to my hotel room which was a self check in affair and took a while to suss out. Anyway once there I could relax that morning and then got picked up for a school Soiree (a showcase of the pupils talents at the end of the year) with pupils from the Trinity School where Bruce was Head of Music.

The pupils played to an excellent standard. My accompanist was a Mr Sawyer who unfortunately was a bit late to the rehearsal due to getting stuck in traffic so we did not have too long before I needed to get on stage and play a couple of pieces to pupils and parents.

The pupils did not want to start playing until I had finished the rehearsal which was lovely but meant the concert started a little late.

The flight caught up with me after the concert and after a quick rendition of variations on twinkle twinkle little star using pupils from the school and myself composed by Bruce Raymond I then went back to the hotel for a well earned sleep.
---
Thursday 28th Oct:

Today I played to the pupils of Trinity School and did a workshop / recital to a variety of ages. Mr. Sawyer and myself had practiced the pieces the previous night for this gig but did a quick top and tail of items.

The pupils seemed to really enjoy the session particularly the motorbike impression and the question and answer session.

It was then a quick cup of tea before playing to the grandparents of pupils at an informal concert given by the school on a sort of open day for grandparents (what a good idea), after this was finished I had time to go back to the hotel have a spot of lunch with Bruce and relax before the evening rehearsal with the Mitchum C Grade band and Kensington and Norwood Brass Band (K&N).

The rehearsal went really well and I then managed to meet up with the players who I had not seen for a few years before going off to bed as the morning I had planned a visit to Adelaide Zoo.
---
Friday 29th Oct:

I love zoos and tend to go whenever I can make it. (Luckily have Chester Zoo very nearby in the UK). The highlight of the modest zoo is the two pandas. It only took a couple of hours to see the various animals and have a quick chat with them.

I was pleased to be accompanied there by Janet Carey the solo euphonium player with Kensington & Norwood Band and her two sons who seemed more interested in the puddles left by the rain than the animals. They were great fun.

Some of the animals reminded me of some of the members of Black Dyke Band but I will not go into any detail!

Then it was back to the hotel to relax for a few hours before the concert which was a huge success and it was great to play to such an appreciative audience.

Now you might be thinking, where is the evidence of any practice on this solo tour.

Well rest assured I did find some time for this to take place but thought you would get bored of hearing about it so have not included it at any point!
---
Saturday 30th Oct:

Saturday involved yet another early flight to Perth. On arrival I was met by Peter Younghusband (Monkey) who in Australia is known as Pom.

This was going to be a jam packed day. We quickly made it from the airport to his house and I could unpack and get comfortable.

After a quick homemade curry it was out of the door to go and adjudicate the WA Festival, which was an own choice Hymn, March, Solo and Entertainment test piece.

I got to the venue at 1pm and was briskly taken to the adjudicators table in the upper part of the hall.

Only two bands were competing and one further band wanted to play an entertaining program but not be adjudicated.

It was thoroughly enjoyable to listen to the various bands, and I then had to award prizes for 1st and second in the Hymn, March, Entertainment and an overall winner.

Most impressive was the tuning and balance of both bands they were indeed a credit to the Western Australia area.
---
Sunday 31st Oct:

Peter Younghusband was in the process of moving house over the week I was there; so he suggested I take a boat trip with some local "banders" up the Swan River towards Perth so he could move some furniture around and get the painters in.

I was taken to Mike Willett's house and met by Sarah Draper, Stewart Bennion and Russell Torrence members of RASWA Band and I had a really pleasant time sailing up the river to get some spectacular views of the City of Perth.

Sunday night I was able to do some practice and get myself sorted for the workshop on the Monday.
---
Monday 1st Nov:

Monday saw a trip to the University of Western Australia in Perth and a workshop for three trombone players at the University organised by Dr. Alan Lourens.

The standard of playing was very high and we managed with a select audience to go through a lot of aspects of playing and the psychology behind performance.

It was really fascinating to get the students views and experiences. In the afternoon I picked up a hire car from the centre of Perth and drove it back to Peter's house.
---
Tuesday 2nd Nov:

This was another 6.00am start.

I was in the car by 6.45am and on my way down to Bussleton a coastal town two and a half hours south of Perth. Peter had arranged with Bussleton bands conductor and head of music at the local senior school for me to do some workshops in the area.

It was nice to see a different part of Western Australia and drive down the coastal roads and I managed to reach Bussleton at about 9.30am in the 34 degree heat. After a bit of difficulty finding the school (this took several exchanges with the locals), I got to reception and eventually to the music department.

Once at the music department I did two separate workshops with the brass pupils at the school and I had a great time going through various questions on breathing, posture, high register, vibrato, performance anxiety, sight reading, practice routines, multi-phonics, circular breathing and demoed a number of pieces in a variety of styles including Rob Wiffin's new concerto for trombone.

In the afternoon I met with my host Barbara and she asked what I would like to do. I had been reliably informed that the beach was a must and so I had a quick spot of lunch donned my shorts and headed down to there.

Now being a Pom, I felt very uncomfortable going in the sea without my crocs on in the water and as you never know what you might find off the coast of the British Isles. I think wearing something on your feet is advisable in more temperate waters.

Anyway I went for a swim and enjoyed the cold water on a day of 34 degrees centigrade.

At one point I got a face full of salty water and stopped swimming and stood upright. As I did so the ground beneath me began to shift pushing me backwards into the water.

I had stepped on a manta ray!

You can imagine I was confused and frightened not realising I had done so until this 2 foot manta ray swam off looking rather disgusted that I had not noticed him on the bottom of the sea bed .

I called out to Barbara who was still walking her dog on the beach and she informed me that yes there were manta rays in the water and that if it had stung me with its tail then I would have known about it and be screaming in agony.

I thought I maybe had a lucky escape. (I was later informed that this is similar to how Steve Irwin had met his death and so thought I should be more careful in future).

I decided to have a walk around town of Bussleton rather than venture back in the water. Bussleton is a nice town full of bars and restaurants and shops, and has a nice country atmosphere.

It was Melbourne Cup day and therefore as I walked around there were many who adorned their grand national type splendid outfits which was a strange sight in Australia a place where shorts and flip flops are considered smart casual.

I then got back to Barbara's for dinner with the committee members of Bussleton and the conductor Nicky Hair and had a great time chatting to them.

It was interesting that many of them had a glass of wine or beer with their meal considering they had a rehearsal with me that evening.

I declined the temptation as I needed to keep my wits about me for the workshop / rehearsal. The band committee, were indeed great fun and good company so I knew I was in for a great night of music making and some antics.

Some members of the Bunbury Band also came along to the rehearsal and we ran through some pieces whilst talking about topics that the players wanted to discuss including breathing, high register, vibrato, performance anxiety, sight reading, practice routines, multi-phonics, circular breathing in fact a lot of the topics discussed in the session as Bussleton School.

After the rehearsal I had time to meet some more members of the band and socialise before getting a well earned rest.
---
Wednesday 3rd Nov:

Today I had most of the day to travel back to Perth so took up the offer to get taken around a little bit of the local coastal scenic views by Daniella who comes originally from Zimbabwe.

We went to a number of coastal towns and villages and saw the wonderful houses and coastal views as well as some local wildlife.

This area of Australia is a tourist spot and simply beautiful; I even had time for an ice-cream before heading back to Perth.

I got back to Peter's in the hire car just in time to move some of his furniture and follow him to the van hire company so I could take him back home before driving to Perth to drop off my hire car and meet him in the City to be taken to a rehearsal with Perth Fortress band and my accompanist for the Silver Threads concert Trish

The rehearsal with the band went without incident and was very well organised and thought through. Then it was back to Peter's for a sleep.
---
Thursday 4th Nov:

More workshops today this time involving any brass players from the Perth area that wanted to come along to an open workshop. Many of the local teachers brought their pupils from school.

Some great responses to questions came back and I demoed a variety of techniques involving brass playing.

Around 35 young trombone players did some ensemble playing which they seemed to thoroughly enjoy and Dr Alan Lourens again organised the session and allowed the use of the University of Western Australia facilities which was great. In the afternoon we had some lunch looking over the river in the blazing heat with Dr Lourens.
---
Friday 5th Nov:

This morning I was up fairly early (yes lots of early flights it's not all fun you know) to get the suitcase packed up ready for the morning. Lindsay Palmer trombone player from the Silver Threads Band collected me and took me on a tour of the city before getting to the Salvation Army Corps where the Silver Threads concert would take place.

Perth is a beautiful city and I rarely saw a cloud in the sky whilst I was there. It is also a fairly small city and so easy to get around. Eventually we arrived at Floreat Salvation Army Hall. Now the silver Threads band is a band of brass players over 50 with an average age of 73.

Irwin Palmer who is the organiser, bandmaster and solo cornet player with the band is great fun and Lindsay Palmers brother.

He introduced me to a lot of the band members whose ethos is to be at the rehearsal half an hour before rehearsal starts otherwise they are considered late.

The bands emphasis is very much on enjoyment and fun in music and the concert I experienced was one of the most enjoyable I have ever been involved with.

The concert included a 5 minute spot where Bill one of the bass players tells some jokes. The funniest of which is when the 83 year old he got lost in one of his own stories and had to remember where he was up to.

I played Thoughts of Love by Arthur Pryor and The Summer Knows with pianist Trish and with the band I played Pokarekare Ana arranged for me by Goff Richards and a duet with Irwin Palmer called The Prayer arranged by Ian Jones who was a English Salvationist living in Melbourne who travelled over to Perth especially to conduct the piece and some other arrangements of his.

After the concert I then went back to Lindsay's house to a spot of food, a shower and time to relax.

The evening concert at Perth Fortress was a huge success great audience and I had played two of the most difficult pieces in the trombone repertoire; Blue Bells of Scotland and The Summer Knows, coupled with Trombonology with the Oz big band the week before it had been a very demanding week musically, but very enjoyable.

The highlight in the evening concert for both the audience and I was playing with members of the Western Australian Orchestra with Peter Younghusband where we played Fly Me To The Moon and the Salvation Army March Celebration. I also played Word of Grace by Bearcroft and Morceau Symphonique by Guilmant.
---
Saturday 6th Nov:

This was a day of travel from Perth to Sydney and then Sydney to Christchurch getting me to the city which has been under constant bombardment from earthquakes for many weeks now.

I arrived at 1am and was picked from the airport by Kevin McMorran. We had a long chat on how to rectify the woes of the band movement in the car back.

A quick cup of tea was necessary before getting to bed by 2.30am after ringing home to friends and family via the wonders of modern technology.
---
Sunday 7th Nov:

I got up late and got myself ready for the rehearsal at 11am with Leopard Coachlines Canterbury Brass. It was great to meet up with some old friends in the band and audience. The concert went like a dream I could tell the band were with a well rehearsed due to the way the delivered each perfromance.

The conductor Tyme Marsters did a great job of putting the band through its paces. The band played Walking with Heroes, Hymn for Diana and Derek Bourgeois's Serenade.

I then came on to play Ken Downie's new arrangement Abide With Me, Keith Wilkinson's arrangement of Atlantic Zephers and Hugh Nash's Demelza and the band finished the first half with Sandy Smith's arrangement of Malaguena.

In the 2nd half the band played Sirba Floricaca whilst I soloed with Iona Boat Song arranged by Howard Evans, Bride of the Waves arranged by Darren Cole and Ray Farr's new arrangement especially for the tour of Close For You.

The Band then played Hook Prologue and I rejoined the band for Arriva Derci Roma arranged by Sandy Smith and the band concluded with the Finale from Faust.

After the concert we went for a meal and I had time to catch up with the band and audience before getting ready in the evening for a trip to the Marlborough area of New Zealand 4 hours north of Christchurch for a workshop and evening concert.
---
Monday 8th Nov:

We set off at 10am after I packed a loaned suitcase with less clothes in an effort to try and be a bit more efficient and avoid yet more excess baggage fines at the airport (thanks Quantas) which incidentally had been the case on most stops.

It was great chatting with Kevin McMorran on the way to the Marlborough Sounds. On the way we stopped at Cheviot for some lunch and Kaikoura to do some shopping, before getting to the town of Blenheim.

However due to Kevin's haste we were unfortunately pulled over for speeding in an 80 kph zone and Kevin was not amused by getting a speeding ticket.

We got to Blenheim and Kevin Moseley's house just in time to meet him before he went off to organise the concert. I had time for a cup of tea and a rehearsal with Kevin's wife, Kathy Moseley where the pieces I worked on were Iona Boat Song and Atlantic Zephyrs.

The workshop was a rushed affair and involved players from Nelson and also Blenheim though they were very grateful to get time to ask some questions; and then it was a mad dash to the local church for the rehearsal for the concert.

The concert started with Snell's arrangement of Folk Festival followed by Night in Tunisia, I then played Demelza, and the band continued with Barbie.

Jonty Zydenbos aged 8 then played Angel Eyes on the cornet and he did a splendid performance of the piece with backing tape.

Then the band played Born Free by Alan Catheral followed by a piece called Chaplin which featured Kathy Moseley on percussion, the band finished with Ritual Fire Dance.

After the interval the band played La Danza followed by the Elvira Madigan Theme. I came onto the stage to play Ray Farr's arrangement of Close To You, and the band followed by playing Maputo, and then Capriccio Italian.

My next effort was a performance of Atlantic Zephyrs.

The band then played You're Beautiful and I then followed this with a performance of Bride of the Waves. The concert finished with the march Amporita Roco. The audience was warm and appreciative and the band also seemed to enjoy themselves thoroughly.

Conductor Kevin Moseley made a rushed evening seem very easy and his manner and rapport with the audience was very natural.

---
Tuesday 9th Nov:

We got up early today to drive down to Picton and then launch a boat onto the Marlborough Sounds.

I had never been fishing before so this was to be an exciting day. I was very pleased with myself as after quite a lot of waiting and sailing up and down the coast I managed to pull in two cod and a shark.

Thought I did have blisters on my hands after all the effort the next day.

There is nothing quite like catching a fish and then having is presented on a plate after being gutted and cut up. It tasted delish.

It was a wonderful day of pleasant company and excellent food and wine in a simply exquisite location and not another soul in sight, even though other baches were along the coast we appeared to be the only ones in the location.

With that in mind at 11pm I decided to try the acoustics of the water and play the trombone on the marina whilst looking at the stars and see how far the sound could travel it was a great feeling.

Read the next exciting instalment soon...