Belgian brilliance at Dukinfield - 2010 British Open Solo & Quartet retrospective
12-Nov-2010
Malcolm Wood looks back at a British event boosted by Belgian brilliance in Dukinfield.
---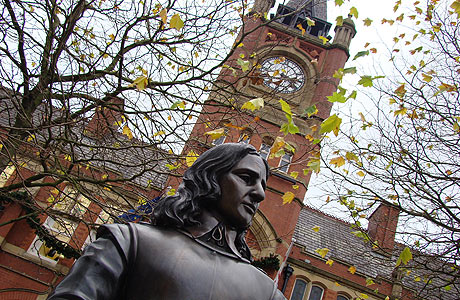 Autumn glory in Dukinfield

It was a glorious autumnal day in Dukinfield, and it turned out be a glorious day once again for the Belgian contingent of competitors who made the trip over the English Channel and up the M1 to Tameside on the weekend.
The regular European competitors have added an extra musical sheen to this event, and have become the most welcome of visitors, even though they leave each year laden with prizes.
Harmen Vanhoorne's victory in the Senior contest came courtesy of one of the finest individual performances you'll hear for a very long time, whilst the talented Lode Violet, successfully defended his Intermediate title, with startling musical maturity.
Add the excellence of the Senior and Junior quartet winners, and you can see why the date for this competition is eagerly pencilled in the diaries up and down the length of the country.
Triumph
Despite the rumours of future local government cut backs, Tameside Metropolitan Council once again generously sponsored the event, and the organisers will have been delighted that they could report back on a day of encouraging, and growing competition.
There was a fine turn out of 34 players in the Senior Solo preliminary round and 14 ensembles in the Senior Quartets, whilst the Junior Quartets has started to look up with three ensembles dipping their toes into the competitive waters this year.

That did mean a few headaches for Frank Hodges, Derek Atkinson and the team of volunteers, but they overcame them with minimal fuss – even changing adjudicators for one section because of time restraints.
It was a splendid Trojan effort – flexible (Cosy Brass Quartet had to catch an early flight home so were granted permission to play number one), friendly and very efficient.
The judges were informative and encouraging – the youngsters in particular soaking up every word of advice from Katrina Marzella, Phil Bailey, Dr Nicholas Childs, James Scott, Thomas Wyss and David Roberts.
In praise of Tameside
Tameside Council will surely reflect that their tax payers money was well spent – well over £3,000 in prize money, hire costs and sponsorship for the Ern Keller trip for Mr Vanhoorne.
There is also a further £3,000 up for grabs at the Tameside Youth Festival later this month and their Open Contest next March. If only there were many other council's like Tameside putting money into grass roots banding in this way.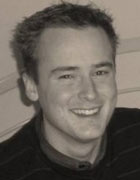 Senior Solo Championship
34 performers were whittled down by David Roberts and Thomas Wyss to high class six contenders to join defending champion Jef Vermeiren and Ern Keller winner Bruce Myers in the Senior Final.
There was representation from some of the top contesting bands in the UK (Brighouse, Fairey, Desford, Leyland, Rothwell) but once again, the eventual winner came from Belgium in the form of Harmen Vanhoorne of Brass Band Buizingen.
Last year's runner up and finalist at this year's European Solo Championships in Linz (right) was a thoroughly deserved winner – a classy, confident and supremely artistic performer.
He delivered a work written by fellow Brass Band Buizingen and Exit Brass colleague, Stan Nieuwenhuis, entitled 'Fortunes Fool' – and there was no fooling anyone in the Jubilee Hall by its conclusion that this was nothing less than a quite stunning performance.
Judges, Dr Nicholas Childs and James Scott later admitted they just sat back and enjoyed every second of it.

He is some player.
Excellence

Rothwell's principal cornet James McCabe made it through to the final once again and delivered a controlled performance of Bozza's 'Rustiques' - a piece that served him well last year.

He is an impressive player growing in confidence and maturity, and his runner up placing was well deserved.
The defending champion, Jef Vermeinen also produced a highly accomplished rendition of 'Concert Poeme' by Wassilenko that showcased his lyrical qualities and fine sound to claim third place.

It wasn't enough to cliam another victory for the Belgian, but once again it showed just how complete a performer he is.
Behind them the overall standard of excellence was maintained by Lewis Musson, principal euphonium of Wingates, who produced a colourful 'Concerto per Flicorno Basso', horn player Daniel Powell's exciting 'Flight', and 17 year old Daniel Walton's confidant 'Scarllatti Variations'.
Ern Keller winner Bruce Myers proudly represented Australia with a finely judged 'Concert Fantasie', whilst fellow antipodean, Byron Nelson from New Zealand (but now with Tredegar) produced a confidently portrayed account of Philip Sparke's 'Harlequin'.
Senior Quartets
Twelve months ago just four quartets competed at this contest so it was highly encouraging to see no less than 14 ensembles battle it out for victory.
There are still concerns that as a brass playing discipline, the quartet is still close to extinction, but after a high quality contest, things may well be looking up.
Mini contest
It became something of a mini set test contest with five performances of Sparke's 'Divertimento', up against three renditions of 'Elegy and Rondo' by Vinter, as well as Bach's 'Toccata and Fugue in D Minor', a selection from 'West Side Story' and a 'Suite for Trombones' by Darrol Barry.
In the end the Belgian's of Exit Brass produced a scintillating 'Divertimento' to deservedly take the honours with a performance of balance and warmth, individual excellence and collective responsibility.
Simon Minshall, Matt Lewis, Steph Conway and Phil Dewhurst of the Thames Quartet will have made the trip back to London delighted to have come second after an accomplished bit of Bach, whilst former winners Cosy Brass produced an impressive account of 'Elegy and Rondo' to catch their early flight home with third place to their name.
Elsewhere there was much to enjoy - Mirum Tuba Quartet, which contained members from Hepworth finishing fourth, whilst each of the other contenders produced well judged, if slightly more flawed, renditions of their choices.
The Intermediate Section
In the Lesser Hall adjudicators Philip Bailey and Katrina Marzella presided over four enjoyable competitions.
20 contenders competed in the preliminary round of the Intermediate Section with five players eventually joining reigning champion, Lode Violet in the final.

The judges were full of praise for the competitors especially as they were performing unaccompanied, but in finding the finalists they were looking for the ability to play with an understanding of more than just the notes on the part.
As Katrina Marzella accurately pointed - those who got through were able to shape extended musical phrases and the eventual finalists all managed that and more.
Cornet player Nick Walker from Clifton & Lightcliffe delivered a fine 'Broken Melody', whilst trombonist, Lewis Bettles of Stannington, was impressive with his rendition of Weber's 'Romance'.
Flugel player Amelia Young delivered a composed 'Rusalka's Song to the Moon', whilst two young baritone players, Ben Stratford of Flowers produced a cracking 'Vocalise' and Marsden Silver's Michael Cavanagh delivered a secure reading of 'The Iceberg'.
Lode victorious
Phillip and Katrina oversaw a highly competitive final, but one in which defending champion, Lode Violet was once again a clear margin ahead of his rivals.
His commanding performance of 'Rusalka's Song to the Moon', where he brought a sense of refined lyricism and a real 'wow' moment at the end, saw him deservedly retain his title over the impressive baritone duo of Michael Cavanagh and Ben Stratford.
Junior Quartet
Although there were only three quartets this year, it was still an encouraging up turn in numbers for the contest.
In the end it was the delightful foursome of Valerie and Vincent Gils, Marlies and Yorien Pelgroms from Brass Band Hageland, who belied their years to give a mature performance of 'Recreation' by Douliez to claim the title.
It was a performance that had all the hallmarks of detailed rehearsal, balanced delivery and musical understanding.
In second place came the talented Shirland quartet under Marie Smith who delivered 'Rondo for Trumpets' with a real sense of brio, whilst third came Milnrow Youth, who performed lightly coloured excerpts from 'Eine Kleine Nachtmusik'.
Junior Slow Melody
Six players no older than 11 years of age, demonstrated their impressive potential in a short but highly enjoyable Junior event.
Rosie Glossop, Robert Lambert and Benjamin Jarvis all produced fully committed performances, but it was the trio of James Howard, Gemma Riley and Charlie Bijil who deservedly finished in the prizes.
Ten year old James gave himself an early birthday present (11 on November 10th apparently) with a cracking rendition of the classic 'Stardust' that wasn't short of confidence, control or the ability to reach seventh position without any problems!
He is sprinkled with a fair bit of stardust himself it would seem.
Fellow trombonist and defending champion Gemma Riley delivered a lovely account of 'Panis Angelicus' to come second, whilst cornet player, Charlie Bijil demonstrated a clear tonality and mature sense of style to come third.
All the players though deserved the plaudits for performing with so much confidence and style.
Malcolm Wood