4BR Interview - Paul Lovatt-Cooper
11-Nov-2010
4BR talks all things musical with the man behind the most famous PLC brand in the brass band world.
---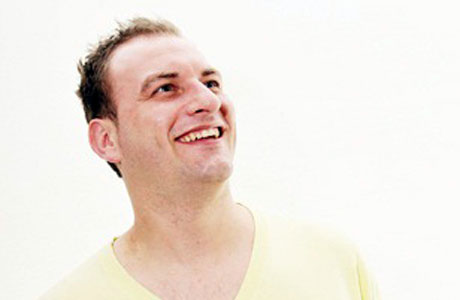 Picture: John Stirzaker

Ever since a young composer called Paul Lovatt-Cooper came to prominence following the world premier of 'Earth's Fury' at Symphony Hall in 2004, the banding world has increasingly taken notice of his unique blend of fresh, inventive and downright enjoyable music making.
The rest as they say – is history.
He was of course no stranger to brass bands, playing percussion with Fairey and subsequently Black Dyke, but until that moment, no one really knew that he was to become the most talked about young composer around – bar none.

'Walking with Heroes' released in 2008 confirmed the impact – selling out faster than one of his trademark high energy openings to works such as 'Where Eagles Sing', 'Horizons' and 'Vitae Aeternum', which are now staple parts of just about every band's concert repertoire.
Black Dyke is currently recording his second CD, 'Only For You', which is due for release with a batch of his new music, whilst he has just set up his own commercial music company and publishing arm, PLC Music Ltd.

Time then to catch up with the man behind the PLC logo…
---
Iwan Fox: It's fair to say that you are one of the most popular composers currently writing for the brass band medium. Was success inevitable?

Paul Lovatt-Cooper: No - not at all. I'm very flattered that my music is popular. It may sound funny or even selfish, but I try to compose music that I would like to listen to, whether a concert work or contest piece.
I guess I've got lucky - it seems there are many people out there who like the same things I do.
---
Iwan Fox: What was your first big compositional break?

Paul Lovatt-Cooper: The first work that received critical acclaim was 'Earth's Fury', but that started life as a concert piece.

I used to room with Brett Baker at Fairey and he told me he was planning a solo CD. He knew I enjoyed composing and asked me to write a piece for him.

The result was 'Twister', which detailed the story of a quaint American town engulfed by a storm. Brett loved the piece and everybody who heard it was very complimentary.

Things started to take off from there.

A couple of years later Black Dyke organised a trombone concerto competition with Leeds Metropolitan University. Brett made me aware of it, and so I extended 'Twister' in a manner that continued the programmatic feel.

I came second in the competition, and when I later joined Dyke, Nick Childs and Brett combined to perform it at the British Open Gala Concert. It struck a chord and critical acclaim and I received two commissions straight after.
---
Iwan Fox: After the success of Earth's Fury, what was next in the pipeline?
Paul Lovatt-Cooper: A little later I became 'Young Composer in Association' at Black Dyke and my first commission was for the Brass Arts Festival in Manchester prior to the 2006 British Open.

Earlier that year I enjoyed a family holiday to Disneyland and was amazed at the wild bird show they put on, where they featured the story of the great American bald eagle.
It was so inspiring that I decided to compose a piece that showed off the musical grandeur of such a fantastic endangered animal, and so 'Where Eagles Sing' came about.
That piece was the real stepping stone. Bands all over the world wanted to play it and audiences really enjoyed it too. I understand it has become one of the biggest selling concert pieces of recent years.
---
Iwan Fox: 'The Dark Side of the Moon' was your first major test piece. How do you approach test piece writing and how different is the process to that of a concert work?

Paul Lovatt-Cooper: With a test piece there are certain unwritten rules to abide by for it to be considered successful.

I approach it along the same lines as my concert works, so I may develop a thematic device, a chord sequence an ostinato etc. I also think about the overall structure to make sure the piece has the right musical balance.
However, I do take into consideration the 'test' element, so when writing a solo line I consider the range and technical boundaries of instruments.

Certain notes in certain keys can be slightly sharp or flat, so I use them in the melodic lines in the hope that the player realises this and adjusts accordingly.

My general approach is to compose a challenge for players in terms of sound, intonation, technical ability and range, and a challenge for conductors to make the music come to life and shape the performance.
Then there is the listener. They may hear the piece 20 times in one day so I try to compose something enjoyable to listen to with flowing melody lines and excitement in the music.
---
Iwan Fox: You know in your head exactly how the music should sound. So how does it feel when you hear a number of different interpretations of your music?

Paul Lovatt-Cooper: It's enlightening. When I'm asked to speak at contests for instance I always thank the bands and conductors for all the hard work they've put in on one of my pieces.
It's important to remember they've spent the last few weeks intensively rehearsing, and then have had to go through the stress of performing under pressure.
Unfortunately there can only be one winner, so it's important to thank everyone for the hard work they have put in to try and claim a victory.

There are performances that are completely way off the mark of course, but there are also other interpretations that are completely different to what I had in mind, but what the conductor has done works really well.
I've heard soloists who have played their cadenzas or solo lines differently, but so well, it's prompted me to write in that style in a future piece.
---
Iwan Fox: Where do you get your ideas from and how do you actually start the compositional process?

Paul Lovatt-Cooper: I've been both blessed and cursed with a very active mind - it just doesn't stop!
I remember my father telling me that when I was young he would come into my bedroom only to find me wide awake with the excuse that I wished my head was like a tape recorder – so I could press the stop button and then go to sleep!

My mind goes over ideas all the time – thoughts of melodies, chords and motifs - and that's the start of the composition process for me.
I scribble ideas down on paper or even on my phone as a voice recorder to save them.
---
Iwan Fox: How do you approach composing a commission for a particular band or soloist?

Paul Lovatt-Cooper: I want to make it as personal as possible.
This is so that they don't just get a PLC piece, but one that is exclusively composed with their thoughts and feelings in mind.
I talk extensively with people to find out just what they are looking for – from concert opener or finale, to reflective interlude, a solo or a test piece.
Once we establish this, I then find more about a band for instance; its playing level, ambitions, even their history and links to their local community – that's what can make the piece very personal and appropriate both musically and technically.
Once finished I send the draft back and ask them for feedback. It's important to listen to what they say – as they are the people going to play it.
I make any alterations and then send the final piece back again.
Usually we agree that the band or soloist gets exclusivity for twelve months before I release it for public sale.
---
Iwan Fox: You are also making a name for yourself as a conductor. Do you see yourself evolving a career with the baton?

Paul Lovatt-Cooper: Hopefully - but not at the expense of my composing.
I've enjoyed working with Royal Buckley Band, and last year we won the Welsh Area contest as well as coming in the prizes at the Harrogate.

I also enjoy being guest conductor with the National Youth Band of Scotland - a position that has been extended to a three-year contract.

Last year I conducted a handful of rehearsals with Brighouse & Rastrick in their preparation for Brass in Concert – although I may have to keep that a bit quiet!

Being at Black Dyke also helps, as on occasions Nick gives me the baton to run my new pieces through with the band.

I get asked to conduct bands round the UK too, either as a one off masterclass or working on a piece I've composed for a concert or contest. I enjoy the freedom of freelance conducting, as it doesn't restrict my other musical ventures.
---
Iwan Fox: Have you ventured into any other styles or genres with your composing?

Paul Lovatt-Cooper: Yes. I've worked with a rock band on material for their demo album and with a thrash metal band based in Holland.
I also composed the song 'Never Say Goodbye' for the 'Say Hello to Edward' appeal raising awareness of Duchenne Muscular Dystrophy, and with PLC Music, there are going to be fanfare and wind band versions of my music too – so hopefully new performers will get to play my works.
There are some fabulous opportunities to compose in the television, film and games market, and I aim to explore those areas also.
---
Iwan Fox: So what's next on the horizon?

Paul Lovatt-Cooper: I've been commissioned by Les Neish to compose a tuba solo that will given a world premier in the USA in December, whilst he will also record it on his new CD next Easter.
I've also finished a solo called 'Quicksilver' for Perry Hoogendijk, the Principal Tuba of the Royal Concertgebouw Orchestra. The piece will get its world premier in January with the Dutch Band, Soli Brass

I'm currently working on a new work for Black Dyke called 'Starburst and Canyons' for the Festival of Brass in January and have been commissioned by Owen Farr to compose a horn solo for his next CD.
My new CD, 'Only For You' will be released early in 2011, which will feature my recent compositions, whilst I have been commissioned to compose a concert piece for a gentleman celebrating his 60th birthday as a present from his wife!
---
Iwan Fox: And finally - Do you have any advice you can give to any young composer who would like to get into writing for brass bands?

Paul Lovatt-Cooper: If you are in a band then take your music and ask them to play it through. If not, find out where your local band is, go down and visit them and establish a working relationship.

Listen to what the players tell you as they can give great advice on writing for particular instruments and also listen to the conductor as he is used to reading scores and should be able to guide you with the orchestration and scoring.

My second bit of advice is aimed at conductors.
If you find you have a budding composer in the band, then give encouragement and look at programming their pieces for certain concerts.
You can even give them an active role such as 'Composer in Residence' etc and get it announced on 4BR! A bit of promotion is fantastic for building confidence.
I wouldn't be the composer I am today if it wasn't for Nick Childs' encouragement and support.
The band movement needs to keep developing new talent so that in years to come we have a new generation of composers to equal the likes of Philip Wilby, Philip Sparke and Peter Graham.
---
PLC Website:

Further details of Paul Lovatt-Cooper's music can be found at : www.plcmusic.co.uk/plchome.php