4BR Scouting Report - Morgan Gallimore
5-Nov-2010
4BR meets up with a 9 year old cornet playing percussionist with a very big future ahead of himself.
---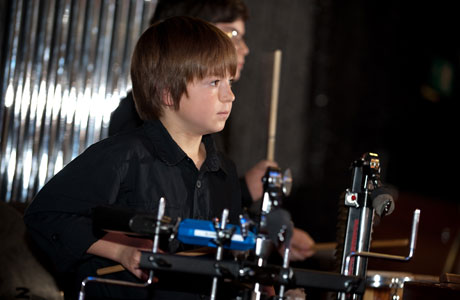 Name: Morgan Gallimore
Age: 9
Instrument: Cornet and percussion
Bands: Shirland Welfare Juniors, Blidworth Welfare
---
Despite the rain lashing it down at the recent Bolsover Festival of Brass Competition, there was plenty of sunshine on offer when it came to the music making.

And one of the brightest little rays was also one of the smallest too – 9 year old percussionist Morgan Gallimore of the Blidworth Welfare Band in the Second Section.
Knee high to a timpani, but as determined and professional as any of his fellow adult players, you just couldn't take your eyes off his contribution to their performance, even if at times you had to peer between the bass section to see him enjoying himself.
You could just tell – the lad was loving it.
Star qualities

Afterwards we met up with Morgan and his dad Richard to have a chat, and his banding star qualities soon surfaced again – he's 9 going on 37…
The contest marked Morgan's contesting debut with the band his parents play for – although he's no stranger to the banding world as he has already been playing the cornet with Shirland Welfare Juniors for the past couple of years.
His interest was sparked by his granddad, Phil Morley, who plays Bb bass with A W Parker Drybrook Band, and who regularly took Morgan to Shirland where he was tutoring young players.

Morgan was soon hooked on playing the drums, but Shirland know a thing or two about encouraging young players and also sent him home with cornet to have a try on too.
First steps

From then on Morgan was taking his first steps on what he himself hopes will be a long career in the banding.
"I really enjoy playing with Shirland and Blidworth," he diplomatically told 4BR. "Making my debut at Bolsover was great. I wasn't nervous, as I knew what I had to do, and I really enjoyed it. The band played really well, but we only came fourth."
Just 9 years of age, and the lad speaks like an grizzled old bandsman already…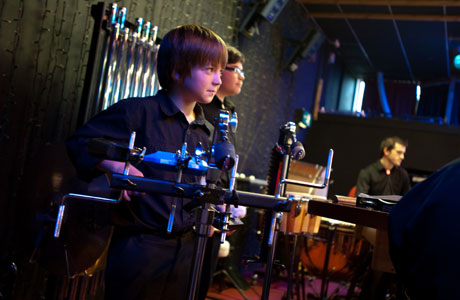 A busy young man...

Scrum half

Morgan is a busy young man.

He is a rising star in his local rugby team, where he enjoys being in the thick of the action at scrum-half, goes swimming twice a week, and attends band practice at Shirland every Thursday and at Brunts School in Mansfield every Saturday morning where he gets extra lessons on percussion and plays in the band there too.
So could we be seeing the first international rugby playing, Olympic swimming, cornet playing percussionist in the banding movement?
Morgan gives a giggle; "I enjoy my rugby, swimming and PE at school, so I want to try and get as good as I can with them," he tells us. "But I also want to play in bands too, so I'll have to try and fit everything in."
Practice

You suspect he will do just that, but first he knows he needs to put the practice in, and thanks to his second cousin Lilla Stennett, who he is having lessons with, he has a well honed practice regime already in place.
"I try to practice every day," he said honestly. "At the moment I'm working on warm ups and on pieces for my Grade 3 exams which I hope to take early next year. I think I have a good sound and I can play high so I may end up on soprano cornet when I'm older."
Morgan's parents are enthusiastic bandsmen themselves (Dad plays trombone and Mum, horn with Blidworth) and they enjoy the fact that Blidworth's MD, Martin Heartfield has encouraged Morgan to be a part of a young percussion team in the band when needed.
"The Bolsover contest was Morgan's debut, " Richard said. "Martin makes sure he's involved especially in concerts when there is a real need for a full percussion section, so Morgan feels involved and has to play his part too! We like the way banding brings a real discipline to his music making – he learns so quickly."
Focus

And that learning means more practice – although this particular young man already has his sights focussed very much on the future, especially after revealing modestly that he already notched up his first solo competition victory.
"I won the 10 years and under class at the Leicestershire Solo Contest back in April, playing 'Bless this House'. I got 94 points'" he says proudly. "Now I have to work on new solos for my Grade 3 exam and on tonguing so that I can play fast solos too."
The future

So what does the future hold then? "My favourite bands are Thoresby, Shirland and Blidworth, but I would like to play against Black Dyke one day," he adds with a steely hint of determination.
You don't doubt that this fantastic young man will do just that too – if he can fit it in after playing for England against the All Blacks at Twickenham…

Iwan Fox