A Trombonist's Life... - The Brett Baker blog from Down Under
31-Oct-2010
Black Dyke's principal trombonist has been in Australia and New Zealand of late - and he reveals that a musician's life is not always full of glamour and glory...
---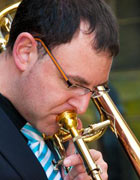 Brett Baker's Tour of Australia and New Zealand
Wednesday October 13th:
Hello readers it's been an eventful start to my trip as even before I left the UK the Manchester flight was delayed by over an hour and I had to run with trombone case, CDs and laptop to the gate at terminal 3 from terminal 5.
I asked the ground staff if my suitcase would make it due to the tight turn around and they replied" the suitcase will get there but you probably will not!" Being built like a racing snake I had no issues getting to the case on time (All that Great Wall of China trekking must have helped), but I was concerned about my case.
In reaching Sydney you guessed it no suitcase. I reported it to the lost baggage counter (which was very busy, and full of only people from Heathrow who did not have suitcases something that is common I must admit on my many travels from that airport over the years.
Anyway I was meeting old time colleague from Grimethorpe Band Andrew Snell and was a bit concerned when I could not find him. Anyway I went to report my lost baggage and get some compensation but then realized I would need Andy's address for the luggage to be forwarded to.

So far no clothes, no music, no lift, no Andy and nowhere to stay!
I gave all the details I good and just as the next customer was about to push in, Andy arrived so I quickly asked for his address so get the luggage forwarded on.
It's now 8am in the morning on Wednesday 13th October and fortunately I have nothing to do today but rest and wait for my clothes to arrive. As my luggage and music would not be here till tomorrow the earliest and so a quick shop for underwear was necessary as I did not fancy turning inside out again the pair that I had worn since leaving on Monday 12th Oct.
I then met Andy's family Lindsay his lovely wife and daughters Lucy and Amy and after a practice to get rid of the jet lag ran through a duet called 'Trombone Institute of Technology' to be played at a broadcast on Thursday morning.
---
Thursday October 14th:
Guess what the luggage will not arrive till Friday so I now need to buy a shirt and trousers as Andy's tracky bottoms and t-shirt will not be a pretty sight for tonight's recital as well as a pair of shoes.

How I love being an international man of mystery.
With a black shirt and trousers sorted and shoes I then had to find some music. Fortunately due to sheer laziness I had emailed many of the piano parts to Andrew so the pianist could check through before hand, and some of the solo parts were also included.
All I needed to find was a classical piece of music and a cornet air-varie to have a complete 40 minute recital.
After a little bit of surfing the net and ringing a number of local players I managed to find a number of pieces that gave me a total of about an hour's worth of music.
The rehearsal and recital went fantastically well considering some of the music I had not played for many years and this was mainly due to the excellent accompanying of Cheryl Oxley.
The pieces I played included new commissions for the tour including Philip Sparke's 'Capriccio' for trombone, 'Meditation from Thais', 'Demelza' by Hugh Nash, 'Bride of the Waves' by Herbert Clarke, 'Thoughts of Love' by Arthur Pryor, 'Someone Cares' by John Larsson and 'Shout' and 'Blue Jeans' by Rob Wiffin.
---
Friday October 15th:
Friday involved a relaxing morning and then a workshop with members of the conservatory as well as players from the locality.

I worked through a version of Elgar's Pomp and Circumstance as well as discussing warm ups, a practice routine, high register, note production, improving your sound, legato playing intonation as well as answering many queries about the specifics of the music and the arrival of my suitcase!
On the evening Andrew Snell drove me back up to Sydney for a rehearsal with Holroyd Band, and played through 'Bride of the Waves', 'Fantastic Polka', 'Smile', 'By the time I get to Phoenix' and 'Tango' by Gavin Higgins.
I then stayed over enjoying the hospitality of the Abkiewicz family using the advantages of modern technology in using the laptop to ring home and keep in touch via facebook and then get a good night's sleep.
---
Saturday October 16th:
Saturday involved a workshop in Sydney going through very similar aspects to the day before and then went straight into the concert after a short rehearsal with Holyroyd which was fantastic, especially the performance of Gavin Higgins 'Tango'.
After a relaxing coffee I then had a lift to the airport and managed to get compensation for my suitcase going missing, but then ended up paying excess weight fines due to buying extra clothing from a lack of suitcase in Wollongong. As you can imagine I was delighted to have to give the money back to Quantas.
I arrived in Melbourne late on Saturday and was met by Broden Ford percussionist of Kew Band and son of Mark Ford Kew's illustrious conductor.
---
Sunday October 17th:
Sunday was a "ripper" of a day a two hour rehearsal on pieces for the FAB contest the following weekend after racing to the rehearsal with Footscray and Yarraville Band, the Melbourne Staff Band and the trombone Section of the Royal Australian Airforce Band.
I played eight solos back to back and then performance in the concert and hence was exhausted by the end of it.

I was then picked up to go back to the rehearsal with Kew and was relieved to find that the sectional was to be postponed.
---
Monday October 18th:
This was my first day in Wesley College in Melbourne where I was artist in residence for two days.
After meeting a number of students and getting a tour I then worked with year 7 pupils introducing them to the trombone and performance and working on a piece with the whole group ensemble.

I then over the next two days worked with many of the pupils from year 10 to 6th form on solos they were preparing for the concert on Tuesday night.
The standard of performance was exceptional and it was a thrill to work with some many talented young players, the highlight was a performance lesson with a year 10 class who were very well versed in performance and preparation and we had a very high level discussion about performance techniques and mental preparation.
That evening I had a rehearsal with a fantastic accompanist Jodie Lockyer for the concert on Tuesday and also with the Kew band at their temporary borrowed band room in the Boxhill area of Melbourne before getting home for a rest.
---
Tuesday October 19th:
After more individual lessons at Wesley College and another year 7 class 4pm was a chance to run an ensemble work for the concert with the Glen Waverley campus brass group.
Again there was high attention span and lots achieved and the soloist has a chance to run through theirs pieces with members of staff accompanying.
The concert went exceptionally well with mums and dads being impressed by what was on offer.

I also played a couple of pieces to the audience and must admit after being on the go for just over a week and jetlag finally catching up I was exhausted by the end of the concert.
---
Wednesday October 20th:
This was a well earned day off. I slept in until 10am and then got up to get the essentials out the way, washing ironing, making lunch etc and a bit of practice as everything had been performing and rehearsing up till now.
I had also picked up a bloomin' cold and due to perhaps drinking the local tap water things were also beginning to run from the other end (won't expand on that).

That evening another Kew Band rehearsal was to take place and I was given a lift courtesy of Broden Ford percussionist with the Kew Band who always has some entertaining stories for me.
---
Thursday Oct ober 21st:
Yet another day off though it was necessary to do a bit of shopping such as shorts and T-Shirt for the Queensland dry climate and pick up some mutes for the contest, I also had a trombone sectional and a private lesson at the venue for the rehearsal which happened to be the school I was resident at for a couple of days so worked out well.
Conductor Mark Ford put some finishing touches to the test piece and entertainment program before we headed back to Caroline Springs area of Melbourne.

Back at the Fords an early night was necessary as we were to be off at 4.15am for the flight.
---
Friday October 22nd:
We just made the flight to the Gold Coast as the airport was extremely busy at that time in the morning. In getting to the hotel at Coolangatta, Tweed Heads near the Gold Coast (what a great name), I was fortunate after breakfast to be able to get to my room and relax. Had a sleep more practice and a look around the resort.
What a beautiful place the sand was the finest I had ever seen and felt and the waves rolled in onto the coast.

The temperature was about 20-25 degrees so perfect for a pom like myself. A reception took place at 7.30pm that evening.
I was still feeling a bit crook as they say over here and so had another sleep in the afternoon to try and beat the cold and other issues.

I managed to get along to the reception by 8pm and was treated to dinner by Dennis one of the solo cornet players who cooks a mean Carbonara.
---
Saturday October 23:
We had another rehearsal for the test piece this morning and Conductor Mark Ford went through 22 points for improving the piece.
The standard of band playing in Australia has rocketed over the past 10 years and with fine bands such as Woolston from Christchurch in New Zealand, Excelsior from Brisbane and Gunnedah Shire Band from near Sydney there would certainly be no room for complacency and Kew were defending champions for the set test piece element of the competition.
The performance on stage went to plan and the band seemed pleased with the playing on a number 7 draw.
Many players were still being flown in that morning to rehearse with bands so I managed to hook up with more people I have not seen for a number of years after the first days contest.
In the evening for the first time there was an invitation aria competition called "A Night at the Opera" many of the country's finest competed for the title of Aria champion and this was won by Graham Hickman from Woolston Band who played 'Ave Maria' from 'Euridice' by Giulio Caccini arranged by Sandy Smith, it was adjudicated by Professor David King and David Horsfield
Special commendation was given to Phil Johnston also from Christchurch and Paula Russell from Brisbane.
It was a very high standard of playing and it was lovely to see flugel player Dominic Longhurst who at only 14 years of age was competition with the finest in the continent. I had met Dominic whilst playing with Holyroyd Band the previous week.
---
Sunday October 24th:
This was the day for the entertainment program and at this stage none of the bands know where they have come for the previous days contesting.
The entertainment contest was indeed a spectacle and in-between playing for Kew I managed to see Osaka Band from Japan, St Marys Band and Gunnedah Shire Band perform.

There was again a high standard of playing and entertainment and Kew Band came off buzzing it was a thrilling 30 minutes of music making and I had a feeling the band were going to win.
When the results came out some hours later and the odd glass of Sambuca I was shocked to win the soloist prize whilst Gunnadah Shire Band won the test piece and Brisbane Excelsior the entertainment prize with Kew coming in 3rd in the test piece and 2nd in entertainment, so it was a little disappointing for Kew.
I did point out it was better than 8th at the National Finals in the Albert Hall this year.
---
Monday October 25th:
After a great weekend the flights to Melbourne were fortunately not till the afternoon and after some rumours the airport was shut the Ford family and myself finally got back to Melbourne.
I spent most of the day writing up this report. Come back and read the next exciting instalment very soon, as I travel to Adelaide and Perth!!!!