2010 British Open Solo & Quartet Championship - Dukinfield revival?
31-Oct-2010
4BR Editor Iwan Fox looks forward to a revived event with an international flavour in Dukinfield.
---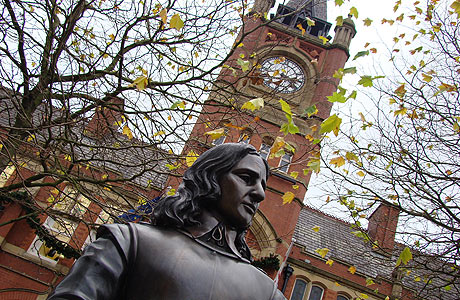 Dukinfield awaits for the increased list of 2010 entrants

It's not only the economic soothsayers who are proclaiming that revival is in the air.
Things are also looking up for the British Open Solo & Quartet Championships – although just like Government advisors, there are still quite a few fingers crossed behind backs that the inflationary rise in numbers taking part this year at Dukinfied Town Hall is not merely the prelude to a double dip recession in years to come.
Even with the prospect of possible cut backs in local authority funding, the support of Tameside Metropolitan Borough Council has been vital in providing the financial foundation (over £4,000 in prize money) for the championships to flourish.
The commitment to the event of the British Open Championships, and especially the band of volunteers from the North West Counties Brass Band Association (not forgetting the great accompanists) also ensures that the day runs smoothly.
The championships have head their ups and downs ever since the Morris Motors Band started them way back in 1944.
Bomber Command
The first competition was for quartets only and attracted 17 entrants, including one from RAF Bomber Command (a real sign of the times), but over the intervening years, additional classes were added so that by 1961 individual players could battle it out for the prestigious title of Champion Soloist of Great Britain.
There have been some great performers who have managed to claim these 'National' titles too – from the famous GUS and Black Dyke quartets to legendary triple champion James Shepherd.
More recently, other notable performers have also made their mark at the various competitions, including 'Senior' champions, David King (1991), Peter Roberts (1988 & 1999) and Sheona White (1994), as well as others who first came to prominence as Junior or Intermediate victors, such as Richard Marshall and Owen Farr.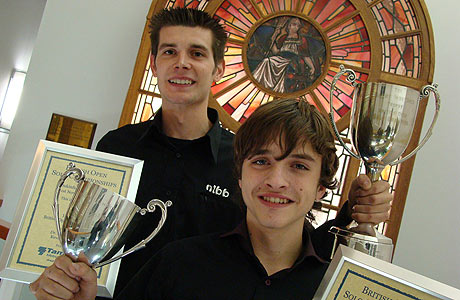 Brilliant Belgians - 2009 champions Jef Vermeiren and Lode Violet

2010 event
The 2010 event is made up of five sections: The Senior Open Solo, which this year has attracted 36 entrants; Intermediate Slow Melody (21 entrants); Junior Slow Melody (6 entrants); Senior Quartet (13 entrants) and Junior Quartet (4 entrants).
Over the past few years the competition has attracted great interest from Europe, with the current Senior Championship title held by the Belgian cornet player Jef Vermeiren of Noord-Limburgse and the Intermediate Slow Melody title in the hands of cornetist Lode Violet of Brass Band Willebroek.
The Brits are fighting back though and who knows, future brass band stars of the 21st century may have taken their first steps here such as defending Junior Slow Melody Champion, trombonist Gemma Riley.
Prestige
Such is the prestige of the event that competitors come from further afield to take part, with a long standing recirpocal agreement with the famous Ern Keller Competition in Australia seeing their champion fly to these shores, whilst the Senior Champion makes the return trip a few months later.
This year it's the talented Bruce Myers (no stranger to these shores in fact) who makes the long haul trip over from Australia to fly the antipodean flag (although he is not alone this year with a couple of Aussies and a New Zealander in the Senior competion line up)
Senior surge
It's the Senior competition that has seen a huge surge in interest this year (up from 23 entrants in 2009), and the preliminary round that sorts out the individual instrument champions and six qualifiers for the Senior Final should be a corker.
There they will be joined by defending champion, Jef Vermeiren and Bruce Myers.
There is a real international flavour too, with entrants representing bands from New Zealand, Belgium, Wales and England, whilst it is also great to see players from some of the top ranked championship bands putting their reputations on the line – Brighouse & Rastrick, Fairey (Geneva), Rothwell, Desford, GUS, Tongwynalis, Leyland and Hepworth to name but a few.
The fancied Brits to possibley look out for include Matthew White, the current BBC Radio 2 Young Brass Musician of the Year, Rothwell's principal cornet James McCabe, Brighouse's rising young horn player Jonathon Bates, euphonium stars Brendan Wheeler and Martyn Patterson and many, many more.
The strong European challenge comes from the batch of talented Belgians led by last year's runner up Harmen Vanhoorne, whilst Byron Newton proudly represents the 'All Blacks' of Pelorus Trust Wellington.
Plenty of talented performers for David Roberts and Thomas Wyss to sort out then, whilst Dr Nicholas Childs and James Scott (a former Air Vaire champion here himself) will have the difficult task of picking the eventual 2010 champion.
Intermediate Slow Melody
The Intermediate Slow Melody competition will see Phil Bailey and Katrina Marzella pick out five finalists from an encouraging field of 21 talented entrants, who will go forward to battle against reigning champion Lode Violet in the final.
This year the competitors come from as far afield as Belgium and Wales as well as a little closer to home and bands from Yorkshire, Lancashire and the West of England.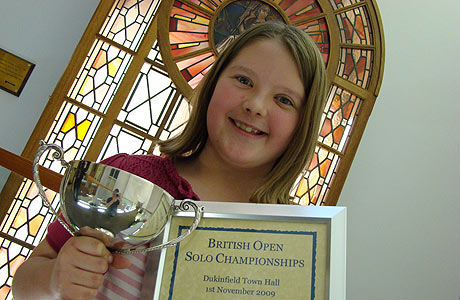 Winning smile for 2009 Junior Champion, Gemma Riley

Junior Slow Melody
Phil and Katrina will also be busy picking out the 2010 Junior Slow Melody champion, from a small, but highly talented field of six young players battling for the title, which will be defended by 2009 winner Gemma Riley of Wigan Youth.
Junior Quartet
Although there are only four entrants in the Junior Quartet section, there should be plenty of quality playing for Phil and Katrina to enjoy as Brass Band Hageland from Belgium pit their talents against a strong English trio of Shaw Youth, Milnrow Youth and Shirland Welfare.
Senior Quartet
Finally, more good news in the Senior Quartet section as Dr Nicholas Childs and James Scott can sit back and enjoy no less than 13 entrants.
What was once looking like a dying artform is looking much more healthy again as defending champion Hammonds Saltaire look to retain their title against some pretty diverse rivals from home and abroad, established bands and music college and conservatoire ensembles.
It all kicks off at Dukinfield Town Hall this Sunday 7th November at 10.30am (draw at 9.30am) when the first of over £4,000 worth of prizes will be decided with the preliminary round of the Senior Solo event.
Iwan Fox