Scottish Brass Band Association Conducting Course - Direction by design...
21-Oct-2010
Scottish brass band conductors took a well designed step into the 21st century in Perth under the guidence of Roger Webster and his team of tutors...
---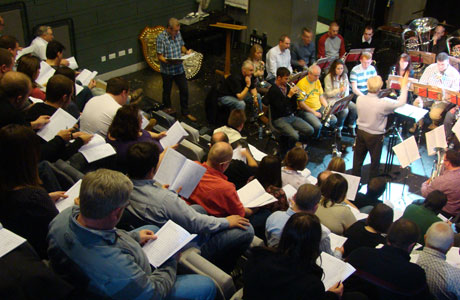 Scores at the ready for the SBBA delegates in Perth

As one delegate to the Scottish Brass Band Association Conducting Course in Perth last weekend so succinctly observed - why is it that so many people become brass band conductors by accident rather than design?
And what's more – as the 4BR Editor himself noted - why is it that it that once again Scotland leads the way in making every effort to harness that latent accidental talent for the benefit of its own bands?
Answer

The answer to the first question may have remained tantalisingly unresolved on a highly enjoyable practical weekend at the Millennium Institute of Perth University, but the second certainly was.
True to its inventive heritage, Scotland is once again leading the way thanks to the desire of its members to put something back into the banding movement north of Hadrian's Wall.
The immediate benefits of two days of innovative presentations, practical guidance, individual tuition and thought provoking debate will be seen when the 36 delegates return to their bands – bands that range from Championship Section to Youth. Some of the prospective conductors in fact had no band to go back to at present - an indication of the growing enthusiam for all things banding in the movement here.

What the longer term benefits of instituting what is hoped will become a regular educational initiative will be though are incalculable.
The Scottish Brass Band Association is ensuing its long term future will be one that is vibrant, youthful, sustainable and full of down right bloody good players, conductors and administrators.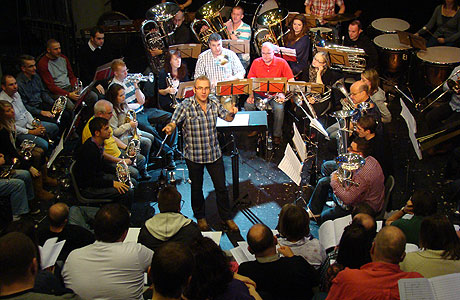 Porthouse pointers: Tredegar's MD leads delegates through Battle Creek

Ideal venue

Perth's University campus provided an ideal venue for the weekend's activities, led by Course Director Dr Roger Webster, with tutors Ian Porthouse, Philip Sparke and Frank Renton.
Prior to the course, delegates were asked to complete six on-line modules prepared by Roger, and as he expected, the responses, were varied – an immediate indication of the levels of skills and expectations to be found in 36 enthusiastic, talented, but somewhat apprehensive conductors.
After brief introductions by SBBA Development Officer Alan Edmond, Saturday began in at the deep end, with British Open winning conductor Ian Porthouse and the Kirkintilloch Band leading a session geared towards practical rehearsal technique on a top section set work – Philip Sparke's 'Music for Battle Creek'.
Ian's personable approach (and the band's sympathetic, skilful response) enabled the 'volunteers' to enjoy what was a daunting task.
Although the piece itself was one that takes some playing, in pure conducting terms it is fairly straightforward – and it was encouraging to see even the most inexperienced conductor gain confidence even after the briefest of moments under close quarter scrutiny.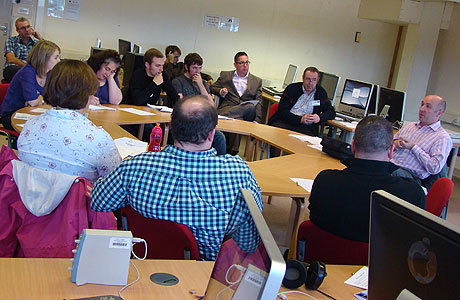 Inside the mind: Roger Webster leads the session on player psychology

Breakout time

After lunch it was 'breakout time', with delegates split into two groups – one to enjoy Frank Renton's inimitable approach to the practicalities of conducting technique, and the other to find out more about the fascinating world of performance psychology and multiple performance personalities by Roger Webster.
Frank's approach was an eye opening in more ways than one – from detailed explanations on the control of beat patterns and subtle stick technique, to tongue in cheek tales of how to succeed in controlling a band through bravura, bluff and down right exhibitionism.
All through, the players of Kirkintilloch (and a few deps) played their part in the process with admirable professionalism, even when some delegates were starting to flounder a little.
Meanwhile, Roger was getting inside the heads of players so to speak; and a fascinating session it was too. At its conclusion, everyone left with the blinkers lifted from their eyes and a real understanding to what makes performers 'tick' – or not, as the case may be.
More confident Scottish players as well as conductors will not be in short supply come contest days after this weekend.
Enlightening

With a reversal of the groups in the afternoon, Frank Renton and Philip Sparke undertook the final sessions on the art of presentation, and an enlightening discussion on the thorny old chestnut of why in fact we like to compete against one another.
This was Frank in his element: From the use of Wikipedia to buff up your musical facts, to instructions to your tailor to take in the sleeves of your bespoke jacket as not to spoil the cut of your jib when conducting a band: It veered from the fantastic to the fantastical.
Not everyone was perhaps enamoured by some of his thoughts it must be said – but that's Frank in a nutshell. You do wonder just how many Edinburgh tailors will be inundated with requests for a nip and tuck job on a £150 off the peg Marks & Sparks suit though.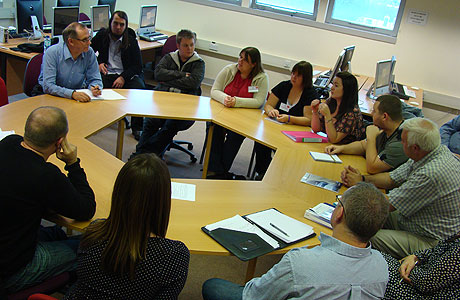 Reserved round table: Philip Sparke gives an insight into composition

More reserved

Philip's session was understandably more reserved and thoughtful, but his low key approach really did bring out plenty of fascinating opinions and ideas about a topic that in fact underpins the very existence of the brass band movement: Just why do we compete against each other in making music.
With time for the groups to be reversed all that was left to close the first day was for an informal chat, before the delegates headed home and the tutors enjoyed a slightly surreal meal at the small town of Blairgowrie's finest Indian restaurant.
Bright eyed and keen as mustard, the delegates streamed in on the Sunday morning for a quick cup of coffee and a chat before the opening session led by Ian Porthouse, who once again provided practical rehearsal guidance, this time geared towards youth banding, with the help of members of the National Youth Band of Scotland.
And once more, Ian's easy rapport with delegates and players enabled him to lead an enjoyable session full of encouragement, that saw the conductor's 'sight read' three pieces with the band – with the march 'Praise', the upbeat 'Valero' and the atmospheric hymn like concert piece, 'Smile'.
Immediate results

The immediate results were clear to see as delegates reacted positively to Ian's sympathetic observations and guidance, and the young players of the youth band performing with ever increasing confidence under unfamiliar direction.
With Frank Renton providing plenty of mental food for thought in the pre lunchtime session with his views on adjudication and adjudicators, the welcome M&S sandwiches at the break were wolfed down amid plenty of high octane chatter.
After lunch Ian once again led the 'volunteers', with Frank providing his observations on what could be described as 'the finished article': The conductor's first preparing the band on a chosen piece, before imitating the opening to a concert performance; complete with entrance stage right, short introduction, performance and acceptance of the applause.
As cameo appearances go, it encapsulated everything good, bad and sometimes a bit individual, from what they had learnt over the two days: Every delegate was a mini revelation though – growing into their somewhat unaccustomed role with blossoming stature.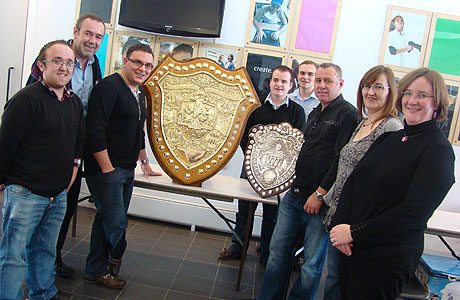 Potential British Open winning conductors? Delegates pose with the Open Shield

Super session

The final part of the day saw Philip Sparke lead a super session highlighting just what it takes to compose a modern test piece, complete with trenchant thoughts on the thorny questions of part swapping, re-writing and down right cheating, whilst other delegates had the opportunity to work individually with tutors on specific areas of concern or interest.
That just left a final opportunity for helpful feedback (including innovative ideas on continued mentoring and the formation of a SBBA conducting development committee) before Alan Edmond led the presentation of well earned Course Certificates and awards.
The first Scottish Brass Band Association Conducting Course had come to an end, but the first building blocks to ensuring brass band conductors in Scotland will continue to flourish through design rather than accident, had certainly been taken too.
Iwan Fox