2010 Pontins Championships - Harry & Margaret Mortimer Championship retrospective
28-Oct-2010
Glyn Williams showcased all his talents in leading Marsden to victory at Pontins...
---

The winning Managing and Musical Director...

There are many talents required to become a successful top class brass band conductor: The musical skill set speaks for itself; it's the bureaucratic ones that are perhaps a little less obvious.
And as Glyn Williams reflected on Marsden's Pontins triumph, he will have taken immense satisfaction that the Harry & Margaret Mortimer title and £3,000 first prize were won by a very astute mixture of both.
Necessity and design

Asking for a bit of contesting help is one thing – ensuring that it is used correctly, quite another: Necessity and design were the key words to describe the MDs skilful appreciation and subsequent mastery of the musical challenges posed by James Scott's severe choice of test piece with 'Les Preludes'.
Purists may argue against contest rules that allow for up to five top class players to help a band compete here, but they will be missing the point: Rules are rules – its how you implement them that count.
Marsden's victory (described by the adjudicator's as 'quite outstanding') was fully deserved on a day of disappointing mediocrity. Their MDs ability to craft a solid, workmanlike winning performance was hallmarked by an intuitive musical approach based on an intelligent appreciation of his contesting needs.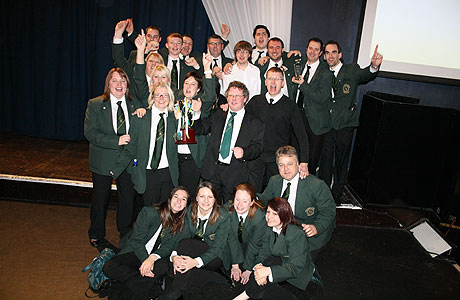 Prelude to a night times celebration for Marsden...

Cleavage

It may have been a victory that reminded you of Dolly Parton's cleavage – uplifted from its natural level by additional inserts – but the end result was still just as impressive to behold.
Glyn Williams knew the score in more ways than one (he played the piece with Foden's under Bram Tovey at the British Open), so he also knew his somewhat depleted band needed help if it was make a realistic successful assault on taking the title.
And so he asked some friends to help out: Martin Irwin on soprano, Mark Wilkinson and Nick Lees on cornet, Simon Gresswell on Bb bass and his wife, Helen on flugel.
It was a very astute piece of contest administration work – further enhanced by that intelligent use of the resources on the contest stage itself.
Using two sopranos was a sensible option (and no different to Tredegar winning the British Open using five basses) – allowing a selfless Dale Garner to work in tandem with Brighouse's Martin Irwin – both playing their parts with intelligent appreciation of each other's abilities.
The subsequent 'Best Instrumentalist' award may have seemed a little unfair to the purists, but it was hard to argue that between them they played a horrendously difficult part superbly well.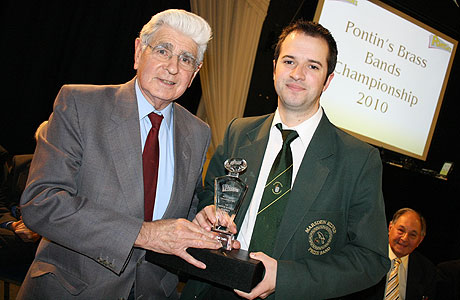 Team player: Dale Garner picks up the Best Instrumentalist Award

Resourcefulness

More resourcefulness from the MD ensured that Marsden's performance was dynamically controlled and paced, allowing for musical flow and no juddering changes of tempo.
It still had its moments of uncertainty and unforced errors, but by its close had become a very solid and deserving championship winning rendition. They left the rest of the 15 band field in their wake.
With the exception of the four prize winners (described by the judges as 'excellent'), the remaining bands will have left Prestatyn with a clear indication of just where they stand in the general scheme of top section banding.
The stark reality was that on this particular, albeit, severely testing evidence, nearly all of them are true Championship Section bands in name only.
Dr Roy Newsome and Major Peter Parkes wouldn't have had the most difficult of tasks identifying the winners, with perhaps a discussion or two about the remaining prize winners.
However, they would have needed the wisdom of Solomon mixed with the forensic abilities of the local Prestatyn CSI unit to have placed the rest in their easily identifiable final resting places. In the end they did a difficult job, very well.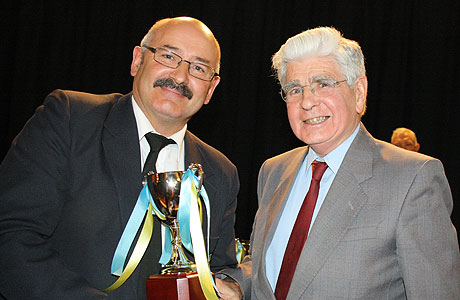 St Dennis delight at second place...

Rudiments

Roy made telling comments about the conductor's abilities to identify the 'rudiments of music'; rudiments that included the understanding of musical instruction, dynamics and technical challenges – an andante from an andantino, a true forte from a fortissimo, and even the correct notation of a trill.
He cleverly displayed the diplomatic skills of Koffi Annan: The stark prosaic reality was that all too often MDs employed brashness, bluff and bugger all appreciation of the Bram Gay transcribed score.
How so many couldn't control the kamikaze tendency of their banzai soprano players was mind numbingly depressing. Notable contributions (especially that shown by Marsden's sop duo) intelligently enhanced band's performances; others put in passable impressions of The Who's 'Pinball Wizard' – deaf, dumb and minim blind.
Whacking out top Ds and an Eb at the end of unimportant filigree runs was merely a display of adrenaline fuelled machismo – but to hold onto them like a fruit bat hanging off a coconut vine? Simply brainless.
The same applied to the lip mangling fortissimo work littered throughout the piece – an excuse to blow the balls off a pawnbrokers sign. When it came to the quiet stuff, few had the skill set to do what was written on the part – even with the help of a totally inappropriate practice mute.
That's said, a number emerged with reputations enhanced (including those from St Dennis, Jaguar, Northop, Ashton and BTM) but elsewhere some players will need to take a long, hard look at themselves in the mirror. Kamikaze pilots rarely enjoy long term top flight careers.
Clearly defined

With Marsden stamping out such a clearly defined victory, the battle for the remaining prizes was more difficult to differentiate.
In the end a well managed account from St Dennis set the bar off the number 1 draw that only Marsden could clear as the contest unfolded in the dead acoustic of the inappropriately named 'Fun Factory' Ballroom.
And despite the best efforts of a squealing baby (who certainly didn't sound as if they were having any fun at all) Darren Hawken led his young band through a confident performance to claim the runner up spot, with boldly coloured sections balanced by delicately hued quieter ones.
It was the deserved prize winning sum of some well put together parts.
So too Jaguar (Coventry) in third, with Dave Lea benefiting from excellent soprano and solo cornet work, and solid, balanced ensemble backing to enhance his well thought out interpretation of the score. A podium finish was richly deserved.
A delighted Blackburn & Darwen showed that it continues to make solid progress under the baton of Nick Sheppard by claiming fourth place. A no nonsense approach to dynamics and tempi was backed by solid execution to ensure that last year's First Section champion took another significant step forward in their ongoing development.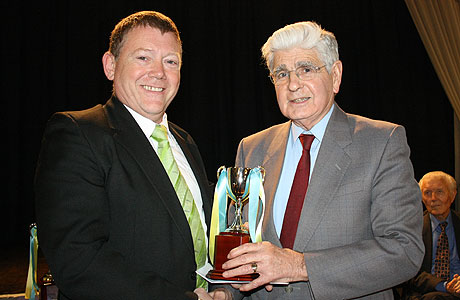 Big cat smiles for third placed Jaguar

Mediocrity

Behind them came varying degrees of mediocrity – mostly due to the fact that the test piece was just too difficult for bands without the personnel (their own or borrowed) to overcome the technical challenges of such a demanding score.
'Les Preludes' remains a British Open level work, although it was still hard to make a persuasive argument for a number of these performances to be described as true championship standard.
Wakefield Metropolitan benefited greatly from a well judged lyrical interpretation by Norman Law to claim fifth place, whilst Ashton under Lyne's bravura account under Martyn Evans had its moments good and bad to come sixth.
These six bands will know just how much hard work and development lies between them and their true Championship Section peers though.
Northop could count themselves a touch unlucky to have ended in seventh – although they may have come unstuck with a few of the tempo choices employed by Thomas Wyss, whilst a damaging error count cost Staffordshire the chance of a top six finish after a well paced account under the direction of Huw Thomas.
Any order?

The rest could have come in just about any order – although Norfolk will know that they had been tested to the very limit in coming 15th.
BTM's technically secure, yet dynamically incoherent account under Tom Davoren was a bit of an oddity. So much good individual work and a well judged reading lost out to pronounced unevenness in the ensemble balance – to such an extent that in the end the judges placed its 14th. A little unlucky perhaps, but a lesson learnt.
Their performance was mirrored somewhat by Newstead in 11th – with some of the dynamic levels completely at odds with the score. The climax of 'Les Preludes' does come very late in the piece – but this took a heck of a long time to reach the boil.
Juggling the merits or otherwise of Old Silkstone, GT Group Peterlee, Friary Guildford and Pemberton was an almost impossible task.
These were performances blighted by enforced errors, poor ensemble balance, some pretty unintelligent individual playing and nerves, that they could well have come in any order.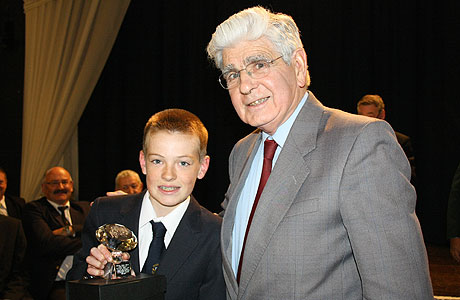 Youngest player James Dowrick of St Dennis claims his prize

Disappointment

Pemberton was a major disappointment for a band that just missed out on a place at the British Open this year – never recovering from a terribly uneven start.
Friary went for it in more ways than one and came a cropper, despite the MDs best efforts to keep a lid on the dynamics, whilst the same certainly applied to GT Group Peterlee, who were at times an incoherent amalgam of individuals rather than a cohesive ensemble. Old Silkstone was another band that found the piece almost beyond them.
No such problems for Marsden however, as their victory on Sunday went a considerable way to show that the title MD, in brass band contesting terms, should really stand for Managing, as well as Musical Director.
Iwan Fox