2010 Pontins Championships - First Section retrospective
28-Oct-2010
Homework and dark edged playing gave Jackfield the First Section title on Darrol Barry's new work..
---

Flamborough celebrations for Jackfield (Elcock Reisen)

Contesting bands will be getting to grips with a great deal more of Darrol Barry's music over the next few months.
If 'Flamborough Seascapes' is anything to go by, then they will be in for a treat.
Inspired

Inspired by the rugged Yorkshire coastline to be found between Filey and Bridlington, it's a darkly evocative work, and which asked a great deal of the small field of eight competing bands at Prestatyn on the weekend.
There had been a great deal of debate about the piece prior to the contest, with critics' suggesting that it was unsuitable for a First Section contest. They were wrong.
The work (which does not feature any descriptive foreword) is not what you would initially expect it to be from the pen of a composer who has made his name through a series well crafted lighter concert pieces: It has a disturbing, unsettling tonality, suggesting deep menacing undercurrents.
For instance, the demanding cornet solo is written specifically to portray a sense of desolation and mystery – not usually hallmarks of a composer more readily identified with upbeats rhythmic patterns and vibrancy.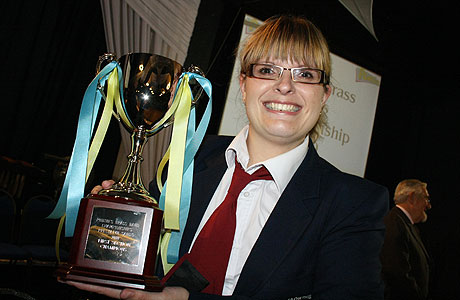 Plenty to smile about for Jackfield's band rep with the Pontins trophy

Imagination

It's a work that captures the listener's imagination, and whilst elements of its flow do remind you of other composer's water inspired imagery (the rolling semi quavers to start are reminiscent of La Valse by Smetana) it still has a vivid quality that is specifically realised.
Flamborough itself is well worth a visit, and so too is this piece.
Engaging contest

Each of the eight contenders brought something out of the score in what was an engaging contest from start to finish.
The adjudicator's later spoke of the need to try and capture a viscous quality of musical flow, balanced with an ability to quickly return to calmness even after the most vicious disturbances.
Both Kevin Wadsworth and C. Brian Buckley know a thing or two about water (Kevin used to build boats and Brian is a water chemist) so it was hard to disagree about their detailed forensic explanations. Both did a fine job.
In what was a closely fought contest, they eventually plumbed for a boldly coloured performance from Jackfield (Elcock Reisen) as the winner – which came as a little bit of a surprise not just to the band's conductor, but to one or two listeners in the hall.
Honest appraisal

Simon Platford was of course absolutely delighted that he had led the Midlanders to victory, despite his honest appraisal afterwards when speaking to 4BR that both he and his band were a little disappointed by their efforts as they came off stage.
However, having done his homework on the Flamborough area (Simon hails from just down the coast himself), it was his ability to draw the darker timbres and that sense of brooding, menacing, at times evil atmosphere that won the day – something that Kevin Wadsworth certainly remarked upon later.
It was a quality performance helped by fine contributions from all the leading solo lines and that balanced, richly hued ensemble sound. Jackfield will head to the remaining contests of the year full to the brim with confidence and with the knowledge that perhaps there is even more to come from an impressively developing band.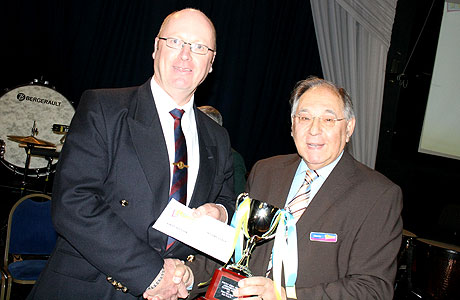 Second place for Staines...

Effective

Just behind them came the Londoner's of Staines, and whilst the band doesn't hail form an area too readily associated with rugged coastal atmosphere, you wouldn't have guessed it given the effective performance under the direction of Melvin White.
The MD always brings his bands to contests well prepared, and despite his lack of sleep following the birth of his daughter just a couple of days before the event, his players certainly delivered in fine style, expertly contrasting colour and tonality.

Oldham Band (Lees) will have left Prestatyn disappointed that their vibrantly coloured, persuasively shaped account under John Collins didn't quite capture the imagination in the box as it possibly did out of it. They are an increasingly impressive contesting outfit at this level though.
With some wonderful solo cornet playing a feature throughout, it was perhaps the poor intonation (especially in the opening) that cost them a chance to make it a hat trick of Pontins wins.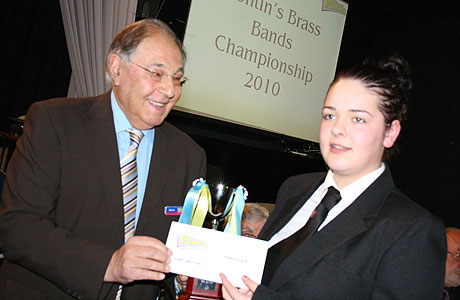 Third place goes to Oldham (Lees)

Well structured

Longridge on the other hand will know that a mounting error count undermined their well structured account under the baton of Mark Peacock.
There was a lovely sense of flow about the reading, but every now and again is rather juddered with some nasty moments of solo and ensemble fragility.
Wrexham came to the contest as the bookies favourites to take their third First Section title here (they won in 2003 & 2004) but it wasn't to be after a performance that was marred once too often by annoying unforced errors.
On a day when the adjudicator's also spoke about the darker undercurrents of the work, Wrexham's lighter sound seemed a little at odds with what they were expecting to hear portrayed.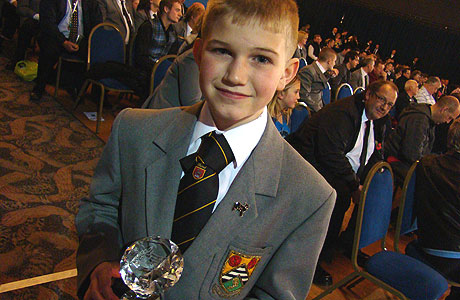 Youngest player Rhys Taylor of Longridge

Somewhat bland

Barton Town delivered a safe, but somewhat bland account under the baton of Garry Oglesby to come sixth.
There wasn't much wrong with just about anything they played technically, but musically there seemed to be something missing – that sense of dark foreboding that was so evident in the winners in particular.
Lindley too were perhaps in need of a little more risk taking to try and portray the darker aspects of the score. Neil Jowett laid out a secure, well paced reading, but whilst there was plenty to admire in the execution it was a performance that never quite captured the imagination.
Finally, City of Sheffield under David Holling set the standard off the number 1 draw, that although beaten by all of their rivals on the day was nonetheless a performance of merit that would have more than held its own in a bigger field.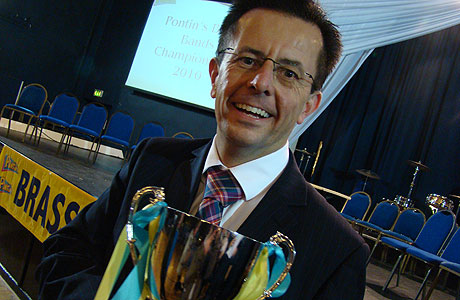 Homework pays off for winning conductor Simon Platford

Darker elements

As with Lindley, Barton and Wrexham it was that lack of a deeper, richly hued tonality that just undermined its ability to bring the darker elements of the score to life.
For Jackfield however, victory and the £2,500 first prize further confirmed their growing confidence under a talented MD, and their ability to perform well at seaside venues after their victory at Skegness earlier in the season. They can only hope that the Midland Regional contest is moved to Lowestoft for 2011.
On this form they would be dead certs for the title.
Dave Tinker