2010 Pontins Championships - Third Section retrospective
28-Oct-2010
Uppermill certainly likes coming to Pontins - with another two and half grand picked up for their fourth consecutive win at the event.
---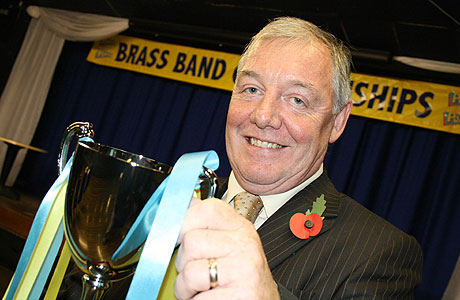 Four in a row for Widdop and Uppermill at Pontins

There cannot be any other band that looks forward to a wind blown October weekend in Prestatyn quite like Uppermill.
Four years in a row now they have made the trip to North Wales and claimed victory at Pontins under the direction of Alan Widdop. They have won close on £8,000 in prize money in the process. No wonder they are already booking their chalets for 2011.
Splendid fashion

A performance full of good solid brass band basics saw them retain their Third Section title (to go with the Fourth Section titles of 2007 & 2008) in splendid fashion on Philip Wilby's 'Partita for Band (Postcards from Home)'.
Adjudicators Dr Roy Newsome and Paul Holland described their rendition as a 'clear cut winner' and 'quite outstanding' – you couldn't disagree.
Their performance as the last band to play in what was an enjoyable contest was a delight – full of measured ensemble balance, secure, classy sounding leading lines (with cracking tenor horn leading the way) and intelligent direction. It was a worthy winner of the £2,500 first prize.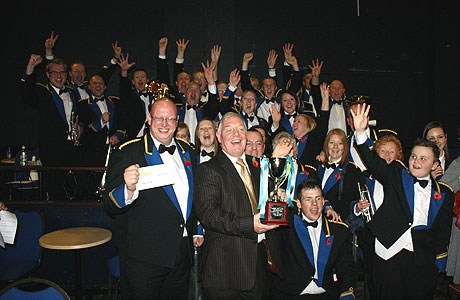 Another Pontins title in the bag for Uppermill...

Ample opportunity

Unlike some of the other set work choices on the weekend, the test piece gave ample opportunity for each of the competing bands to reveal their abilities – something the winners did in full.
The opening 'Towers and Chimney's' allowed for ensemble contrast and precision, whilst the following 'Lord of the Dance' provided the opportunity to play with real Salvationist brio.
The better bands brought an evocative sense of atmosphere to the 'Pastorale', whilst the 'Coronation Day' finale gave a chance to showcase the ability to play tricky technical motifs at a well judged pace.
Mastered all

Uppermill mastered them all and produced a warmly hued ensemble sound in the process too. The experienced Alan Widdop is developing a very impressive contesting outfit under his command.
There was much to commend in the majority of the other performances in the small 10 band field (although a couple did struggle).
Although the winners were a good length ahead of their rivals, the bands that claimed the prizes will all have left Pontins pleased with their efforts.
Hawk Green (Marple) produced a well managed account under the direction of Neil Hewson to claim second place, Hoover (Bolton) delivered a rendition full of vibrancy to come third, with Crofton providing a purposeful account under Tim Sidwell to come fourth.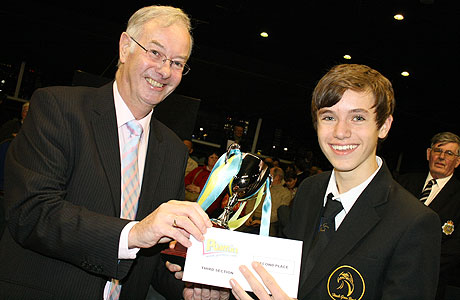 Second place goes to Hawk Green (Marple)

Best from rest

What separated the best from the rest was the usual crib sheet at this level of consistency – Uppermill delivering four movements all of quality, whilst those behind producing a more uneven level of execution.
The delivery of the various muted sections in particular caught the judges ear - or didn't in cases of bands who didn't play them loud enough, whilst the choice of a comfortable tempo in the finale (especially given the tricky motif for the solo trombone) also caught a number of bands out.
Hawk Green (Marple) started brilliantly, with a super cornet section leading the way. A bright, bouncy 'Dance' was played with fine sense of style too, but just as it seemed they were right in the hunt for the £2,500 top prize, a young band grew tired and they just faded to the finishing line.
Hoover's boldness just got the better of them in places, although Trevor Halliwell really brought a sense of melancholy to the atmospheric 'Pastorale'. The opening was perhaps a little forced, but the following 'Dance' was sparkling.

The 'Pastorale' set them up nicely, but a combination of tiredness and some fast flowing adrenaline just saw them lose focus to close.

There was much to admire in both performances – especially the intelligent direction of the MDs.

Third place is taken by Hoover (Bolton)

Neat control

Tim Sidwell also delivered a neat sense of controlled direction with Crofton as they opened and closed confidently (with fine sop and trombone in particular).

Just a slightly nervous 'Pastorale' cost them the chance of a podium finish. It was though a performance from a band that had obviously worked hard in preparation.
Behind the top four came a clutch of renditions that all had their moments – but as Paul and Dr Roy noted, lacked the extra sense of overall consistency.
Pemberton under Peter Ashley started well and seemed set to provide a real challenge for the prizes (with a fine solo cornet and second trombone solo dep), but just lost focus as stamina waned in the final two sections.
Meanwhile, Trinity Girls, sitting in what seemed a broad semi circle set up, also started confidently with bold trombones and soprano catching the ear, but too many unforced errors and that lack of finale stamina cost them the chance of a prize winning finish.
Lip stamina

Dronfield CMW was understandably a little short of lip stamina – having produced a fine account of themselves earlier in the day to come runner up in the Fourth Section.
With plenty of celebratory adrenaline still coursing through the veins they started well, but hit the wall in the third movement and just faded to the finish line. It was some effort though from John Davis and his band.
Shirebrook Miners Welfare opened the contest boldly, and seemed set to provide a good marker for the rest of the field to beat. However, an ambitious choice of tempo in the finale undermined their efforts and despite some good solo lines from the tuba and solo cornet, that last section cost them.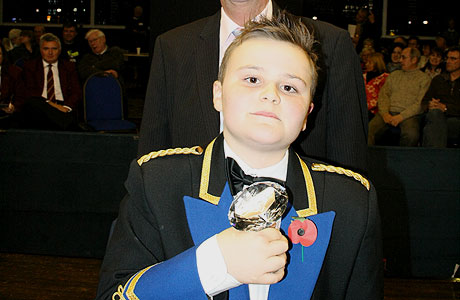 Youngest player Richard Blythe of Uppermill

Brave efforts

For Chalgrove and Ogmore Valley Silver, two brave efforts just failed to meet the challenging technical obstacles set by Philip Wilby's work.
Chalgrove's nerves were not helped by a reluctant father taking his time to flee the hall with a crying baby, but a slightly over confident percussion section just engulfed the detail in places. It was a performance that had its moments with plenty of evidence of a solid band in the making.
Ogmore meanwhile produced a spirited effort (especially as they were depleted in personnel).
It was encouraging to see their MD, Miss A Jones encouraging and cajoling her charges from start to finish, even when things did go awry, with a smile and nod of appreciation for their efforts. Better days lie ahead.
As for Uppermill's contesting days ahead?
The 4th/5th November 2011 has already been booked into the diary – a weekend that could well see them add an unprecedented fifth title to their Pontins CV if they play to this type of form again.
Iwan Fox