2010 Pontins Championships - Fourth Section retrospective
28-Oct-2010
Hazel Grove make it six wins out of six in 2010. No wonder they should start to bottle their contest winning ingredients...
---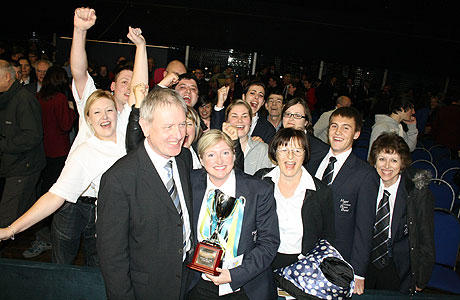 Six in a row for Hazel Grove...

Whatever contesting winning ingredients Hazel Grove has been mixing up in their bandroom over the last 18 months, they should get it bottled and sold to the rest on the brass band contest market place.

They won't be short of customers.
Since coming last at the 2009 Area championships in Blackpool the band has now notched up six successive victories – including the National Finals in Harrogate and now Pontins.
No wonder Nigel Beasley is a happy man – he has a fine band under his command. The 2011 contesting season cannot come soon enough, and even though they will be competing in the Third Section they will be a band to fear on this form.
Here they won the Fourth Section title with a classy aplomb.
Challenging

Alan Fernie's 'A Caledonian Suite' proved to be an engaging work challenging the bands and their MDs to not just get the basics right, but to also try and add a touch of Scottish flavour in the process.
Those bands that did just that were in with a real chance of being rewarded by Roy Sparkes and Major Peter Parkes – and on what turned out to be a highly enjoyable contest, there were plenty of bands who did just that too.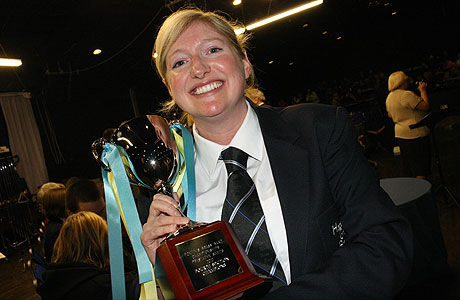 Another winning smile for Hazel Grove's busy trophy carrier...

Parkes and Sparkes

Both judges certainly enjoyed their time in the box with Roy making the point that at first glance the piece looked easier than it proved to turn out. As a result both men took their time in ensuring that that they reflected on all the 16 performances, before announcing their results.

The best and the strugglers were easy to sort out – the huge wodge in the middle (from about 6th – 13th) less so on what was an encouraging standard of playing throughout the contest.
Major Parkes praised the choice of the piece and echoed Roy's comments that there were 'some good ones and some bad ones'. Trying to put five consistent movements together proved problematic for a number of bands, so it gave the adjudicators a bit of a headache comparing and contrasting like with like.

Clear winners

Despite yet another early draw Hazel Grove once again left a major contest with the hands on the winner's trophy and a big fat cheque – this time for £2,500. Led with real musical insight by Nigel Beasley their confident playing was complimented by attention to detail and ensemble balance.
The dynamics were impressive and adapted to the acoustic, and the only thing that was going to stop them being named the winners was an exceptional performance from another band.
Some came close, but none close enough. Hazel Grove were worthy champions.

Competing in the first of their two contests during the day, Dronfield CMW and John Davis ran them closest with an impressive account that was lyrical and descriptive but also just contained a few too many little errors in execution. It was a fine effort though and well worth its podium finish.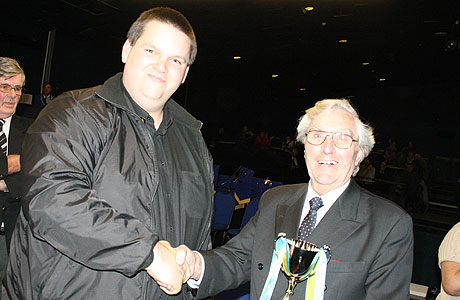 Second place for a busy Dronfield CMW

Consistent Besses

So too Besses Boys, who as at Harrogate drew last. And just like at the Nationals Jamie Holt's charges gave it their all, just losing a touch of focus in places to mean the difference between a potential victory and a well deserved third place.

Onchan Silver from the Isle of Man will have headed home thrilled with fourth place.
They produced a very light sound compared to the other fifteen bands, but brought the descriptive music to life thanks to a fine reading of the score by the MD, Paul Dunderdale and some confident ensemble playing.
Solid opener

Thurcroft Welfare delivered a solid marker on the stroke of 9.00am to claim fifth place, with plenty to admire throughout each of the sections of the piece, whilst Farnworth & Walkden under Peter Ashley produced an equally solid account of themselves to end in sixth.
Both bands will take plenty of encouragement form their performances here, with solid ensemble work backed by confident solo lines. They should be two bands to look out for in 2011.

Outside of the top six, the age old issue of consistency that caught too many out to varying degrees.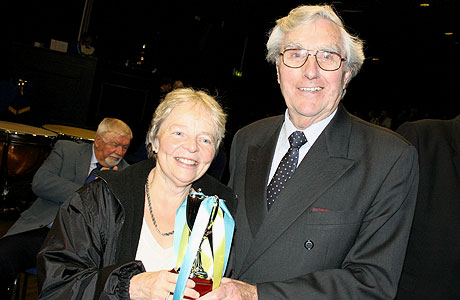 Third place goes to Besses Boys

Standing

Boarshurst Silver under David Ashworth opted to stand the cornets either side of the band in the opening movement before reverting to the traditional seating plan. Their performance was one of merit too with plenty of good work to admire, there also some uncertain moments that took the edge off a possible top six finish.

Below them the performances became increasingly inconsistent, with Nelson, Darwen and Blackley all having their moments, good, nervous, inspired, edgy and tired – although not all in the same order.
Each of the MDs never asked their players to try something they couldn't manage, and so it was more a question of execution than interpretation that saw them end in the midfield placings. There was very little to choose between them all.
Golborne meanwhile may have been a touch disappointed that their performance, that had lots to catch the ear, including some neat percussion work didn't finish higher than eleventh. Jason Smith has a solid band under his command on this evidence.

Littleborough Public and Cold Ash Silver both took time to settle, and despite growing in confidence as they progressed, perhaps left themselves too much to do to make any more of a mark on the results table than they did. There were many more plus points than minus ones however.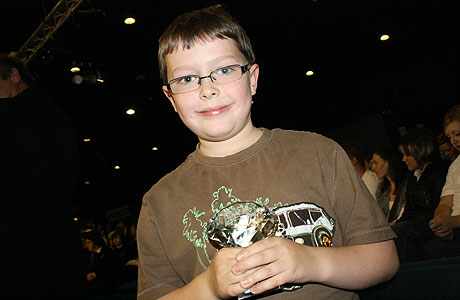 Youngest Player Gregory Halliday of Onchan Silver

Uneven but encouraging

That just left Worsborough Brass, Denton Brass and Barnton Silver, all of whom produced uneven, but encouraging performances.

The test piece certainly asked a great deal of all three, but it was good to see the MDs encouraging their players from start to finish and even better to hear young players growing in confidence as they settled into their performances.
There was plenty of good solid foundation work laid down here for the rest of this season and next.
There was no problems though when it came to the winner with Hazel Grove rounding off a cracking year with a title won in convincing style.
Malcolm Wood