2010 Pontins Championships - Harry & Margaret Mortimer Contest - Preview & Prediction
20-Oct-2010
Iwan Fox takes a closer look at the prospects of the competing bands at the Harry & Margaret Mortimer Championship contest on Sunday at Prestatyn.
---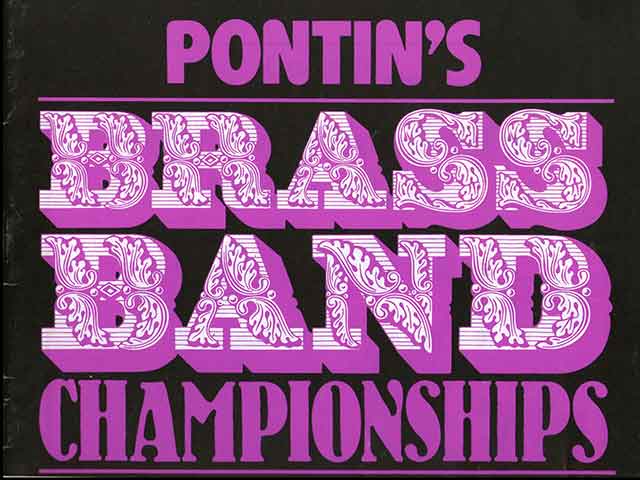 Harry and Margaret Mortimer Championship
Sunday 24th Ooctober 2010
Venue: Fun Factory Ballroom
Draw: Pre-drawn
Commence: 11.00am
Test Piece: Les Preludes - Liszt - Transcribed by Bram Gay
Adjudicators: Dr. Roy Newsome and Major Peter Parkes
First Prize: £3,000 + Commemorative Cup
Second Prize: £1,500 + Commemorative Cup
Third Prize: £800 + Commemorative Cup
Fourth Prize: £500 + Commemorative Cup

Special Award: To the Youngest Player in the Section
Best Soloist: The Arthur Bedwell Memorial Trophy
---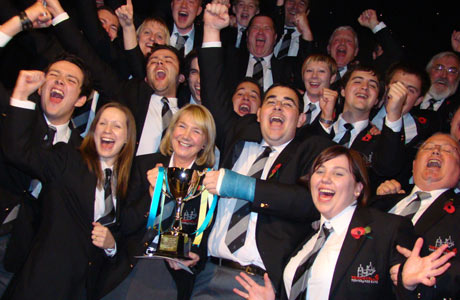 Tip top Ton: Tongwynlais took the 2009 Pontins title
Whoever ends up winning the £3,000 top prize on Sunday evening, will have certainly earned their money the hard way.
'Les Preludes' is one heck of a blow – and a stamina sapping blow at that. Technically as well as musically it's hard to say the least, with players (especially sopranos) needing lips made or corrugated iron, stamina of a dray horse and nerves of tempered steel.
Popular but not easy...

It's certainly a popular choice – but perhaps not with the performers who have to play it. When it was used at the British Open in 2001 it took a heavy casualty toll on a high-class field, and it fairly decimated the Grand Shield contenders in 2004.
It's certainly not as easy to play as the old William Rimmer version.

Bram Gay himself describes it as, '... a complete scoring of the work, several minutes of music having been restored at the cost of considerable added difficulty in performance.'

Bands, judges and audience can't say they haven't been warned
What to expect

What can we expect then at Prestatyn 2010 with a field that contains not a single current British Open contender and just five Grand Shield entrants? Four of the bands are not even at the Spring Festival.
There will be much for the two men in the box to chew over – and they don't come anymore experienced than Dr Roy Newsome and Major Peter Parkes.
That said, sticking two men in and around their ninth decade in a small box for up to six hours isn't something even the Americans do at Guantanamo Bay, so hopefully there will be a least a couple of comfort breaks to help them with their task in what can be a pretty hot and humid venue.
Picking a winner from the 15 band field will be a difficult task, but the quality should come through if the best outfits play to form.
Recent contesting form

The recent contesting guide has been a bit patchy, but going back a few months to Blackpool, the likes of Pemberton Old (who came 3rd at the Grand Shield) and BTM (who came 5th) should be confident of featuring close to the top of the podium.
BTM has tasted success here twice in the past (although it was back in the early 1990s) but enjoyed the benefit of a winning run out on the piece at Ammanford just a couple of weeks ago. Pemberton meanwhile has shown consistent form all season under the direction of Mark Bentham and could be due a big win.
The other Grand Shield runners are Marsden, who came 5th here last year but has had an inconsistent 2010 season, whilst Newstead come to the contest on the back of a classy win at the Bolsover Festival of Brass event. Meanwhile, Jaguar (Coventry) can always be guaranteed to put in a solid showing under Dave Lea's baton and are moving in the right direction this season.
Solid

Two bands with solid First Section credentials will be keen to make a point too.
Blackburn & Darwen took the title here last year and has shown that they have acclimatised well to the rarefied air of top section banding in 2010, whilst Friary Guildford enjoyed a fine National victory at Harrogate, although they may have been a touch undercooked at the recent SCABA event in Folkestone.
2004 & 2005 champions Staffordshire seem to enjoy their Prestatyn appearances (they were 4th in 2008) and have enjoyed promotion from the Senior Trophy earlier this season, whilst GT Group Peterlee has been successful at Buxton and Durham.
Solid progress

Old Silkstone and Wakefield Metropolitan competed in the First Section last year and have made solid progress since, whilst Ashton under Lyne has started to return to solid form under the baton of Martyn Evans.
David Stowell brings the emerging Norfolk Brass to the contest looking to make a serious mark, whilst Thomas Wyss and Northop make the shortest journey of all the competing bands as the North Walians look to build on what has been a promising season.
The longest journey though has surely been undertaken by St Dennis, who makes the trip up from Cornwall to see if they can continue to build on the progress made under the direction of conductor Darren Hawken.
4BR Prediction:
As for a winner?
If they play to the form they have shown on occasions this season the title could reside in South Wales for a third time at BTM, but Pemberton Old will be snapping at their heels for one.
Marsden are due a good contesting return, whilst Newstead, Northop and Friary Guildford should be in the mix with our dark horse of Blackburn & Darwen.
1. BTM
2. Pemberton Old Wigan DW
3. Newstead
4. Marsden
5. Northop
6. Friary Guildford
Dark Horse: Blackburn & Darwen