2010 National Championships of Great Britain - Championship retrospective
12-Oct-2010
4BR Editor Iwan Fox looks back at a day of high drama at the Royal Albert Hall.
---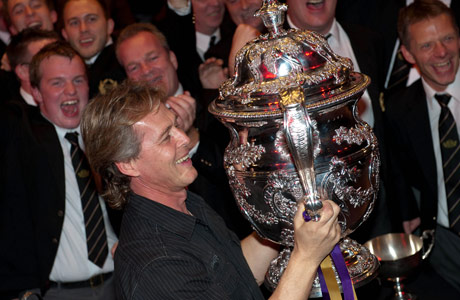 Well worth the wait: David King finally gets his just reward...
All photos by Ian Clowes - Goldy Solutions. Go to www.pbase.com/troonly/brass

As Peter Bates took his mischievously well timed pause before the announcement of the 2010 National winners, the vast majority of people in the Albert Hall were bracing themselves for an anticipated roar of Yorkshire celebration.
What they perhaps didn't expect to hear a couple of seconds later was the guttural sound of deep throated delight from fans of Brighouse & Rastrick - and not their hat trick seeking rivals, Black Dyke.
An enthralling contesting day that had unfolded with increasing drama had delivered a dénouement not even Alfred Hitchcock could better.
No great surprise

The declaration that the band from West Riding was the new champion was not a great surprise however – far from it.
A performance of control, cohesive structure and intuitive understanding led by Professor David King had found many an admirer in the auditorium – and not just in the box from David Read MBE, Chris Davis OBE and Derek Broadbent.
However, what made their victory more than intriguing was the fact that their Queensbury rival didn't even feature in the prizes - especially after Chris Davis spoke from the stage of three performances that were separated by the 'width of a fag paper'.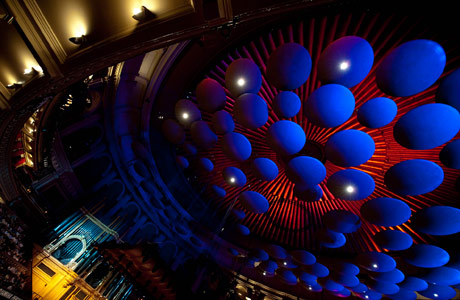 Even the mushrooms were nearly Brighouse purple on the day...

Intriguing though...

Even the most ardent non smoker in the hall seemed to think he was talking about a trio of Cory, Black Dyke and Brighouse & Rastrick – with the rest of the field, led by the likes of Fairey (Geneva), the bands that according to the judges, were 'quite a margin' behind.
Not so – and as the jubilant Brighouse players were joined on stage by their inspirational MD, the audience filtered out into the early London evening with plenty to talk about in the local watering holes of Kensington.
The judges were given a very difficult task with 'Terra Australis', which although demanding (and which took its fair share of casualties) wasn't long enough to develop its cleverly constructed themes.
Chris Davis spoke in artistic terms of it painting a 'vivid picture', yet despite Martin Ellerby's colourful writing, the intricate ensemble detail and brief cadenzas, it was a landscape that could have been painted on the back of a postcard.
It's brevity (with most renditions lasting in or around 12 minutes) allowed quality to shine, but left the listener wishing there was so much more of it to appreciate.

Just missing out - Robert Childs leads Cory to another podium finish

Larrikin

After the dramatic high pitched opening (which saw many a soprano player blast their way into the stratosphere) the first test of musical character came with the correct pacing of the lyrical Andante and slightly quicker Andantino, which featured the simple setting for 'Advance Australia Fair', and which at times advanced with a circuitous elasticity that reminded you of a drunken larrikin meandering home from a Sydney pub on a Saturday night.
The self-indulgence of some MDs to what was essentially one verse of the National Anthem was breathtaking, whilst nervous soloists approached the following series of cadenzas as if they were anticipating being bitten on the backside by a funnelweb spider in the dunny.
Squeaky bum

It was quite an eye-opener that so few emerged from the 'squeaky bum' spotlight without at least an irritating fang mark or two on the cheeks – even when some MDs forced fellow colleagues on the hot seat so to speak.
The final quarter of the work with a return to its high paced, high pitched drive, saw a number of bands falter as stamina waned, with a host of trombone sections enjoying their chance to go 'wild and raucous' in the final glissandi (although you could count on the fingers of one hand the same sections that managed to play the preceding semi quaver run down with any sort of clarity).
The judges therefore had plenty of opportunity to separate the best from the rest – but little to really separate the very best from the winners – hence the accurate 'width of a fag paper' analogy.

Despite some Yorkshire reservations about the result, the trio did a fine job.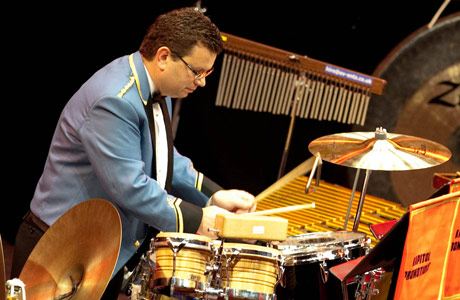 Fairey exotica as the English Champion comes third

Personal quest

And that result meant that for Brighouse & Rastrick, a long 12 year wait for a eighth national title came to an end, whilst for David King, it marked the closure of the final chapter of his personal quest to win all the major brass band championships – 23 years and 15 attempts after his first go here in 1987.
Although they did suffer a few minor blemishes in claiming the £2,000 first prize (not one band emerged unscathed) it was the sense of dynamic control, detailed ensemble clarity and the perfectly paced lyrical flow that earmarked their rendition of 'Terra Australis' – the anthem in particular played with a subtle nobility (as was the composer's own closing 'Anthem for a Nation' theme that others totally misjudged).
And it was that touch of added refinement as the judges later told 4BR, that was the fag paper difference between them and Cory in second place, with Fairey (Geneva) in third and Black Dyke seemingly a 20 pack duty free fag carton back in 8th.
Those little touches certainly came from experienced sources: Roger Webster, William Rushworth, Mark Walters, Stuart Lingard, Chris Gommersall, Steven Walsh, Martin Irwin and Allan Morrison all adding to an ensemble that had a cohesive understanding of David King's intuitive reading of the score (although getting the trombones to stand seemed superfluous).
Arguments may rage over the noticeable clips and the one missed entry, but it was a deeply satisfying rendition that captured the musical essence of the composer's pictorial intentions to a tee.

Solid Yorkshire virtues gives Rothwell another high class finish

Hallmarks

Behind them came the European champions, with a performance that resonated with Cory's traditional hallmarks of intense preparation, technical brilliance and defined musicality.
It was hard to find real fault with the way Robert Childs laid out his musical picture, with only minor blemishes tarnishing his canvas, but that extra dimension of refinement was missing in the minds of the three judges – and that was the eventually difference between a sixth title and a fourth consecutive podium finish.
This was perhaps the closest they have come in the past decade to repeating their Millennium victory, with soprano player Dominic Morrell picking up the 'Best Instrumentalist' Award. That won't make the taste of yet another narrow defeat at this contest any easier to stomach though.
Lyricism

Fairey (Geneva) claimed the final podium place with an early draw account also hallmarked by Russell Gray's persuasive interpretative lyricism and a growing sense of ensemble maturity, blighted only by a few too many little individual wobbles.
Their claims to major honours grow ever stronger by the contest.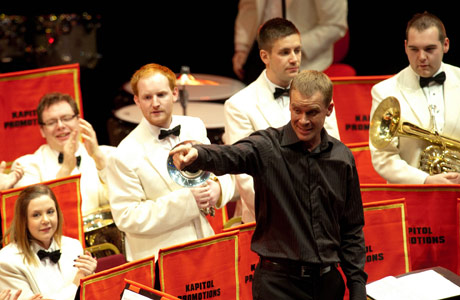 Pointing in the right direction for Leyland and Philip Harper

Loosened grasp

For the judges, these three performances stood out, although the one that most people were still talking about hours after the announcement of the result was that of Black Dyke.
With a seemingly ideal draw at 18, an opening full of verve, colour and detail, a flowing Andante and noble anthem (but with some noticeable clips and some forceful individual entries), the Queensbury band seemed set to crown their MDs decade at the helm with a historic hat trick win.
However, their grasp on the trophy was already loosened in the box by the time a series of well worked cadenzas (that included noticeable dep work from the horn and cornet) was followed by a thumping reprise of bravura brilliance.
The reasons for the unsuccessful defence of their title were perhaps easier to understand than an explanation of their eventual 8th place.
Intelligent

The remaining prizes saw Rothwell Temperance show their increasingly impressive qualities to secure their automatic appearance here in 2011, with a performance that once again owed a great deal to the intelligent direction of the MD, Dave Roberts as well as the solidity in execution by his players.
Not the most refined performance maybe, but certainly one of the most effective; it fully deserved fourth place.
Meanwhile, Leyland and Virtuosi GUS will have left London delighted at their top six finishes, after producing performances rich in drama, colour and excitement, boldly portrayed under the batons of Philip Harper and John Berryman.
Both had their uncomfortable moments, but with the judges clear in what they liked and what they didn't, the fearless approach and rugged execution certainly brought descriptive portraits to life.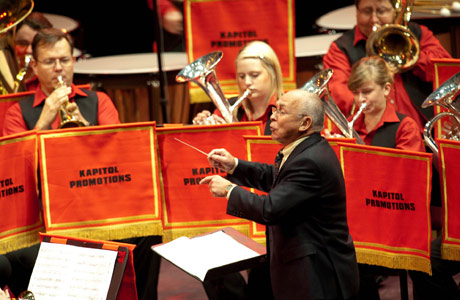 Bold and bravura: John Berryman leads GUS to a delighted sixth place

Error count

With Tredegar's persuasive bid to add the National title to their recent British Open success undermined by a minor error count that eventually became a major obstacle to them coming higher than 7th, the final top ten places went to Foden's and Carlton Main Frickley – both of whom performed below their pre contest expectations.
Carlton Main never gelled from the number 1 draw, whilst Foden's, despite a very effective opening section, faded dramatically after promising so much with their initial high class drive and purpose.
From then on it was a question of comparison and compromise – with host of performances that could easily have come in just about any order.
Tongwynlais Temperance will have been delighted to end in 11th after a performance that lost momentum as stamina waned, whilst Aveley & Newham will also left the Albert Hall more than happy with 12th after delivering the final rendition of the day that was certainly varied but had a cadenza section that was one of the cleanest.
Workmanlike

Flowers lack of refinement was offset by solid workmanlike execution to come 13th, whilst Desford started as if they were going to really deliver a prize winning impression only to fade dramatically after a poorly executed series of cadenzas to end 14th.
Reg Vardy could have no cause for complaint in coming 15th after an error strewn rendition under Ray Farr's command, whilst Whitburn's run of poor form continued in coming 16th, despite a clean set of cadenzas. It was a performance more undermined by a high error count and a potentially disastrous ensemble moment when Frank Renton seemed to lose connection with his band.
Redbridge headed home to ponder the fickle nature of the contesting gods after a solid performance that just didn't resonate in the box to end 17th. Every contest has a band that can usually count itself unlucky – and despite Black Dyke taking that honour on this occasion, Redbridge may still be left wondering just what they did so wrong.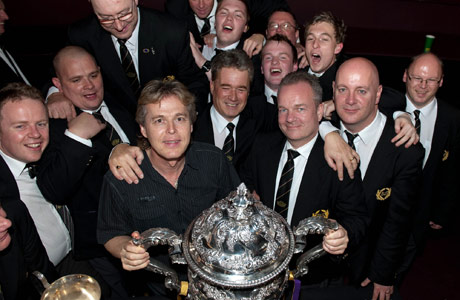 Looking up: David King and his band of National winners

Difficult days

That just left the bottom three – all of whom endured difficult days at the contesting office, with Camborne, NASUWT Riverside and surprisingly, Co-operative Funeralcare, all failing to overcome the technical obstacles in performances that never got off the ground.
With a welcome 25 minute mid point break and a 40 minute concert before the announcement of the winners there was plenty to mull over before Peter Bates delivered the result everyone was waiting for.
And the compere's skilful hiatus was almost too much to bear, before the announcement came amid vibrant celebrations not of black, red and gold, but of purple and gold instead.
Black Dyke's attempt at hat trick history had ended in defeat and disbelief; Brighouse & Rastrick's victory had ended in delight and delirium.
David King's success had ended in long overdue glory.
Iwan Fox