2010 National Championships of Great Britain - Postcard from Kensington
12-Oct-2010
4BR Editor Iwan Fox looks back at a weekend when a little bit of history repeated itself...
---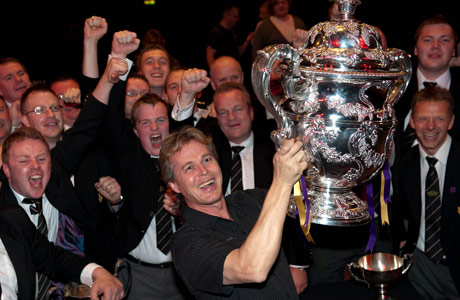 Guess the colours on these ribbons? B&R celebrate their National win
All photos by Ian Clowes - Goldy Solutions. Go to www.pbase.com/troonly/brass

There could only be one band that could have truly savoured the opportunity to deny Black Dyke winning a historic hat trick of National titles on the weekend – and that was Brighouse & Rastrick.
And there were quite a few former 'Briggus' players who have dined out on the memory of the last occasion the lads from West Riding denied their traditional foes their place in the banding history books too – although that was 32 years ago now at the 1978 British Open.
Dining out

On that occasion it was another riveting performance of a high-pitched descriptive musical portrait that ensured the bragging rights belonged to the band wearing purple and gold, when they won on 'Benvenuto Cellini'.
Now they can start enjoying dinner parties with enough memories to last another 30 years or more.
Brighouse has been accustomed to coming off second best to their Queensbury rivals far too often over the years, so the occasions when they do enjoy the bragging rights are ones to savour – especially when they are orchestrated by former MDs of their counterparts.
In 1978 it was Geoffrey Brand who went from black & gold to purple & gold to deny Peter Parkes his chance of British Open glory.
And on this occasion it was David King – the man who followed Parkes with a remit to fashion a new Black Dyke, only for it to end in a departure after he was perceived to have failed to bring the required silverware back to the Queensbury bandroom.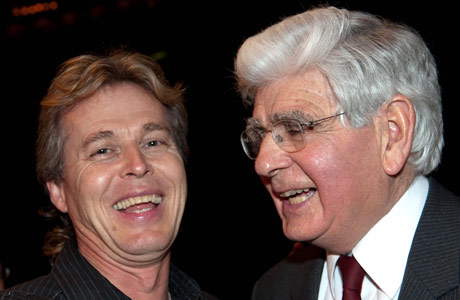 Smiles all round on jobs well done: David King and David Read

Contesting revenge

He has of course enjoyed many a dish of contesting revenge over his former employers since his departure almost 20 years ago, but perhaps none would have tasted as sweet as this one.
In denying Black Dyke he of course completed his set of major contest titles – joining Peter Parkes, James Watson, Robert and Nicholas Childs in a personal 'Triple Crown' of European, National and Open victories.
It has been a long time coming – 23 years in fact from the first time he started conducting at the Royal Albert Hall, but only the most one eyed 'Pondasher' would deny that he hasn't deserved it – even if they would have been happier he had to wait an extra year following a Dyke hat trick win.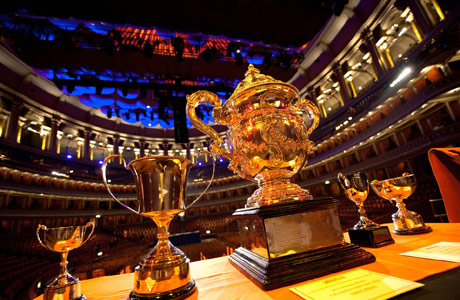 The iconic trophy in the iconic venue

Highly enjoyable

Still, it added an extra frisson to a highly enjoyable (if rather short) contesting day at the Royal Albert Hall.
Kapitol Promotions will have been delighted at the way it all panned out.
Credit goes for the way in which the event ran slickly, with a welcome 25 minute mid point break that allowed time for the encouragingly sized audience to have a breather and lighten their pockets of loose change in the bars and cafes of the hall.
The draw also meant that there were fancied bands to hear from the word go – and with the test piece only taking 12 or so minutes (close to four bands an hour), they would have scolded their lips if they tried to rush a 'cup of tea band' in. No one complained about the time the event finished.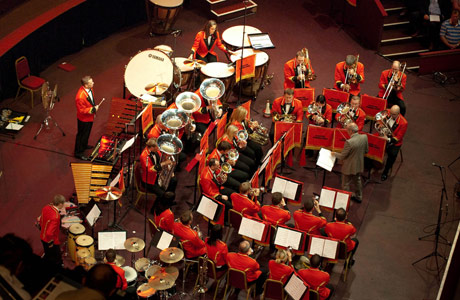 View from above: Fodens entertain in the pre-results concert

Popular choice

Martin Ellerby was there to enjoy the day with his wife, and it was great to see him in fine form after his recent bout of ill health.
'Terra Australis' proved to be a popular choice if the audience reaction was anything to go by, and the composer's output surely deserves to be performed here again in the very near future – perhaps his 'Elgar Variations' or his new composition, 'Genesis'.
David King also ensured that his contribution to his personal success was not forgotten either, with a generously paid tribute.
Value for money

As for value for money – the National programme was well produced (although the initial reaction was to turn it upside down thanks to the tricksy cover shot), although asking £10.00 for a study score was a bit rich – it seemed substantially overpriced.
Foden's provided an entertaining and relaxed pre-results concert under Allan Withington, with Glyn Williams and Lesley Howie on fine form, whilst there was a neat bit of humour shown by the fanfare trumpeters of the Scots Guards, who despite only having the one bit of blowing to do, made sure they did it with a fair amount of military precision.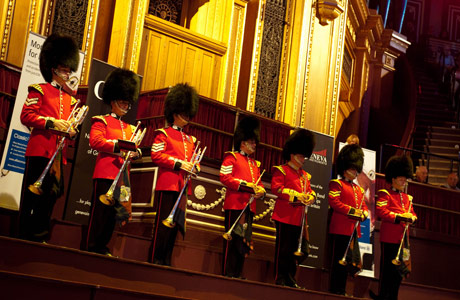 A question of military precision for the Scots Guards

Gossip and rumour

Elsewhere there was the usual quota of gossip and rumour; from stories of Cory's walking wounded of Gavin Pritchard and David Childs to the appearance of Roger Webster and Alan Morrison on the top end of Brighouse.
Tongwynlais came to the rescue of Leyland, who had forgotten to book an early morning rehearsal room, whilst the usual tales of Schadenfreude at the draw came at the expense of the band rep from Carlton Main – who with a full bag of 20 numbers to dip into, picked out Kelly's Eye.
The only number 1 that mattered though came at 6.00pm and belonged to Brighouse & Rastrick.
A long overdue victory has never tasted so sweet.
Iwan Fox